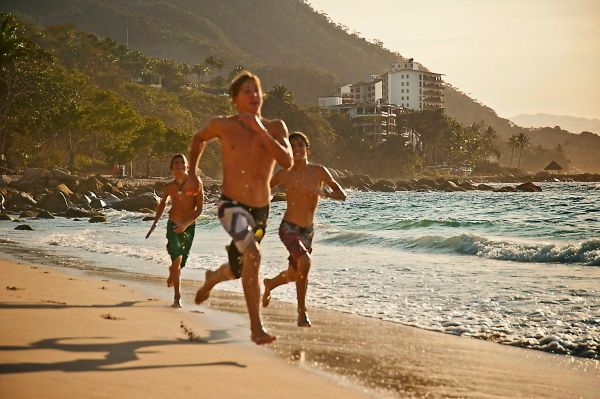 If you fancy a half-term break where you can relax on sun-kissed beaches, swim with dolphins or soar through the mountains with your loved ones, don't miss Puerto Vallarta and Riviera Nayarit. See some of the thrilling experiences your whole family will enjoy.
Soak Up the Sun
Puerto Vallarta, in the state of Jalisco, and Riviera Nayarit, in the state of Nayarit, offer more than 250 miles of golden coastline.
Get away from it all in Puerto Vallarta's Boca de Tomatlan, where the beach is rarely crowded. At Conchas Chinas, you can expect gentle tides and rich sea life. If you prefer your paradise with a mountain backdrop, look no further than Garza Blanca.
In Riviera Nayarit, the Nuevo Vallarta resort area offers clear blue water and sandy beaches as soft as powder. High-end hotels and restaurants lie just a few steps away. To the north, Bucerias has a five-mile shoreline and a calm surf. And Playa los Muertos, in Sayulita, invites families to enjoy a safe swim.
Meet Whales and Dolphins
Whale watching has long been a favourite pastime in Puerto Vallarta and Riviera Nayarit. From winter until late March, more than 2,000 humpback whales arrive at Banderas Bay to enjoy its warm waters. They travel more than 15,000 miles to mate or give birth to their calves.
Throughout the region, whale watching tours give you a front row seat to see these magnificent sea creatures. You'll get so close, in fact, that you can almost touch them.
Your family should also drop by the Wildlife Connection to swim with dolphins. Just like humans, teenage dolphins love a good time, and they often splash around and play games with visitors.
Embark on Your Next Adventure
If your family loves adventure, Puerto Vallarta and Riviera Nayarit will leave a lasting impression.
Vallarta Adventures offer everything from jungle safaris to ziplining through the Sierra Madre Mountains.
For an adventure off the beaten track, head to Altavista, home to one of the largest known concentrations of ancient stone engravings. Or travel to the past at San Blas, considered to be the birthplace of the Aztec civilization.
While you're at it, why not take a day-trip to Las Marietas Islands? This UNESCO World Heritage Site is an ecologically diverse sanctuary with a hidden beach tucked just out of sight.
Immerse Yourself in Art and Culture
Well-known for the preservation of its Mexican traditions, Puerto Vallarta and Riviera Nayarit always give off an artistic vibe.
In Puerto Vallarta, more than 30 galleries showcase work by local, national and international artists. Public artworks lining the Malecón boardwalk turn an ordinary family stroll into a memorable experience.
Likewise, Riviera Nayarit's history will enrich your family's half-term break. Explore museums and delve into the works of writers, sculptors and artisans that represent the spirit of these lands.
Or learn about Nayarit's four existing indigenous tribes: the Huicholes, Coras, Tepehuanos and Mexicaneros. Tours to their communities provide excellent opportunities to learn about their ceremonies, lifestyles and artistic creations.
For more half-term holiday ideas on Mexico's Pacific Coast, go to visitpuertovallarta.com or rivieranayarit.com.