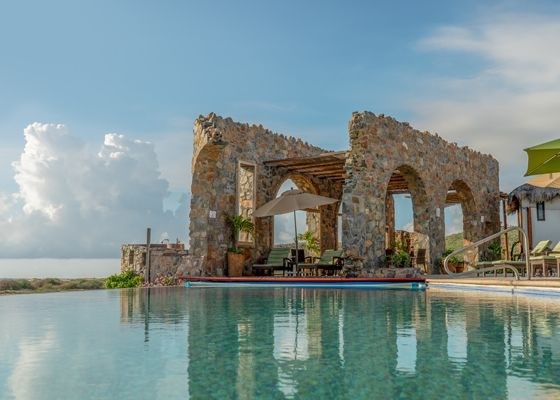 Todos Santos, a quaint town situated in Baja California Sur, Mexico, commonly known as a "Pueblo Mágico" due to its stunning natural beauty and cultural heritage, recently has emerged as a popular destination for couples seeking aromantic escape. The town's mesmerizing sunsets, relaxed ambiance, picturesque beaches, and delectable cuisine is home of Guaycura Boutique Hotel Beach Club & Spa, the new hotspot ideal for couples to indulge in romance, excitement, and exploration.
As a booming destination, Todos Santos boasts a stunning natural landscape that is bound to leave visitors awestruck. Punta Lobos, in particular, is a must-visit for its tranquil atmosphere, crystal-clear waters, and pristine sand.
Here, couples can bask in the warmth of the sun, take a leisurely stroll along the shoreline, or even venture into the water for a refreshing swim.
For couples seeking a more adventurous experience, Playa Los Cerritos is an ideal destination. Known for its thrilling surf break, this beach draws surfers and beachgoers from all over. Whether you are an experienced surfer or just starting out, the waves at Playa Los Cerritos offer a thrilling challenge for all adventure enthusiasts. From riding the waves to simply watching the surfers in action, there's something for everyone.
Taking a leisurely stroll through town, hand-in-hand, is one of the most romantic activities that couples can indulge in while in Todos Santos.
The town's unique blend of art galleries, boutiques, cozy cafes, and local restaurants create the perfect ambiance for a romantic afternoon; be sure to visit the Besame Mucho Bazaar, a charming local store that sells exquisite handcrafted jewelry and souvenirs. Additionally, the 'La Banca del Beso', also known as the "Kissing Bench," provides the perfect spot for couples to share a memorable kiss.
To experience the local culture of Todos Santos, sampling the delicious cuisine is a must. The Guaycura Hotel's El Mirador restaurant is a popular choice, thanks to its panoramic ocean views and gourmet dining options.
The hotel itself is chic and stylish, offering spacious and comfortable rooms, stunning art collection, and an intimate ambiance perfect to escape from the world.
To complete the experience, the Aena Spa offers in-room services at the Guaycura Boutique Hotel, as well as a rooftop spa with a copper tub. At El Faro Beach Club & Spa, couples can book massage cabins and steam rooms and seaside massage on the private beach for a more intimate experience.
From beach weddings to romantic getaways, Guaycura Boutique Hotel andTodos Santos will make your stay here with your loved one a unique andunforgettable experience.