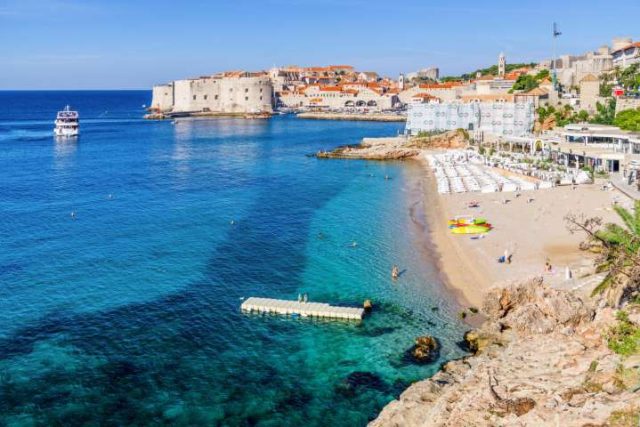 Croatia is positioning itself as the perfect getaway to attract a record number of North American travelers vacationing for Memorial Day weekend this year. The country's several key initiatives highlight the majesty of its cities' ancient history that remains timeless while being modern enough to give travelers what they need, and focus on the unique culture, culinary and wine offerings synonymous with Croatian hospitality, as well as the nautical experiences that differentiate the destination and resonate with travelers from the United States.
The upcoming Memorial Day weekend offers a terrific opportunity for travelers to visit the country's key destinations. Cities most loved and frequented by U.S. visitors include:
Medieval Dubrovnik
One day is never enough to soak in the magic and majesty of the UNESCO World Heritage site of the Gothic-Renaissance city of Dubrovnik, with its 1.2 miles of long, winding stone walls set right on the Adriatic Sea. Just a mere stroll along Stradun (the main street) will easily convince you that you are in one of the Mediterranean's most beautiful places, with its unique culture-rich, ancient-meets-cool vibe. A tour of the world's second most frequented open-air museum will take your breath away, and foodies can savor delicious Mediterranean specialties. This is a jewel in the crown of Croatia and where you can enjoy King's Landing in person.
Split, where ancient meets modern 
When a UNESCO World Heritage site meets a modern city, the result is a city like none other. Welcome to Split, regal enough to boast a palace built by the Roman Emperor Diocletian as well as modern and chic buildings. Travel through time in the buildings of this city, which range from antique-era Aspalathos to the urban bustle of top-notch gastronomy, film, theatre, music festivals and exhibitions. Feeling stressed? Soak in the green oasis of Marjan forest park before relaxing on miles of beaches spilling into crystal clear water.
Start your morning with a cup of coffee on Riva – a seaside promenade, popular meeting place and pedestrian area, savor the traditional mid-morning snack "marenda" featuring home-made alike local dishes or escape to the green embrace of the forest park to achieve "fjaka" state of mind of total relaxation. Wines in this region are world-class: sip some crljenak and pošip while marveling at the city's classical and regal Greco Roman architecture and the Olympian plaques along the Western seaboard and you'll reap memories that will live long after your visit is over. The center of the world? Quite possibly.
Capital City of Zagreb
With parks, forests and hiking trails spread all over the city, the city's classic imperial architecture as well as many modern restaurants and cafes, Zagreb offers something for everyone. Some visitors see it as a lively capital, while others remember the various colors, sounds and spectacular mountains on the horizon. Foodies will love the rich gastronomic selections that include sir & vrhnje (fresh cream with cheese) often sold by kumice (lady-farmers) at any of the produce markets. This is most popular at Dolac where you will find a statue in honor of all the kumice on the top of the left staircase. Kremšnita, a famous cream cake, as well as the signature open-air food markets are beloved by locals and visitors alike.
Zagreb is also well connected to other European destinations and is an ideal hub if you are planning a multi-country European journey.
"We are proud of our enhanced efforts to attract U.S. and Canadian travelers who are actively seeking something truly unique that blends history, heritage as well as authentic culinary and cultural experiences," said Leila Krešić-Jurić, North America Director, at Croatian National Tourist Office, based in New York.
Aligned with its efforts to attract U.S. and Canadian travelers to the destination, the Croatian National Tourism Office has enlisted a U.S. Public Relations agency in addition to having in-market representatives to assist in communication and marketing efforts targeting consumers and travel industry professionals.