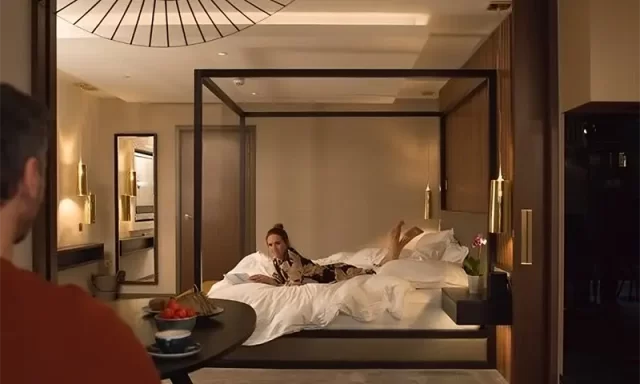 Middle Eight, a 180-room luxury hotel and member of Preferred Hotels & Resorts' L.V.X Collection has launched an exciting new package ahead of the summer. The Music, Play & Stay package offers guests the opportunity to enjoy the new musically-inspired Covent Garden Crescendo Afternoon Tea and tickets to an in-house jazz show at the hotel's very own speakeasy, combined with a sumptuous suite stay.
A Suite Stay: Relax in one of Middle Eight's music-themed contemporary suites, named after pieces of music featuring a middle eight bridge. Each suite features a soothing color palette with natural materials such as stone and wood, bespoke furniture to maximize the space, and state-of-the-art amenities including sumptuous bedding with high thread count. Every suite is unique in layout and features enormous beds with spacious seating areas, providing the perfect place to escape from the hustle and bustle on the hotel's doorstep. For extra relaxation, guests can listen to a curated playlist, featuring songs with a middle eight bridge. For those looking to keep the city vibe, indoor gardens and outdoor terraces let the natural light flood in and offer a delightful space for entertaining.
Covent Garden Crescendo Afternoon Tea: This new musically-inspired afternoon tea features a symphony of sweet treats and delicate finger sandwiches. An indulgent addition to any stay at Middle Eight, this afternoon tea includes a tangy citrus pannacotta, pistachio macarons and a classic hazelnut éclair, all expertly handcrafted by Clanny Rodrigues – the hotel's Head Pastry Chef and Bake Off: The Professionals semi-finalist. Guests can also choose from a range of fine fair-trade tea, freshly brewed artisan coffee or pair it with a glass of bubbles for an extra special experience. The Covent Garden Crescendo Afternoon Tea is available from Wednesday to Sunday and must be booked 24 hours in advance.
QT Presents Leo Green: Middle Eight's late-night, modern take on a classic speakeasy bar plays tribute to Kingsway Hall, an address that was once a cornerstone of Covent Garden culture. Guests booking the Music, Play & Stay Package will enjoy a night of live music with Leo Green, QT's in-house saxophonist and his incredible band and singers. London's greatest sax party, this sultry jazz-infused residency is available on Friday and Saturday evenings throughout May and June with two performances per night.
Mirroring the character and buzz of its location in Covent Garden, Middle Eight is ideally situated where the City meets the West End, making this new package perfect for any guest visiting the capital this summer and beyond.