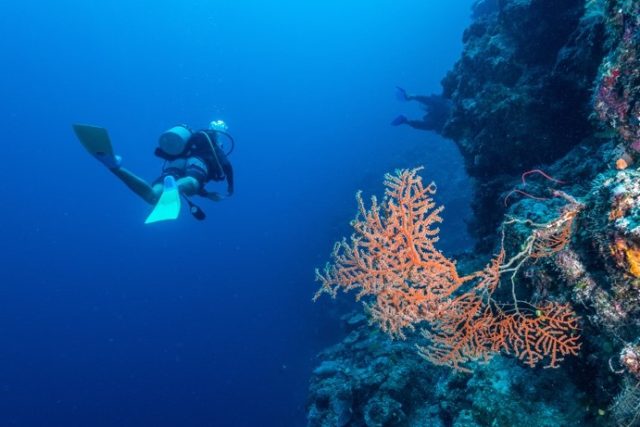 With oceans covering more than 70% of the Earth's surface, it's no surprise that the big blue contains innumerable places to explore.  At Fiji's Wakaya Club & Spa, endless ocean adventures await for those looking to immerse themselves in the underwater world with a plethora of once-in-a-lifetime water-based and marine-preservation driven activities all-year round.
As a PADI 5-star gold palm dive resort, ocean lovers can enjoy unfettered "front-row reef' access not available to other island resorts through a PADI Open Water Certification Course or a Discover Scuba Diving Course, with unlimited diving opportunities throughout the entirety of their stay.
Wakaya's exclusive dive spots are all located less than 10 minutes away from the island's marina. For adventurous travelers, guests diving more than once are given the luxury to complete their mandatory 1-hour surface interval between dives in the comfort of their bure.
With sustainability and conservation at the heart of Wakaya's ethos, the property offers opportunities for travelers to also engage with the local Fijian experts such as Luke Gordon of The Manta Trust to learn about the island's initiatives to help conserve and sustain their environments. To keep one of the world's most stunning marine wildernesses intact, the Wakaya Marine Reserve is known to house an array pacific coral fish, Hawksbill turtles, green back turtles, reef and hammerhead sharks. Within this area Wakaya provides protection to over 16,000 square kilometers of marine life and rehomes numerous species, including clams, until they reach a certain size.