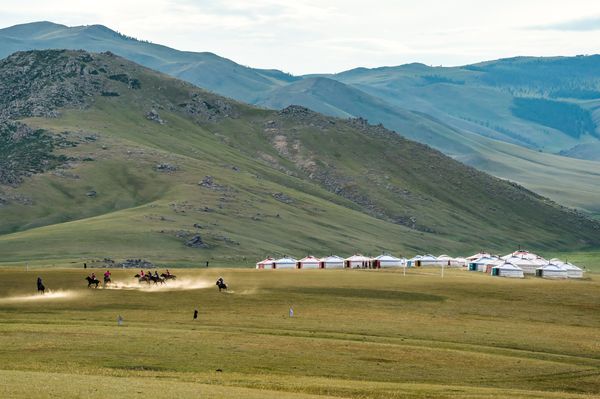 Boutique hotel group The Pavilions Hotels & Resorts has unveiled the Summer 2019 edition of its annual apotheosis of the Mongolian nomadic ideal, The Pavilions Mongolia – taking place from 15 June – 19 September in the breathtaking wilderness of the ancient Orkhon Valley National Park. A one-of-a-kind adventure for just 20 guests at a time, The Pavilions Mongolia offers timeless escapism and reconnection with the essence of life and nature. Epitomising The Pavilions' twin passions of travel and adventure, this unique 'Genghis Khan Retreat' elevates the high end camping experience to extraordinary new heights, inviting guests to spend spellbinding summer days exploring boundless untamed landscapes by horseback, kayak, or on foot; and memorable nights ensconced in ornate traditional Mongoliangers.
Spectacularly located atop a hill in the Orkhon Cultural Landscape, a UNESCO protected site at the foot of the Khangai range, The Pavilions' enclave of 20 beautifully hand-painted and decorated gers is the perfect place to connect with the timeless essence of Mongolian civilization. Guests of all ages can channel their inner Genghis Khan with ancient Mongolian pursuits such as archery, horseriding and polo; steeds from the 100-strong herd are matched to each guest's personality traits by some of the world's finest horse whisperers. Cashmere goat combing; gliding along the river by kayak; trekking through sweeping grasslands; conquering soaring peaks; or attempting to capture the epic landscapes by camera are just a few more examples of the escapist offering. Guests seeking a more serene day can choose to reconnect with daily yoga practice; try a Mongolian massage with the camp's masseuse; or even experience traditional healing rituals with the resident Shaman. The camp is also an easy day trip from many important historic sites of the celebrated Silk Road, including the former capital of the Mongol Empire, Karakorum– said to contain the ruins of the legendary Xanadu Palace.
Despite its remote location in the unbridled wilderness of the remote Steppe, 360 kms west of Ulaanbaatar, The Pavilions Mongolia defies expectation with its authentic interpretation of high-end hospitality suitable for solo travellers, couples and families alike. The timeless traditional comforts of its gers are complimented by exceptional levels of personalised service more typically associated with a world-class luxury hotel. Convivial family-style mealtimes showcase the best locally sourced ingredients, replete with hand-pulled noodles, homemade breads, grilled meats and freshly caught fish of the day, or plentiful vegan, vegetarian and pescatarian options. Unexpected entertainments might range from joining a Bodog(Mongolian feast); recitals on the camp's priceless 1934 antique Steinweg piano by award-winning Mongolian virtuoso Ms. Odgerel Sampilnorov; traditional throat singing; contortionist displays; wrestling; and Shagai (ankle-bone gaming) contests. After recounting the day's escapades with fellow guests over G&Ts and Mongolian vodka, wood burning stoves, cashmere bedding and candlelight transform each gerinto an invitingly cosy coccoon.
"Our gers are a little more exuberant than others you'll find on the steppe," says Christopher Giercke, charismatic founder and host of The Pavilions Mongolia, with his usual understatement. "A nomad looks for a practical size. We have gone down the aristocratic line."