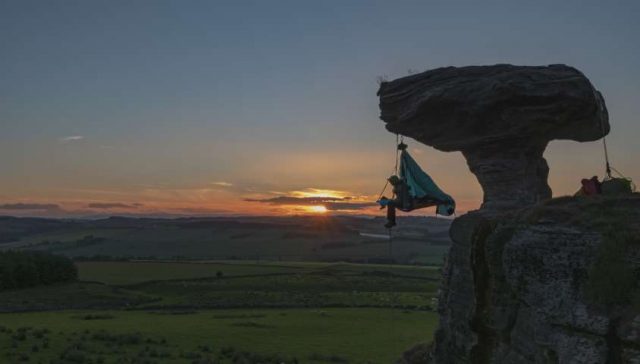 Recently-appointed by leading meditation and sleep app, www.calm.com, as the world's first Sleep Storyteller-in-Residence, travel writer and adventurer, Phoebe Smith, is sending millions of people to sleep with relaxing tales about places that she has visited around the globe.
Arguably the most calm-inducing location of all seems to be Provence in the south of France, the subject of 'Blue Gold', Calm's single most popular sleep story to date. In it, Phoebe soothingly describes a slow-paced journey through the region's swathes of lavender fields and tranquil, fortified villages. Her carefully-crafted meanderings – combined with the velvety tones of narrator Stephen Fry – have resulted in Blue Gold being listened to at bedtime by almost two million people a month – that's around 15 million listeners who've been lulled to sleep already.
As the world's only 'extreme sleep adventurer', Phoebe knows a thing or two about trying to get to sleep in some unlikely locations such as mountain tops, glaciers and inside tree trunks. However, she sometimes finds it difficult to get to sleep in her own bed, so is happy that her sleep stories – or bedtime stories for grown-ups – are helping other people who struggle to nod off at night.
The 17 sleepy audio tales that she has written so far for the Calm app, are designed to help adult listeners to wind down and fall in to a slumber, using a mix of soothing words, music and sound effects.
All of the stories have been inspired by calming destinations visited by Phoebe, and include 'Elephants of Nepal', based on a scenic safari in Chitwan National Park, narrated by Joanna Lumley; 'Morocco's Hidden Forest', describing Phoebe's own experience of sleeping wild in the cedar forests of North Africa and the first of her stories that she is narrating herself; and her latest story to be released 'Stargazing on Stewart Island, New Zealand' a magical trip Down Under to explore the colourful cosmos from its most breathtaking vantage point, Stewart Island.
Phoebe's recent experience of an incredible 3000km rail adventure through the iconic Australian outback, recounted in her sleep story 'Crossing Australia by Train', is celebrating its 90-year anniversary in 2019. The north to south, coast-to-coast, train journey took its name 'The Ghan' from the Afghan Cameleers who, in the employ of the first European explorers, were integral in opening up the country's harsh, yet dramatic, Red Centre. Phoebe's journey takes place from the comfort of her cabin with a window to the ultimate panorama. A continuous ribbon of vistas, combined with a gentle rocking from side-to-side, is almost certain to put listeners on track for deep, refreshing sleep.
The Calm app now offers listeners the choice of 120 sleep stories, which have been listened to in total some 100 million times since their launch two years ago.  A new story is added each week.
For more information on Calm visit www.calm.com