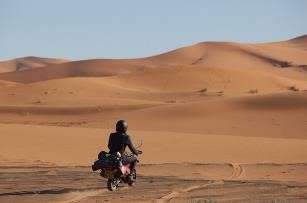 Organised by The Adventurists (the people behind some of the world's most exciting adventures including the Mongol Derby, the world's longest horse race across Mongolia, and The Icarus Trophy, a long distance paramotor race in the skies above southern Africa), the Moroccan Monkey Run is named after the small motorbikes on which the trip is based.
The beauty of using these bikes not only means that there's no need for a full motorbike license to feel the rush of desert air through your hair, but that huge swathes of the country are opened up to that you'd not otherwise see – you can ride off-road tracks and trails without worrying about having too far to fall if you hit a bump or branch and the bikes are small enough to squeeze down the narrowest of Marrakesh's streets.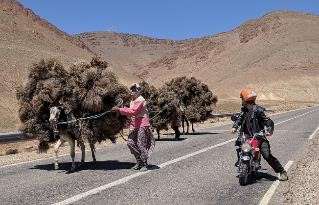 It's not just the mode of transport that makes this journey, which runs from the Sahara Desert to Marrakesh, via the Atlas Mountains, so unique but also the way the organizers run it. Instead of giving you strict instructions on where you need to be and when, they drop you off at a secret location near Merzouga, a small Moroccan town in the Sahara Desert near the Algerian border, with your bike and encourage you to get lost!
"We believe the world is far too safe and organized, that we've come to live in ever decreasing circles of freedom. Fear of litigation, greed and a spineless refusal to take responsibility for ourselves have robbed us of one of the most interesting things in life: the unexpected. The Monkey Run rails against this. It forces you to be lost, to not know what's around the next corner, to embrace the unknown.
You could just rock up, enjoy the launch party, team up with another rider and ride in tandem the length of the country to the finish line and I'm sure you'd have an amazing time. There's nothing like a little mishap in the back end of nowhere however if you want to experience something truly memorable and force you to embrace your surroundings and the people in it. These are the moments that modern life is missing." – Dan Wedgwood, Director, The Adventurists
And so when you finish your adventure a week, and around 1000 miles, later at another secret location near Marrakesh, The Adventurists hope you've experienced the country in a way few other tourists ever will. If nothing else you'll certainly have brought a smile to people's faces as you ride through their towns and villages knee-high to a grasshopper!
To find out more about the Moroccan Monkey Run (which runs in both January and April 2020), and other Monkey Runs around the world, head to www.theadventurists.com.