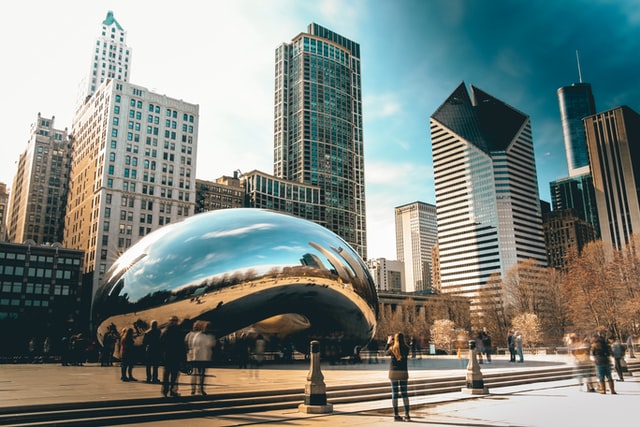 Home of the second largest art museum in the United States, it is fair to say that Chicago is a hotspot for anyone wanting to quench their appetite for the arts. Not only are the museums rife with a number of beautiful art pieces, but there is also a diverse range of mosaics, paintings and murals around every corner of the city.
In Downtown Chicago, there is even a sculpture dedicated by the great Pablo Picasso himself, proving once and for all that you should stop seeing Chicago as the city that can't do pizza and more as a fully certified city of the arts.
But where to start? Well, if you're planning on taking a trip to Chicago and fancy seeing some of the most powerful art sites in the flesh, then here are a few destinations which you should definitely put on your list:
The Art Institute Of Chicago
Of course, you have to start with the second largest art museum in question. Home to some of history's best works and rated one of the greatest museums in the world, this is a gem which you simply cannot miss. Some of the artists featured include Claude Monet, Vincent Van Gogh and the great "American Gothic" painter Grant Wood. As well as this, the museum is home to some of the finest works by the famous Jewish painter Marc Chagall, whose surrealist and fauvist pieces still inspire Israeli Jewish artists to this day.
Rhona Hoffman Gallery
Originally founded in 1976, the Young Hoffman Gallery was one of the first ever to present exhibitions by female artists. To this day, it still champions the under-sung paintbrushes with beautiful international and Chicago art pieces, making it a dream destination for any art lover who wants to explore a bit of multi-media variety.
La Catrina Café
If museums and galleries are not quite your thing and you want to experience the art living in the city itself, then take a walk down to La Catrina Café. With a glorious multi-coloured mural plastered across the front of the building, this café is pretty hard to miss hub for art lovers of every kind. Sit inside, enjoy the art of local Chicago artists on display, and sip down a hot, delicious coffee while doing it. What better way is there to spend an afternoon?
Chicago Picasso
As mentioned previously, the sculpture created by Pablo Picasso in Downtown Chicago is truly a sight to behold, unmissable for art lovers who appreciate his unique movement. It was one of the first major art projects commissioned in Chicago and there's no doubt that it holds up to this day. It's also perfect if you have kids, seeing as it's become a bit of an attraction for fun-seeking children sliding down the base of the sculpture. This is providing, of course, that you keep a keen eye on them. Picasso wasn't known for his child-friendly cubism art-pieces.
The Underpasses Of Chicago's South Side
Lastly, if you want to really experience the heart of Chicago's art scene, then taking a walk along the streets and underpasses can be just as enlightening as any museum that it has to offer. In the South Side, for instance, the streets are full of art made from a variety of black, indigenous and latinx artists which perfectly symbolises the culture of the city itself. So once you're done with your coffee in La Catrina, explore the streets and take in the art which is happening right in front of you.