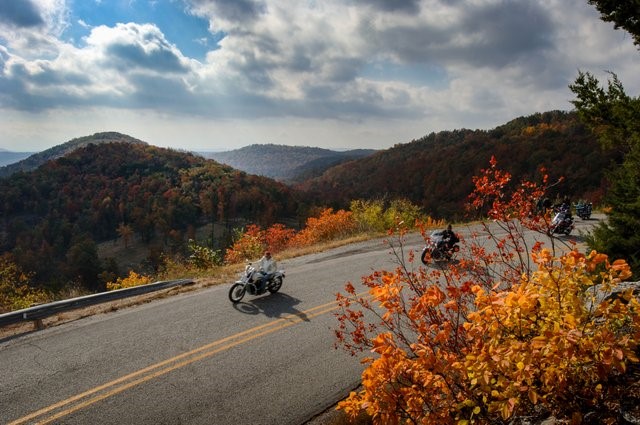 Are you ready to leave your to-do list behind, hop in the car and explore some the best places to see autumn leaves in the South, the Ozark Mountains. The Ozark region stretches through the southern portion of Missouri and into northern Arkansas and is one of the South's most unforgettable fall destinations. With an abundance of hardwood forests filled with oaks, hickories, maples and more, the leaves change near the end of October and continues in the southern edges of the region until after Thanksgiving. Here are some must see destinations to discover trees drenched in shades of red, brunt orange, and yellow. 
Eureka Springs, Arkansas
Find a road, pick a direction, and you're guaranteed an enchanting ride near Eureka Springs. You can take a leisurely trip and soak up the amazing vistas, or pick up the pace and experience the thrill of one curve after another.
Pig Trail Scenic Byway 
The top end of what Arkansans calls "The Pig Trail," AR-23 starts in Eureka Springs is one of the state's most scenic drives, with  autumn colours shimmering in the fall. Views on this trek is of Northwest Arkansas's Boston Mountains, which erupt in bright oranges and yellows when fall foliage is at its peak. This path's curving switchbacks are popular among motorcyclists, and while the route is just a short 19 miles, its views are rewarding as drivers cross the Mulberry River.
Branson, Missouri  
Branson has a variety of ways to see the beautiful fall colours that cover the area. Explore the family friendly attractions and live entertainment in Branson before driving south on Highway 65 through the historic town of Hollister.
Table Rock Lake loop: Highway 65, Highway 13, Highway 76
Deep in the Ozark mountains, travel a winding path around Table Rock Lake and Lake Taneycomo to see southen Missouri bathed in fall's warm colours. Nearby Table Rock Lake State Park offers plenty of space to enjoy crisp temperatures and clear blue skies. Further south, take Highway 86 across the lake to Highway 13 and into Kimberling City.