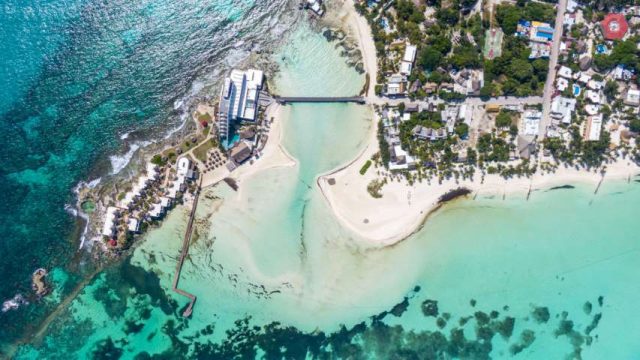 Among the wonders of the Mexican Caribbean, its islands stand out for being tropical oases where a great variety of activities and unforgettable landscapes envelop visitors in a unique experience. Each has a particular charm – Cozumel, for example, offers a wide range of adventure activities; Holbox dazzles travelers with spectacular sunsets; while Isla Mujeres captivates with its cheerful Caribbean atmosphere.
Isla Mujeres is one of the smallest yet most visited islands in the region thanks to the popularity of Playa Norte. Snorkeling is the most recommended activity here; the colorful reefs as well as the submerged statues – part of a conservation project — make for an incredible view of marine life. To the south is the Garrafón Reef Natural Park, a place for travelers to discover the island's natural wealth. Park activities include snorkeling, kayaking, zip-line and island tours, plus relaxation activities like a temazcal, panoramic pool, and lounge chairs. A few minutes further is the Manchones Reef, which hides one of the most significant monuments for the island: La Cruz de la Bahía, or the Cross of the Bay. This structure is made of bronze, measures about three meters high and is 12 meters deep, making it a site of great interest for divers.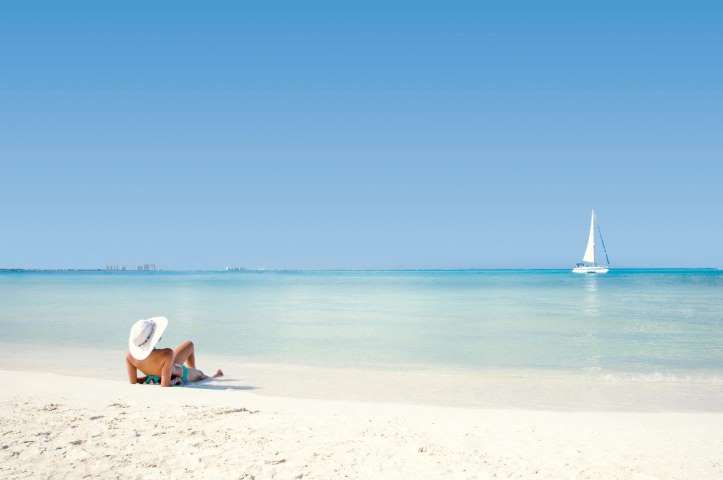 Over the years, this island has been surrounded by stories that have formed a cultural lore, such is the story of La Trigueña, a woman originally from Isla Mujeres who was wooed by a highly recognized pirate in the area. It is said that when the pirate Mundaca met her, he fell in love and built a large hacienda to prove his love. The monument dedicated to La Trigueña can be found downtown, just steps from the sea.
Holbox effuses a casual spirit and an atmosphere of serenity, where the days pass slowly, and each sunset is admired swimming in the quiet beaches of smooth waves. Viewing the sunset in one of the island's laid-back beach clubs is a must, whether a bohemian spot like Maruva or a place of authentic Caribbean flavor like La Playa de Ñaña.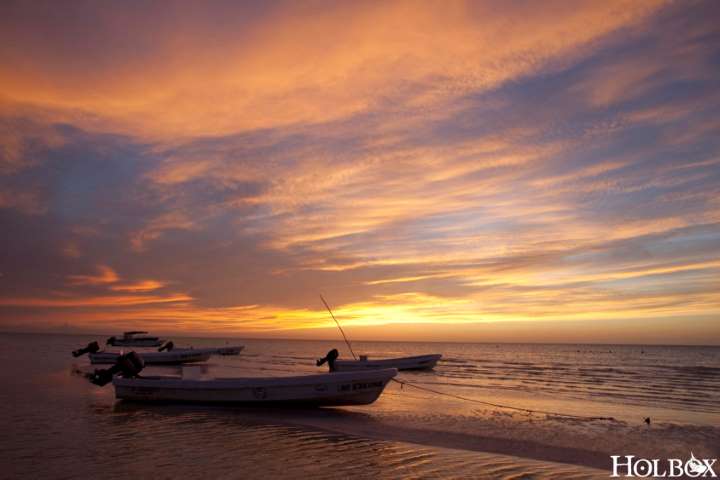 Visitors shouldn't skip time for nature on their itinerary in Holbox, with the island as home to natural phenomena like bioluminescence. This stunning spectacle is best appreciated at night during low moonlight on beaches further from central Holbox. One exciting way to experience this is Luminiscence by Pandora Holbox, a multisensory experience that combines a gourmet dinner with an outdoor show reflecting the colors of bioluminescence.
Cozumel, the largest island in the Mexican Caribbean, is recognized for being not only a great port for cruise passengers, but very attractive to athletes all over the world, having hosted tournaments like IRONMAN. Discovering Cozumel by boat, snorkeling, diving or even by submarine is popular. For more experienced swimmers, free diving is popular. Visitors can harken back to the founding days of exploring the island with Canoa Maya Cozumel, guests can row on board a Mayan-styled canoe to mimic the journey of Ixchel, the ancient goddess of love and fertility. Tour options include a beach picnic or sunset tour, among others.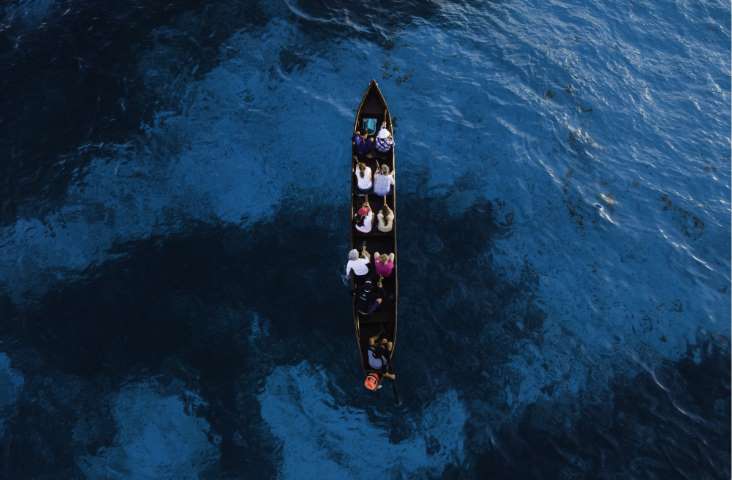 Due to the distance between the island and the mainland, Cozumel is a prime spot to see the Milky Way at night. The Planetarium of Cozumel Cha'an Ka'an offers a monthly calendar of Astronomical Evenings, where visitors have the opportunity to see celestial bodies through the planetarium's telescope while learning about classical and Mayan mythology.
During sea-turtle release season, local authorities conduct workshops to show visitors how to experience this magical occasion ethically and sustainably. Each year this unbelievable experience is highly anticipated by islanders that love to show guests the importance of balance between tourism and the environment.