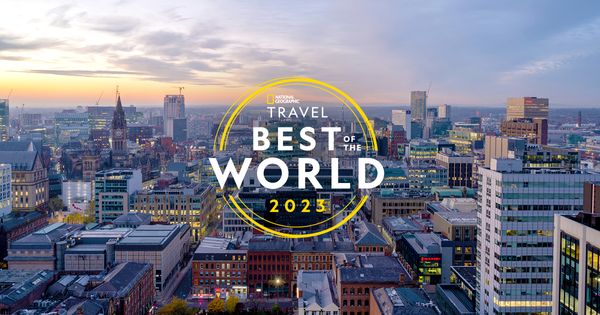 National Geographic has announced that Manchester will be included in their highly anticipated list as one of the world's best destinations to visit in 2023.
The influential 'Best of the World' list, released today, ranks Manchester as the only city in the UK to be awarded the prestigious accolade, which annually sets out 25 of the must-see places to visit around the globe.
The accolade recognises Manchester's post-pandemic revival and comes ahead of a raft of significant cultural attractions due to open in the city in 2023, with editors and travel experts personally nominating the city "as a mecca for soccer fans and a growing arts and culture hub".
Reasons given for the decision to name Manchester 'Best of the World' include; Manchester Museum, due to reopen in February 2023 following a £15m transformation that will add new galleries; Factory International, opening in June 2023 with an ultra-flexible, large-scale performance space set to become home to Manchester International Festival; and the newly-opened Castlefield Viaduct, a National Trust managed former industrial railway bridge now transformed into a skyline urban park.
Manchester joins global destinations including San Francisco, Colombia, Switzerland, and Trinidad and Tobago, which were included in the 'family' category of the accolade, recognising destinations offering educational journeys for all generations. The other categories featured in the list include culture, nature, community, and adventure.
Nathan Lump, National Geographic's Editor-in-Chief, said: "'Best of the World' is Nat Geo's annual love letter to the most incredible places in the world, both near and far, we couldn't be prouder to shine a light on these 25 extraordinary places that most inspired us this year, and which we know will define travellers' itineraries for years to come."
The 'Best of the World' list can be viewed in full on the National Geographic website.