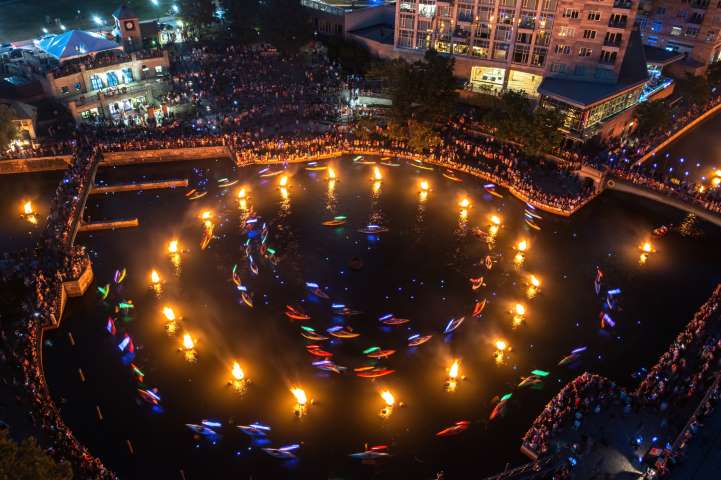 The Creative Capital takes the holiday season very seriously with programing that expands each year. Taking place for the first time ever, Providence's Three Nights of Lights is a three-day festival including citywide events all incorporating the theme of light. From December 1-3, visitors and locals can experience three evenings of WaterFire, Providence's signature arts event, featuring a series of bonfires illuminating downtown's rivers. The Avenue Concept will be creating a nighttime public art gallery with illumination, sound, and cultural experiences, offering different ways to interact with mural and sculpture exhibits throughout Downtown. Returning and growing even bigger and better, Illuminate PVD will light up with city with installations of oversized snowflakes projecting onto the front of Providence's City Hall, as well as five-foot illuminated snowflakes adorned over 150+ light poles located throughout the city. Also, don't miss the annual Tree Lighting at City Hall & Ice-Skating Show at BankNewport City Center taking place on December 2nd. With live entertainment and a festive holiday program guests will see World Champion ice-skating performances featuring demonstrations by a cast of Olympic figure-skating medalists, including guest host and emcee Nancy Kerrigan, two-time Olympic medalist. Other holiday attractions include the Holiday Lights Spectacular at Roger Williams Park where more than 3 ½ million illuminated lights transform the Zoo into a winter wonderland from radiant reindeers to sparkly snowmen. From November 25 through January 1, 2023, bundle up, grab a hot chocolate, and stroll through 40 acres of illuminated pathways with friends and family.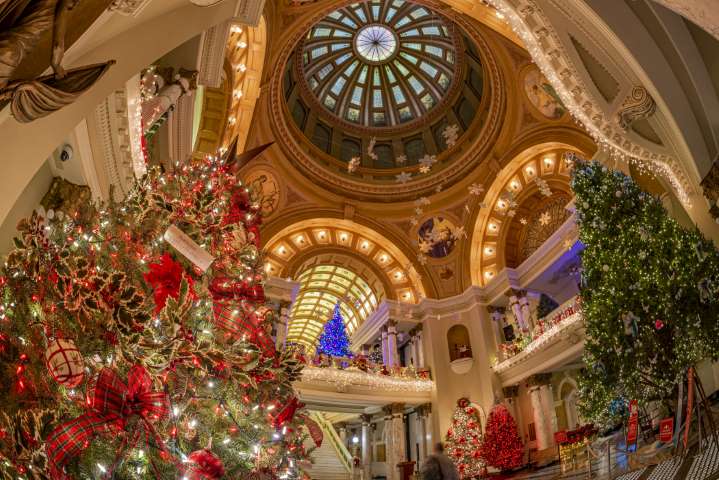 Have a Merry Prairie Christmas in South Dakota's capital! Christmas at The Capitol is a unique holiday tradition in Pierre, with nearly 100 beautifully decorated trees filling the capitol halls, offering visitors and residents a unique way to get in the holiday spirit. Each year promises a unique theme, from "Starlit Wonderland" to "The 12 Days of Christmas", to this year's prairie inspired western "Merry Prairie Christmas", a distinctive vibe is created throughout the historic corridors with each year more creative than the last. South Dakota's official Christmas tree will be decorated by three of the state's Shriners Chapters, including El Riad (Sioux Falls), Yelduz (Aberdeen), and Naja (Deadwood) in honor of the Shriners 150th Anniversary, while SoDak non-profits and corporations light the rest. The lighting ceremony, an event that you wouldn't dare to miss, will take place on November 22nd, and the capitol will be open for tree viewing from November 23rd through December 26th.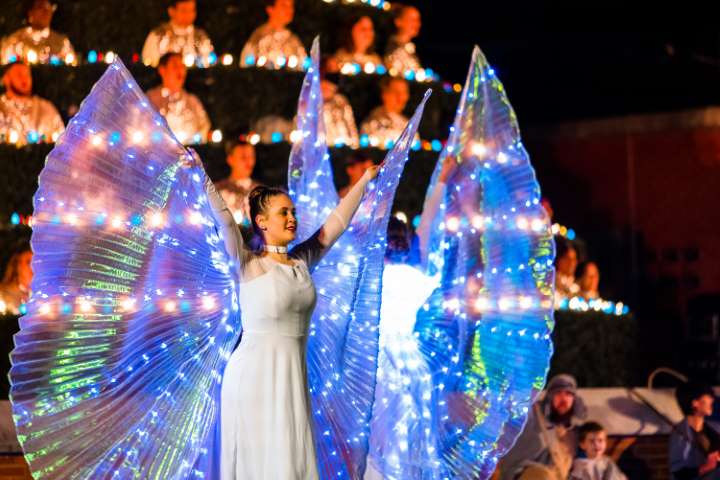 The capital city of Jackson, Mississippi is home to Belhaven University, and the school is home to one of the city's most beloved holiday traditions: The Belhaven Singing Christmas Tree. Since 1933, the Belhaven University choir assembles on a tiered wooden structure adorned in white robes, reflective collars and tiaras to give the optical illusion of a decorated Christmas tree and performs Christmas carols to university students and the public. An honored soloist is positioned on the top tier as the "star," and sings "O Holy Night." This annual holiday event, usually occurring the first weekend in December, has been a staple in Jackson's Christmas traditions, and the choir's performance of both secular and spiritual Christmas carols have put visitors and locals alike in the holiday spirit for the past 90 years.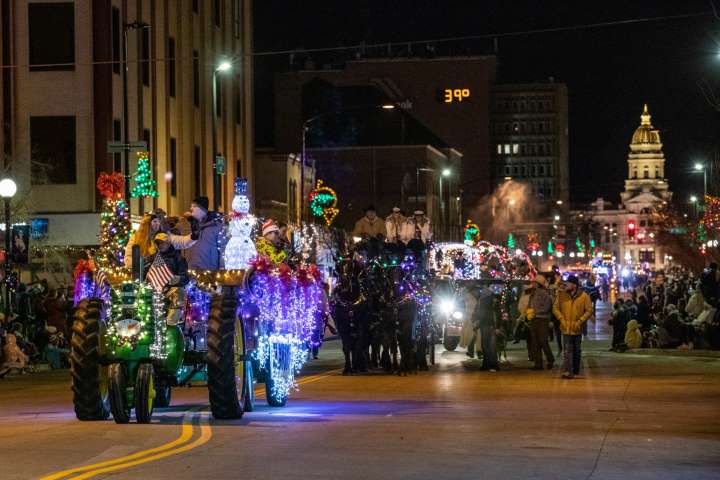 Home to beloved holiday traditions, downtown Cheyenne, WY transforms into a winter wonderland for the Old West Holiday. Kicking off November 20, this annual tradition features Santa's favorite stops throughout the city including the Old West Holiday Pony Express Stop to deliver letters to the man himself, Mrs. Claus' Cookies, Santa's saloon and so much more. The Old West Holiday also features the Cheyenne Christmas parade which highlights over 100 floats, horse-drawn wagons, bands, antique autos, performers, colorful marching groups and special holiday festivities, including the Cheyenne Street Railway Trolley Holiday Lights Tour. Other traditions include Tinsel Through Time at the Historic Governors' Mansion where from November 18 to December 24, the mansion is completely decorated from top to bottom with beautiful Christmas decorations and era-themed Christmas trees. Locals and visitors can also visit the state capital for beautiful decorations for the holiday season. Travelers looking for places to stay in Cheyenne for the holiday season can take a step back in time and leave the modern world behind at the newly renovated Nagle Warren Mansion bed and breakfast. This 1900's Victorian-era time capsule features old world service, afternoon teas, rare liquors, and world class cuisine for a truly unique and historical experience. Another option ideal for travelers or a holiday staycation is the Little America Hotel & Resorts. Featuring a New Year's Eve Package for the season, this includes overnight accommodations for two, unlimited well drinks from 8 p.m. to 1 a.m., a midnight champagne toast and late check-out New Year's Day.