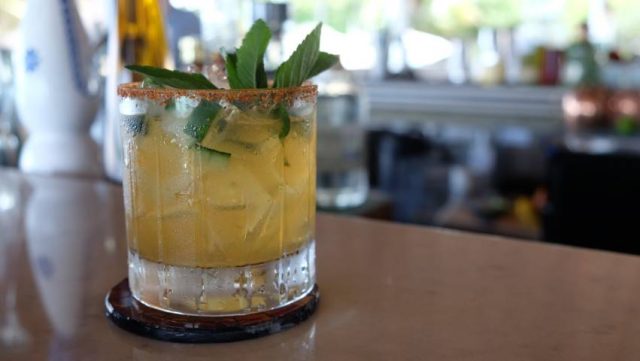 Celebrate National Tequila Day (Saturday, July 24) and spice up your typical margarita with this recipe from Fairmont Mayakoba that will transport you to the beach.
Recipe – Cucumber Habanero Margarita
Ingredients:
1oz 100% Agave Tequila Reposado
1oz 100% Agave Tequila Reposado Habanero Infused*
1oz Fresh Lime Juice
.75oz Agave Nectar*
Garnish: Orange Peel and Half Salted Rim
Glassware: Double Old Fashioned 12oz
Instructions:
First rim the glass with salt by taking a lime wedge and rubbing the outside of the lip of the glass. Then by using a plate with kosher salt on it press the rim of the glass to the salt. Salt half the rim. Add all ingredients into a shaker tin then shake vigorously for 5 seconds. Strain over fresh ice into salt rimmed glass then garish with orange peel.
*Habanero Tequila:
Use 1 fresh habanero the size of a large strawberry. Slice is quarters then add to 1 bottle of Reposado tequila. Let rest for 24hrs. Tequila is ready for use.
*Agave Nectar:
Using the similar ratio in making simple syrup do the same with agave nectar. One-part agave nectar: 1 part water. Feel free to add the zest of lime and orange to the syrup for added flavor.
16oz Agave Nectar: 16oz Water
Zest of 2 limes
Zest of 1 orange