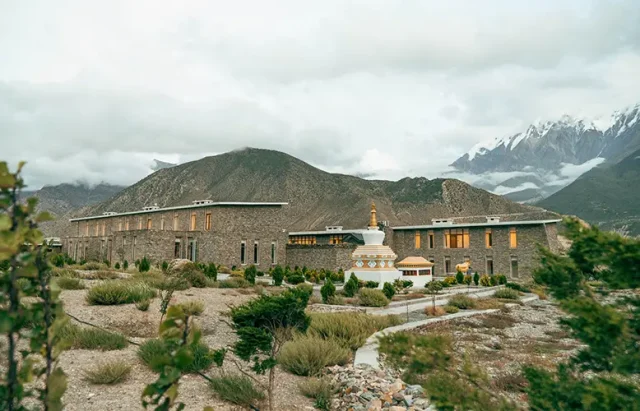 Shinta Mani Hotels, owned and operated by HMD Asia, in partnership with Kathmandu-based Sherpa Hospitality Group, opened the 29- suite Shinta Mani Mustang – A Bensley Collection luxury hotel on 13th August 2023. This is Shinta Mani Hotels' first internationally flagged property outside Cambodia.
Shinta Mani Mustang – A Bensley Collection is an all-inclusive experience, with the guests' journey curated to provide the most remarkable 360-degree, luxury experience in the Himalayas; one of the most unique and preserved regions in the world. "Mustang" or Manthang in Tibetan, translates to "Plain of Aspiration" and is bordered by the Tibetan plateau with an elevation that rises from 1,372 to 8,167 meters above sea level.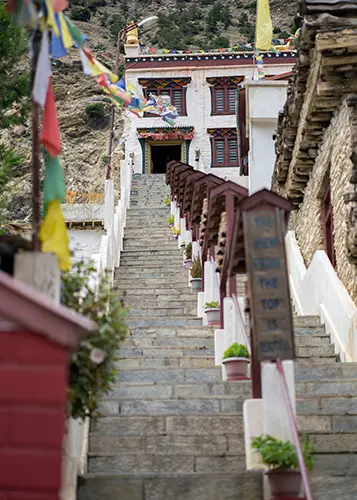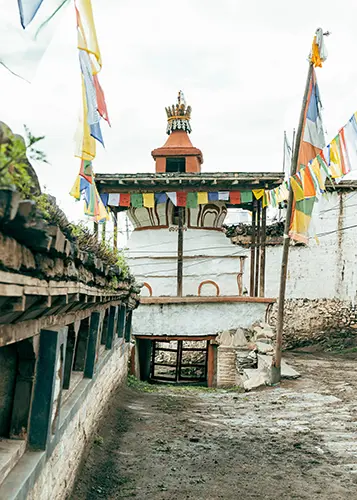 Location
At an elevation of 2,800 m (9,186 feet), Shinta Mani Mustang – A Bensley Collection is located in Jomsom, in the Lower Mustang area which is a gateway to Upper Mustang, once the Forbidden Kingdom of Nepal. This magical and spiritual destination with its dramatic landscapes is hidden in the Kali Gandaki valley between the Annapurna and Dhaulagiri Mountain ranges. It is the perfect base for trekking and adventures in the surrounding area, exploring Buddhist monasteries and culture, or just enjoying the awe-inspiring vistas of some of the highest snow-capped peaks in the world, including the formidable Nilgiri Himal.
Each of the 29 suites measuring 45 square meters (2,484 square feet), is designed in the style of a traditional local home with an open-plan bedroom combined with a living area and a separate bathroom. Floor to ceiling windows offers majestic views of the Nilgiri mountain range.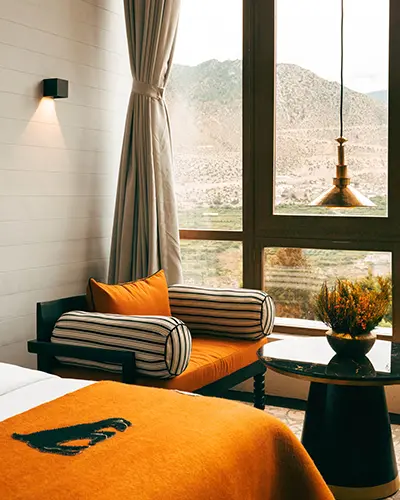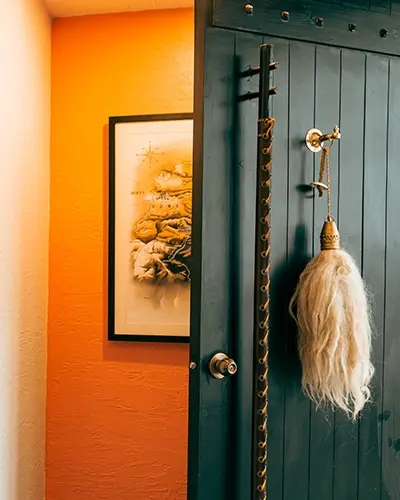 Facilities
Culinary options at Shinta Mani Mustang – A Bensley Collection include the 60-seat Nilgiri Restaurant, named after the majestic mountain it looks out onto and a large outdoor dining patio where modern Nepal and western cuisine will be served, using locally sourced and foraged produce. The Aara Bar is named after an exotic local Tibetan/Sherpa liquor.
The Wellness Center has two exquisite treatment suites with floor to ceiling windows facing the mountains; each with a hot plunge pool, steam room, sauna, shower and two massage beds. The Tibetan wellness programme was developed by a local 11th-generation Tibetan Amchi Doctor, using traditional herbal medicine.
The mixed-use activity room is used for meetings, presentations or yoga and exercise classes.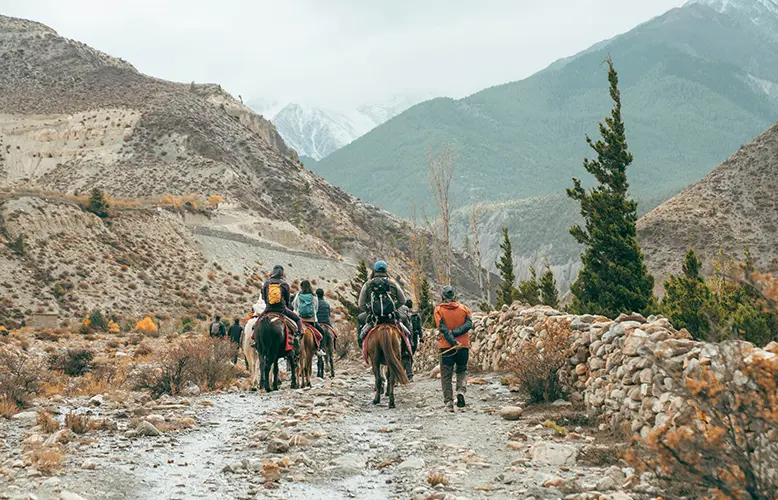 Fully Immersive Experience and Activities
A highly personalised privately guided and unique guest experience programme honours the traditions of local Sherpa hospitality and has been curated exclusively for our guests enabling them to do a different trip every day for up to two weeks. These include trekking, horse riding, rock climbing, cycling, archery, hiking, helicopter tours, wellness and more. Meticulously created by Jason Friedman and three years in the making, the excursions are led by our experienced Bensley Adventure Guides, guests are escorted on a variety of day trips, hiking along rarely travelled trails with incredible dramatic landscapes and incredible vistas, important religious sites, dining on Shinta Mani gourmet picnics made with the freshest farm to fork ingredients. The activities enable guests to be fully immersed into the local culture and traditions, giving them a truly authentic and memorable experience.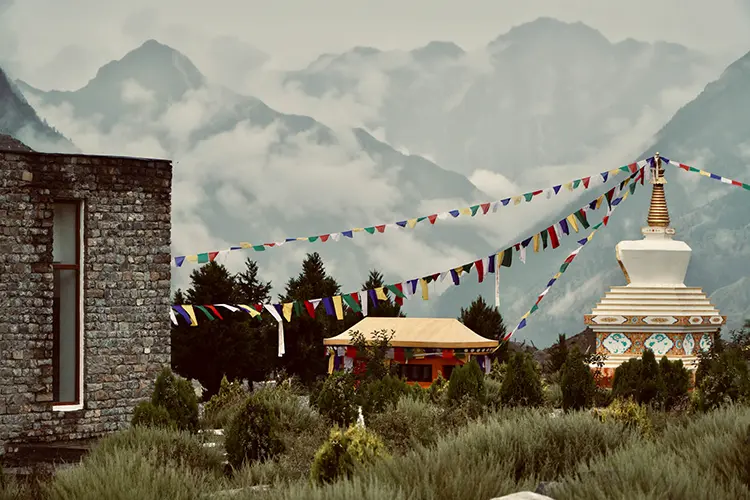 Design and Sustainability
The original hotel structure built in 2017 was designed by Nepalese Architect Prabal Shumsher Thapa who incorporates sustainable design solutions in all of his projects. Before its official opening in August, design genius Bill Bensley added his creative magic, bringing a unique verve to a location that remains untouched. Interiors incorporate warm coloured fabrics and materials to reflect the rich tones of the surrounding landscape, which can be viewed from every window of the resort. Huge fire pits on the outdoor terrace allow guests to admire millions of stars in the night sky in warmth as the temperatures dip. Inside, every area is complemented by the artwork of the late artist Robert Powell, a friend of Bill's who drew the region's vernacular architecture in incredible detail. In his typical upcycling style and with his sustainable mindset, Bill has used recycled materials that he has repurposed into unique new furniture.
Namgyal Sherpa, Owner of Sherpa Hospitality Group added, "Our group has been promoting experiential travel in remote areas of Nepal for many years now. It was our dream to create world-class, luxury hotel experiences in the Himalayas and we couldn't find a better partner than Shinta Mani Hotels to collaborate with on this vision as we share similar values. We are very excited to be pushing the boundaries with this exciting project to position Nepal as a quality, luxury destination and not just for the budget traveller."
Sokoun Chanpreda, Managing Director of HMD Asia said "we are delighted to be entering into this agreement with the Sherpa Hospitality Group and highly value our partnership with them. We have incredible synergies between our brands and look forward to a fruitful and successful alliance in this unique and very special destination."
Bill Bensley
"This is perhaps one of the most exciting projects we have ever had. I have never seen such wildly dramatic landscapes as the mountains and valleys of Mustang, and am thrilled that Shinta Mani can be the first to introduce this mystical land to international adventurers – and all the more so under the special wing of Bensley Collection. This will be their base camp for explorations all around these phenomenal mountains, as always guided by our kind and infinitely knowledgeable Bensley Adventure Guides, for the experience of a lifetime," said Bill.
Philanthropy
In keeping with Shinta Mani's philosophy of giving back to the communities in which they operate, the hotel works closely with the Pasang Lhamu Foundation which was founded by the owning family in memory of Pasang Lhamu Sherpa, the first Nepali woman to blaze a trail the summit of Mt Everest in 1993. The Foundation is a non-profit, non-political, non-government organization with the core pillars of Education, Vocation Training, Health and Immediate Assistance. https://pasanglhamufoundation.org/