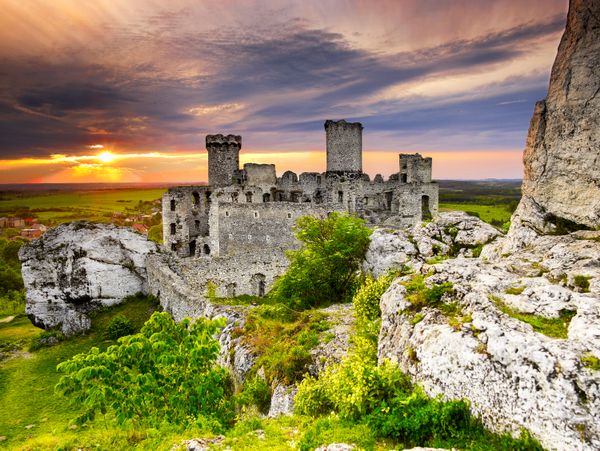 A month after the release of the first season of The Witcher, Netflix announced that the production turned out to be "the biggest series debut ever". The Witcher is Netflix's brand-new series based on books written by one of Poland's most celebrated fantasy writers, Andrzej Sapkowski. Fittingly, some of the movie scenes were filmed on location in Poland. The pivotal Battle of Sodden Hill at the conclusion of the season, was actually shot at the Ogrodzieniec Castle located in southern Poland in the Kraków-Częstochowa Upland. The ruins of this medieval castle are open to visitors and are part of the Trail of the Eagles' Nests. The trail runs along a chain of 25 castles and strongholds between Częstochowa and Kraków.
The Ogrodzieniec Castle in Podzamcze, originally established as a stronghold in 12th century and turned into a gothic castle in mid-14th century, rests on the highest hill of the Kraków-Częstochowa Upland. Its remains are the largest and most distinctive fortifications on the Trail of the Eagles' Nests. The Ogrodzieniec Castle stands as an excellent example of the fine craftsmanship typical of the period, and it serves as an inspiring reminder of the local history and families who called the castle their home.
The person who contributed the most to the site's development was Seweryn Boner, who remodeled the castle in the Renaissance style in the mid-16th century. The work took some 15 years, the result being an enormous residence, sometimes referred to as the "little Wawel", supported on limestone inselberg. In the early 17th century subsequent owners surrounded it with modern fortifications and then refashioned the castle interiors in the Baroque style.
Seized, plundered and partially burned down by the invading Swedish army in 1655, the castle changed hands and was rebuilt in parts, but eventually fell into ruin. It was not until 1906 that, at the initiative of Aleksander Janowski, the scenic ruins were purchased by the Polish Sightseeing Society and secured for tourism purposes. Today Ogrodzieniec Castle is managed by the Zamek company which organizes sightseeing tours and a multitude of outdoor events.
Thanks to the Netflix series, the Ogrodzieniec Castle is now part of the Wither lore. Everyone interested in visiting the site of the final stand at the Sodden Hill is more than welcome to do so. Hopefully, images linked below will additionally inspire and encourage the visit to the castle and to Poland in general.