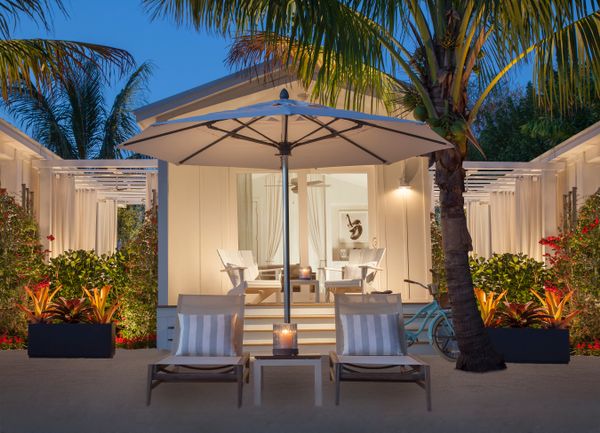 In the Florida Keys & Key West it's easy for groups to unplug. The popular 125-mile-long subtropical island chain continues to be enhanced as a destination for meetings and corporate and incentive groups. New offerings include a soon-to-open all-inclusive bungalow resort in Key Largo, increased airline options, tours and team-building adventures.
In Key West, newly launched complimentary hop-on, hop-off Duval Loop transportation provides seamless and easy car-free access. And making Keys chocolates or authentic Key lime pie, a signature dish of the Florida Keys, are fun group activities.
Keys Accommodations
In Key Largo Bungalows Key Largo, a 12-acre luxury 135-unit property billing itself as "luxury inclusive" is targeting an opening in April. The new resort is located at 99010 Overseas Highway, at mile marker 99 bayside, and is designed to accommodate incentive and small groups, corporate retreats, meetings, weddings and leisure travelers. The property is to offer 4,000 square feet of indoor and outdoor private event space. Rates are to be inclusive of lodging, food and premium beverages, hotel amenities, activities and water toys. Most of the freestanding bungalows average about 1,000 square feet of indoor and outdoor space, with outdoor plunge pools or tubs. The resort offers two in-ground pools, multiple indoor and outdoor dining options, 1,000 feet of shoreline, three piers to accommodate boats up to 40 feet long and a "Florida Keys chic" design. The lush, palm-lined bungalow resort is under development by Johnson Resort Properties Inc., owned by Jerry Johnson, who also developed the Inn at Key West. Johnson is a former owner of Islamorada's Cheeca Lodge & Spa. Visit BungalowsKeyLargo.com or call 866-801-0195.
In Key Largo, Dolphin Point Villas, at mile marker 102 bayside, has opened for groups such as wedding parties, corporate and yoga retreats of up to 62. Events for up to 100 can be hosted. The new resort, which celebrated its opening in early December 2017, includes six stand-alone villa homes and is adjacent to Dolphins Plus where guests can swim with dolphins. Five villa homes offer one to three bedrooms. A sixth, the Nautilus House estate, sleeps up to 16. It features five bedrooms and five baths, a private pool and a large wrap-around porch. Dolphin Point Villas is located at 101910 Overseas Highway. Visit dolphinpointvillas.com or call 305-451-0315.
Also in Key Largo, the 14-acre, 144-room Playa Largo Resort & Spa, at mile marker 97.5 bayside, opened in fall 2016 as the Upper Keys' first new-build resort in 21 years. The full-service property was Autograph Collection Hotels' 100th addition. Playa Largo offers about 40,000 square feet of meeting space and a 6,000-square-foot ballroom, ideal for corporate events, meetings and banquets. With three gourmet restaurants, kosher needs can be accommodated. Amenities include a pool with a 1,200-square-foot deck, 10 secluded bungalows, a three-bedroom beach house with a private plunge pool, full-service spa and 6,000-square-foot beach. Playa Largo is located at 97450 Overseas Highway bayside.
Visit playalargoresort.com or call 305-853-1001.
In Islamorada, the famed 27-acre, 214-unit oceanfront Cheeca Lodge Resort & Spa, located at mile marker 82 with a fishing lodge aesthetic, is to offer 4,600 square feet of redesigned meeting space when it reopens March 30. Cheeca's renovation features an all-new 525-foot-long wooden fishing pier, upgraded spa, Jack Nicklaus-designed nine-hole golf course, new watersports and fitness equipment, and expanded parking. A new oceanfront pool and second Tiki bar are scheduled to open in May. Dining venues are to include Mia Cucina, a family-friendly pizza and pasta bistro, the flagship Atlantic's Edge with seafood and steak, and Nikai Sushi. The resort offers six outdoor meeting venues and a 1,900-square-foot Sunset Ballroom & Oceanfront Terrace in the main lodge's second level. Groups can plan a sunrise breakfast on a 39-foot motor catamaran or a team-building event on nearby Indian Key. Located at 81801 Overseas Highway, Cheeca Lodge targets small and mid-size corporate meetings, board and company retreats, incentive and client appreciation trips, fishing groups and weddings. Visit cheeca.com or call 866-348-7053 or 305-712-7166.
Little Basin Villas, also in Islamorada at mile marker 81.8, offers nine three-bedroom, 3.5-bath waterfront vacation rentals for corporate and fishing groups, weddings and families. Groups of up to 54 adults can be accommodated. Amenities include gourmet kitchens, free Wi-Fi, pool, Tiki hut and grill, smart TVs, washer, dryer, dishwasher, dock and beach access, personal audio systems and keyless entry and exit. Little Basin Villas, opened in summer 2016 in the village's Arts District, is located at 84 Johnston Road bayside. Visit littlebasinvillas.com or call 305-363-8999.
In the Middle Keys, meeting planners can book the 60-acre Hawks Cay Resort for meetings beginning Sept. 1. Hawks Cay is a AAA Four Diamond Award–rated and Preferred Hotel Group Lifestyle Collection member at mile marker 61 oceanside. The resort, which has been closed for renovations, will reopen in phases starting March 16, with a grand reopening scheduled this summer. It is to reopen with 20,000 square feet of oceanfront meeting space to accommodate up to 450. The largest resort of its kind in the Keys, Hawks Cay incorporates ocean views into its meeting spaces with walkways and entrances located outside under covered awnings. Hawks Cay Resort has 177 guest rooms and 250 two- and three-bedroom villas, a full-service marina, saltwater lagoon, spa and multiple restaurants and swimming pools. Dolphin Connection at Hawks Cay Resort is open with daily dockside and in-water sessions. Visit hawkscay.com or call 305-289-5143.
In Marathon, the 126-acre Florida Keys Country Club and 18-hole golf course is developing its new $100 million Florida Keys Resort hotel, convention and entertainment complex at mile marker 50. The target date for completion of the first phase, to include a two-story 98-room hotel and 18 villas, each with its own pool, is spring 2019. Several themed restaurant and bar facilities also are planned. A 14,000-square-foot entertainment complex is to include a 5,000-square-foot convention area and golf learning center with two virtual simulators. The club also is to include a 24-bay AquaGolf driving range with a 12-acre lake and floating greens. Golf architect Kip Shulties is overseeing the golf course's redesign and expansion. Visit floridakeyscc.com or call 305-743-2551.
On Stock Island, adjacent to Key West, the 100-room The Perry Hotel Key West at Stock Island Marina opened in spring 2017 with one of the Florida Keys' largest deep-water marinas, accommodating vessels up to 300 feet long. The hotel is located at the 42-acre Stock Island Marina Village overlooking Safe Harbor and a 220-slip marina. Excursion partners include Lazy Dog Adventures and Namasté Eco-Excursions. The property also features Matt's Stock Island Kitchen & Bar and The Salty Oyster Dockside Bar & Grill. The Perry Hotel Key West is located at 7001 Shrimp Road. Visit perrykeywest.com or call 305-296-1717.
Also on Stock Island, the 20-acre Oceans Edge Key West Hotel & Marina has a new 575-square-foot conference space for 10 to 12 people. Oceans Edge can also host events and groups at its on-site Yellowfin Bar and Grill. Additionally, its outdoor space features six pools on grounds that can accommodate up to 250. Through a partnership with Key West Harbour marina, Oceans Edge also can provide Key West Harbour's restaurant space for up to 60. Banquet package options are available. The resort's 175 suites and rooms range from 382 to 575 square feet. Suites offer a private living room, wet bar, flat-screen TV, local art and custom furnishings. The property includes an on-site marina with 111 wet and 52 dry slips. Oceans Edge, developed by Singh Investors, opened in December 2016 and is located at 5950 Peninsular Ave. Visit oceansedgekeywest.com or call 305-809-8242.
The 178-room Margaritaville Key West Resort & Marina, located just steps from Key West's Mallory Square, offers new meeting amenities and refreshed rooms and suites. New at the resort are Vitamin D Breaks with fresh fruit juices and Evian sunshine misters, H2Ospitality Suites in a fully equipped yacht and "Sun & Sea" venues such as a boat or catamaran for breakout sessions. Margaritaville features 16,000 square feet of flexible indoor and outdoor function space, including a 300-capacity Truman Ballroom and nine breakout rooms. It also has a full-service 37-slip marina with watersports, live entertainment and signature travel packages. Inspired by the hit song and lifestyle of singer Jimmy Buffett, a former Key West resident whose music is spiced with references to the island, Margaritaville is a global lifestyle brand with destination resorts across the southeastern U.S. and Caribbean. Margaritaville Key West Resort & Marina is a block from legendary Duval Street at 245 Front St. Visit MargaritavilleKeyWestResort.com or call 305-294-4000 or 855-366-8045.
Also in Key West, the 311-room Casa Marina and 150-room The Reach, both Waldorf Astoria Resorts, have launched new teambuilding "Good, Better, Best" packages, offering competitive group activities such as watersports and fishing tournaments. The two resorts offer a combined 15,000 square feet of event space. Casa Marina also offers beach concierge service, delighting guests with treats such as smoothies and chilled eucalyptus towels every 90 minutes. Cabana poolside packages, offered in cabanas that include a TV, mini-fridge stocked with nonalcoholic beverages and fruit platter, are priced at $175 per cabana, fitting up to four adults comfortably, per day. The Casa Marina is located at 1500 Reynolds St. Visit casamarinaresort.com or call 305-296-3535.
The 216-room Marriott Key West Beachside, with Key West's largest ballroom at 5,673 square feet, has a new 16-slip dock, accommodating boats with a maximum 40-foot length and 13-foot beam. The property, with seven breakout rooms and outdoor function space, offers nearly 10,000 square feet of meeting space. Recent upgrades include new air walls and carpeting. It has complimentary Wi-Fi throughout the hotel and accommodates in-house audiovisual requirements. Marriott Key West Beachside is located at 3841 N. Roosevelt Blvd. Visit keywestmarriott.com or call 305-296-8100.
Keys Restaurants and Venues
In Islamorada, a 1,500-square-foot meeting space can be booked at the 3-acre bayside Angler House Marina at mile marker 80.5.  The venue accommodates up to 100 group participants in an atmosphere of "Old Florida" charm, surrounded by natural hardwood hammock and mangroves. Participants can enjoy a two-story Tiki hut with the Canoe Club bar, dock, soft Bermuda-grass lawn, flat-screen TVs, an outdoor kitchen and pool. Corporate meetings and retreats at Angler House Marina can include custom-created fishing tournaments, catering and events such as paddleboard and evening sunset trips and eco-tours. Visit AnglerHouseMarina.com or call 305-664-5247.
In Key West, First Flight Island Restaurant & Brewery has opened at 301 Whitehead St. The two-level restaurant and venue, with daily happy hour, can accommodate groups up to 250. The indoor-outdoor Treetop Terrace includes a private bar, cocktail and sitting areas and lounge furniture. The Canopy Garden also has a bar and is surrounded by lush banyan trees with seating for up to 150 people for casual cocktails or plated dinners. The venue was previously Kelly's Caribbean Bar, Grill & Brewery, named after actress Kelly McGillis, a former Key West resident who opened the restaurant in 1992 with her then-husband Fred Tillman. The venue incorporates the original office of Pan American World Airways, which debuted the United States' first scheduled international air service in 1927. Visit firstflightkw.com or call 305-293-8484.
Sunset Green, a new 12,105-square-foot event venue located between The Gates Hotel Key West and 24 North Hotel near the entrance to the island city, provides a venue for up to 800 seated or 1,200 standing guests. At one end of the event lawn, The Gates' signature food truck, The Blind Pig, serves a tapas-style selection of "conch fusion" offerings. The lawn is designed as a site for weddings complete with a wedding trellis, as well as family-friendly concerts, movie nights, yoga classes, and public or private events. For more information or to reserve Sunset Green, call 305-600-1425 or visit thekeyscollection.com.
Key West's restaurant Mangoes, located at 700 Duval St. in the heart of Old Town, offers private dining and meeting space for groups of up to 300. An upstairs banquet room can accommodate 150 with a full-service bar, TV, private restrooms, a stage and vintage booth seating. A downstairs dining room offers capacity for 50 and overflow into the Starlight Lounge, adjacent to a full-service bar. The full restaurant can be reserved for a private event for as many as 300 people. Contact events@mangoeskeywest.com or call 305-294-8002.
Keys Transportation
In Key West, a new free hop-on, hop-off Duval Loop bus service makes it easy for groups to travel around the island's Historic Seaport and downtown Duval Street districts without using cars. The route includes 16 stops, so riders can get on and off near Key West attractions, hotels, museums, boutiques and eateries. Designed to reduce traffic and parking challenges on island streets, the service is a project of Car-Free Key West. The city campaign promotes healthier and eco-friendly alternatives to driving such as walking, bicycling and public transit. The Duval Loop's colorful pink and blue buses run every half-hour from 6 to 10 a.m. and every 15 minutes from 10 a.m. until midnight. The service operates daily from Christmas through Easter and Thursday through Sunday from Easter through Christmas. Visit carfreekeywest.com or call 305-809-3911.
American Airlines is scheduled to begin new nonstop service between Key West International Airport and Dallas–Fort Worth International Airport June 9, 2018. The new commercial service is to operate once-weekly seasonal flights from Saturday, June 9, to Saturday, Aug. 25, 2018, on 76-passenger E175 regional jets, said Donald DeGraw, director of airports for the Florida Keys & Key West. "With new jet service to Dallas, our visitors now have more than 100 options for one-stop connections to the United States and abroad," DeGraw said. "The new service opens up the U.S. West Coast market for Key West." DeGraw worked with the Key West Chamber of Commerce and Voltaire Aviation to secure the new air capacity.
Key West International Airport is undergoing a $10 million, five-month reconstruction project on its single 15-year-old runway. The airport is to remain open during the day to accommodate scheduled commercial airlines — American, Delta, Silver and United — and general aviation. "With only one runway at Key West, this is a very challenging but needed project," said Don DeGraw, director of airports. "The timely completion of the project is critical to the airport being able to provide the community and visitors with continued reliable air carrier service." The existing 4,801-foot-long runway is to be resurfaced with new pavement. An additional 270 feet is to be available for aircraft taking off to the east. The runway's shoulders are to be widened to 20 feet from 10 feet on both sides. Lighting is to be upgraded to light-emitting diode standards for energy conservation. Improved drainage is to be added in grass safety areas abutting the runway. The project is funded by the Federal Aviation Administration, state aviation grants and passenger facilities charges. KWIA is located at 3491 S. Roosevelt Blvd. Visit eyw.com or call 305-809-5200.
Silver Airways, with nonstop service into Key West International Airport from Fort Lauderdale, Fort Myers, Tampa and Orlando, Florida, plans to add new ATR-600 series aircraft seating 46 passengers on several Key West flights during this year's first quarter. Silver currently operates service into Key West on 34-seat Saab 340B Plus turboprop aircraft. The airline's "Freedom Fares" provide passengers flexibility to change flights with no additional fees; on select flights, a 21-day advance purchase is required. Restrictions apply. Visit silverairways.com or call 801-401-9100.
Keys Activities, Attractions and Tours
Key Largo Chocolates, the Keys' only chocolatier, offers educational and fun chocolate-making classes for girlfriend getaways and other groups that include hors d'oeuvres, wine and a kitchen tour. Typically lasting about 2.5 hours, classes are offered on request for 10 to 22 people and are priced from $65 per person plus tax. Participants get to take home their chocolates in a box. The emporium features handmade truffles, specialty chocolate bark with Key lime and pistachios, and "chocodiles" — whimsical 9-inch-long crocodiles made of white or dark chocolate. Homemade ice cream includes flavors such as Key lime pie and dulce de leche. Key Largo Chocolates is located at 100470 Overseas Highway at mile marker 100.4. Visit keylargochocolates.com or call 305-453-6613.
At Florida Keys Aquarium Encounters in Marathon, groups can immerse themselves in a 200,000-gallon saltwater aquarium tank to learn firsthand about the Keys' unique marine ecosystem. Guests can swim with different species, feed fish and hand-feed sharks though a glass section separating a predator tank from a coral reef tank. Private tours and marine life encounters can be arranged and corporate event space is available for up to 300 people. The attraction includes three touch tanks and an Everglades-style area with turtles, tortoises and American alligators. A lionfish exhibit, billed as the only one of its kind in the Keys, features colorful lionfish and rocks teeming with invertebrates in a 300-gallon custom tank. Lionfish are an invasive specifies to the North Atlantic Ocean and the Caribbean with a voracious appetite and no natural predators in the Keys. Aquarium Encounters is open daily at 11710 Overseas Highway. Visit floridakeysaquariumencounters.com or call 305-407-3262.
A new Key West Room Escape team-building activity is offered at Casa Antigua, 314 Simonton St., a private residence built in 1919 that was originally one of Key West's first hotels. The escape room experience, "Escape the Study," is offered for groups of two to eight. The 60-minute experience requires participants to communicate and work together to escape the room by figuring out clues and solving puzzles in a fun, themed environment. Two more rooms, called Jail Break Havana and Pirate Treasure Hunt, are soon to be unveiled. Author Ernest Hemingway and his wife Pauline stayed at the building known as the Trev-Mor Hotel in the late 1920s while waiting for an automobile to be delivered. Key West Room Escape is open daily and available for groups from 10 a.m. to 10 p.m. Visit keywestroomescape.com or call 305-916-5517.
The organizers of the acclaimed Key West Literary Seminar now operate the Old Town Literary Walking Tour, departing from the pink-walled Monroe County Public Library at 700 Fleming St. A knowledgeable and entertaining guide leads the 90-minute tour, sharing stories of Key West writers and their works. The tour features the former homes and favorite haunts of Tennessee Williams, Shel Silverstein, Thomas McGuane, Elizabeth Bishop and Robert Frost among others. Each tour has space for 12 participants. It departs Fridays at 5 p.m. and Saturdays at 10 a.m. The tour is priced at $25 per person and advance purchase is required. Visit kwls.org/tour or call 305-293-9291.
Air Adventures Helicopters has new private add-on options to aerial sightseeing tours above Key West and its surrounding turquoise waters. Tours include a five-minute "discovery" ride, island tour, Key West eco-tour, ultimate island experience and sunset celebration flights, priced from $69 to $249 per person. A private tour can be reserved for three passengers on a Robinson R44 helicopter for an additional charge of $29 per person. A "doors-off" add-on also is offered, at $20 per passenger, if a passenger chooses an open-door view. Air Adventures Helicopters is located at 3471 S. Roosevelt Blvd. Visit fly-keywest.com or call 844-246-3594.
Key West Key Lime Pie Co., located at 511 Greene St., offers private group classes where a minimum of six participants can learn how to make the Florida Keys' tangy signature dessert. Linked to Key West's history, Key lime pie is believed to have been created by "Aunt Sally," a cook for Key West's first millionaire and ship salvager, William Curry, in the 1800s. Spongers and fishermen made it onboard their vessels with simple ingredients that didn't require refrigeration. Class participants create their mini–Key lime pies of graham cracker crust, Key lime filling and whipped topping in a live kitchen. Individuals can join an existing class, currently held Thursdays at 11 a.m. and Fridays at 10 a.m. and 11:30 a.m. Prices are $20 per person for the hourlong classes. Visit keylimepieco.com or call 855-798-7383.
Florida Keys visitor information: fla-keys.com