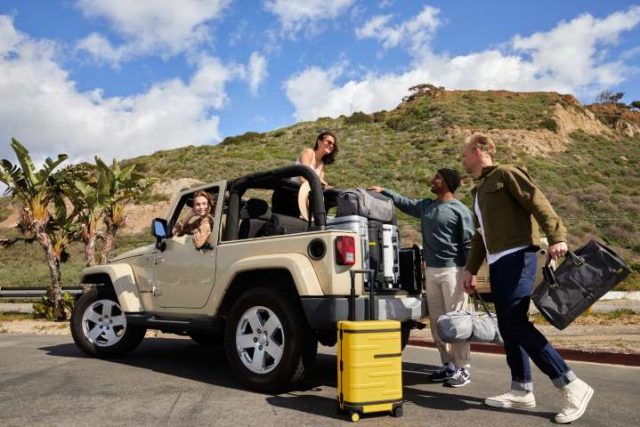 Samsara Luggage's newly launched Tag Smart Collection was featured in multiple press outlets as a surge in reports of lost luggage delays saturated the international news cycle. Forbes, CNN's HLN Network and Dallas Morning News included Samsara's Tag Smart suitcase in its coverage of the prevalent issue, showing how tracking can ease the frustration and help get travelers reunited with their suitcase. The Tag Smart suitcase is combined with the Apple AirTag, allowing travelers to easily track their suitcase using the Find My app on their iPhone. The suitcase was launched in April 2022 as the first model from Samsara's Next Gen collection. 
"We are pleased to have launched the Tag Smart collection just as the need for tracking luggage has become a major need for travelers worldwide," says Atara Dzikowski, Co-founder & CEO of Samsara Luggage. "Our hope is that now smart luggage will become mainstream as travelers see that the solution is available to them through their suitcase."
The press took note of the Tag Smart's timely product launch, featuring the smart suitcase in their lost luggage coverage. The Tag Smart suitcase was featured during a segment on CNN's Morning Express with Robin Meade: "The nice thing about this is you can utilize your phone to help find your luggage wherever you are." The Dallas Morning News reviewed the quality of the suitcase and said, "The bag is really sturdy and easy to pull." Dzikowski gave her insights on the topic in a recent Forbes article entitled Pro Tips For Finding All Your Lost Airline Luggage, saying experiencing lost luggage can be "costly, time-consuming and frustrating at a time when you're trying to relax." 
The Tag Smart suitcase is the first of its kind featuring an interior compartment that secures the Apple AirTag device from within. The suitcase's aluminum frame and TSA-approved combination locks keep the AirTag protected from any outside tampering. The Tag Smart Device is included in the suitcase. Samsara plans to expand this collection to more sizes and technologies in the future.