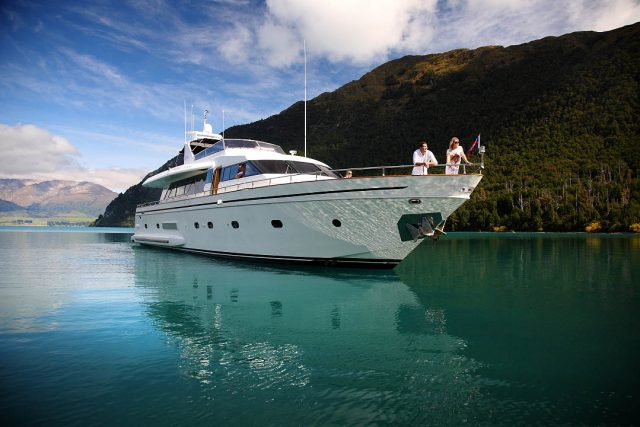 For those who love the Queenstown and Fiordland scenery and have a few dollars to spare, you will love the new cruising offerings on the South Island of New Zealand.
The Pacific Jemm
Queenstown's luxurious Eichardt's Private Hotel has added a new accommodation to its growing portfolio of exclusive destinations. The latest addition is the Pacific Jemm, a 24-metre luxury vessel that offers four suites and premium service. With old-world charm, smart teak finishes, plush built-in furnishings, and all the modern amenities expected of a fine hotel – this is something to experience. There are two crew members alongside the Eichardt's chef who prepares custom menus with an emphasis on locally sourced fare.
Three expansive decks provide the perfect vantage point to explore hidden coves, mountain vistas or insta-worthy backdrops of the famous Queenstown bay. Options for cruising include scenic daytrips to Glenorchy and a helicopter ride over to the West Coast for crayfish (lobster) before returning to the boat to anchor up and cook the catch.
Adventurous guests can super-charge the experience with their pick of an Aston Martin, Lamborghini Gallardo Spyder, Audi R8 or Porsche 911 to cruise down the road to Glenorchy before being helicoptered over the Southern Alps, gathering West Coast delicacies, and devouring the freshest Kiwi seafood while cruising back to Queenstown.
In addition, there are custom fireworks displays over gourmet dinners that light up The Remarkables, Cecil Peak and Walter Peak mountain ranges.
For more information visit pacificjemm.com