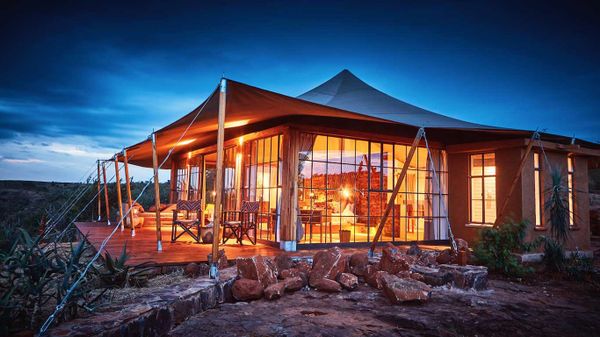 Kenya has been able to remain a must-visit safari destination for decades thanks to its iconic national parks and game reserves, and the irresistible drawing card that is the Great Wildebeest Migration. On top of that, Kenya has demonstrated an amazing ability to reinvent itself and remain relevant even as newer destinations clamor for attention.
This year will see some awesome new luxury safari lodges open throughout Kenya – here's our guide to the very best of them. If you're considering a safari vacation in East Africa during 2019, at least some of these exciting new luxury safari lodges should be on your itinerary. Let us tell you why.
Mugie House
This is the latest go-to address in the Governor's Camp Collection and is situated on a private 80-square-mile conservancy within the fabled Laikipia County. Originally dating from the 1980s, Mugie House is currently undergoing extensive renovations in order to be ready for its October 2019 opening.
From its position on a ridge, Mugie House and the nine guest cottages overlook a waterhole which is consistently popular with local wildlife (including big cats). This new luxury property offers the opportunity to enjoy moments of relaxation like afternoon tea as tropical birds flit around the gardens. Equally, more active pursuits including canoeing on the large dam that forms the focal point of the conservancy.
The numerous small islands in the dam provide ideal spots for picnic lunches (including ingredients grown in Mugie House's own organic vegetable garden) and sundowners. While out on the water, guest may well encounter elephants cooling off in the dam.
Back at the lodge, the spa and private plunge pools will add to the relaxed ambience, and allow guests to recharge their safari batteries between game drives.
Mara Nyika
Mara Nyika is the latest offering from Great Plains and combines delightful privacy with the expansive backdrop of the private Naboisho Conservancy. Game drives also enter the Masai Mara, but there is more than enough wildlife in the conservancy to justify this being the focus of each guest's stay.
Mara Nyika is due to open in August 2019, but its design is such a wonderful distillation of all that is best about the Kenyan safari experience that it will have a timeless quality to it. Light canvas tents under immediately recognizable flat-topped thorn trees convey the romance and beauty of Kenya at first glance, while early reports on the local game suggesting that is prolific.
Guests will be able to channel their child as they use the suspended treehouse-style walkways between their tents and the main area. Privacy was a key consideration in the design of the camp, and is entirely in keeping with the seclusion of the setting. Mara Nyika promises guests the freedom to simply be themselves and enjoy the best of Kenya's safari offering.
Loisaba Lodo Springs
With just eight individual tented guest rooms, Loisaba Lodo Springs is another new luxury safari lodge in Kenya that puts a premium on privacy. That said, it's situated in a high-traffic area – if you count migrating elephants as 'traffic'.
The lodge is situated in the Loisaba Conservancy, a private protected area of some 57 000 acres within an important migratory corridor for these amazing animals. Loisaba is also vital to the future of lions, wild dogs and the little-known but hugely impressive Grévy's zebra.
With views extending all the way to the jagged, snow-capped magnificence of Mount Kenya, this area really does feel like the epicenter of the safari world. The lodge draws on years of experience in creating special places of sanctuary for humans, with the combined luxuries of space and simplicity.
Everything a guest needs to feel pampered is immediately to hand, but there is nothing superfluous – in short, nothing is permitted to take away from the spectacular vistas and the sense of complete freedom. Loisaba Lodo Springs is a place to breathe deeply and slowly.
Sarara Reteti House
Sarara Reteti House is only due to open in early 2020, but from what we're hearing it will certainly be worth the wait! Designed for exclusive-use bookings, this seven-bedroom safari house will be designed with family and multi-generational travel in mind.
We're seeing a huge increase in this kind of travel, so we're excited to have a new luxury property that we can offer to families who like to vacation together.
Scenically and culturally distinct, northern Kenya is generally drier than the rest of the country. This serves to concentrate wildlife around rivers and other sources of water, and the Samburu region is known for its elephant herds.
It is of course also home to the Samburu people, who, like the Maasai, have proudly clung to their tribal traditions. From its setting within the Namunyak Conservancy, guests will also be able to visit the life-changing Reteti Elephant Sanctuary, and explore this stunning and unforgettable region.
Activities on offer will include day and night game drives, guided bush walks, hikes in the forests of the Mathews Mountains, fly camping, horse riding and Samburucultural community visits.
Geoffrey Kent Suite at Olonana
Geoffrey Kent is one of the pioneers of modern Kenyan safaris, and we're sure he must be immensely proud of this new ultra-luxury suite that bears his name.
The latest addition to Sanctuary Olonana in the Masai Mara, the Geoffrey Kent Suite at Olonana is surprisingly modern in design, but its architecture is intended to make the most of its spectacular setting on the banks of the Mara River.
The two private bedrooms offer superb views thanks to the combination of floor-to-ceiling windows and wraparound decking that will allow guests to view the landscape and wildlife from every angle. The bathrooms can be opened up entirely to the bush, enabling the romance of a starlit bath. The in-suite chef is always available to create snacks and meals as required, and these can be served either in the suite or in the outdoor private boma overlooking a hippo pool.
Soft golden light and the opportunity – thanks to a dedicated private guide and vehicle – to shape their day exactly as they wish to – contributes to guests having a sense of being immersed not just in enviable luxury, but in the magic and mystery of Kenya itself.
While these new lodges are likely to get a lot of attention this year, they are by no means the only stunning accommodation options in Kenya. For more advice on where to stay in Kenya, when to go and what to see, contact the journey specialists at Alluring Africa.