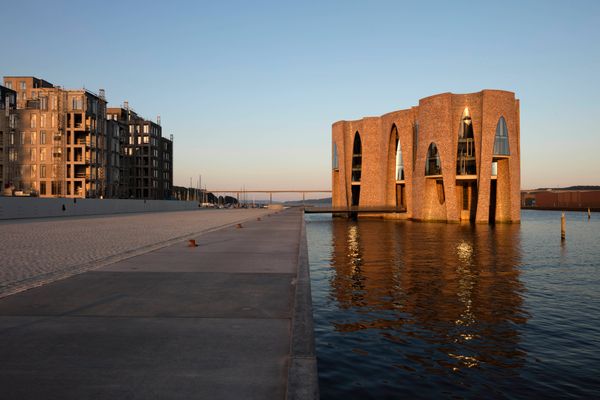 Danish architect Olafur Elisson's Fjordenhus helps put Vejle on the map, as one of the hottest centres for architecture. The city booms with new architectural pieces such as the Wave and a new floating art exhibition at Vejle's waterfront, where it is possible to kayak trough. Other news in the city includes new food trails in connection to the city's new gastro guide, which provides a great overview of Vejle's many gourmet experiences. Lastly, the newly renovated spa at Comwell Kellers Park is open with many new and great ways to relax and reload with fresh energy. Getting there has never been easier as Billund airport is a mere 30 min away and with flights such as Ryanair, British Airways and SAS offering weekly flights at reasonable prices, Vejle should definitely be on your future travel list.
As the spotlight turns to the Tate Modern in London this summer and the opening of world-renowned Danish-Icelandic artist Olafur Eliasson's major retrospective (11 July 2019 – 5 January 2020). Visitors to the city of Vejle on Jutland's east coast can see at first hand the work of this influential artist where his first building project the stilted, red brick Fjordenhus is Vejle's newest iconic building by the city's waterfront. The fjord is also the focus for all the new activities this summer with new kayak tours of the floating art exhibition, new food trails through the city and beyond and an innovative new aqua spa at Comwell Kellers Park Hotel.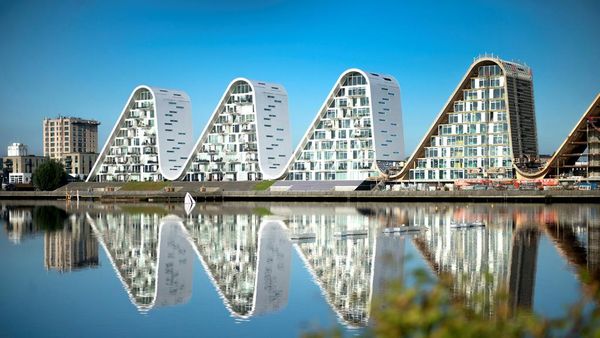 New architecture
Completed last summer the Fjordenhus is just one of an impressive collection of striking new buildings on the fjord and is destined to become a landmark, cementing the city's position as an architectural leader. Further new projects include the award-winning Bølgen 'The Wave' (completed in 2017) – a group of five shimmering tile-clad, rolling 'waves', each reaching nine stories with 20 privately owned flats.
New exhibition
Visitors to the waterfront this summer will also be able to admire the nine new international art installations which will grace the fjord as the floating Art exhibition returns to Vejle Fjord from 23 June – 1 September 2019. Called 'Cry me a river', the theme of the exhibition is a cultural take on science fiction and the importance of water for creating and sustaining life.
New kayak routes
To get up close to the exhibits visitors can take a kayak tour along the Vejle Fjord. Starting from the beach of Albuen, the guided tour rows in sea kayaks under the Vejle Fjord bridge and passes the newly renovated Skyttehushaven Park which includes a new beachfront, eight new garden areas, new trails, a play area, new aviaries, and a renovated gazebo. Kayakers can also sail through the arches of the Fjordenhus and on into Sønderåen, where there's a new residential area called Skudehavnen.
New food trails
Having worked up an appetite Vejle's thriving restaurants scene provides plenty of places to refuel and gets a boost this year with new gastro guide offering new food trails and food walks of the region, following local producers from fjord and field to fork. The handy guide pinpoints the speciality delis and farm shops and highlights the best restaurants. From Michelin starred restaurant MeMu, run by Vejle locals, husband and wife team Michael Munk and Mette Derdau, to the cosy newly renovated Viking inspired café SEJD Café & Boutique, in the heart of historical Jelling. The quirky cafe offers a unique menu of dishes made from local produce, all served up with a large helping of mythical Viking storytelling.
New spa
Located in the forest on the Vejle fjord, Comwell Kellers Park Hotel is an elegant stately home surrounded by acres of parkland. Its newly renovated Aqua Spa has Denmark's first indoor sandy beach with light therapy treatment, an innovative 'Shower Walk' and choice of indoor and outdoor hot tubs. The new indoor 'Shower walk' takes a journey through warm weather surrounded by tropical bird song and relaxing light effects to the extremes of a cool water stream in green light. Returning to a warm summer storm with the crashing sound of thunder and red shades, the experience is completed with a cold mist to the sound of ocean breezes in a blue-tinged light. Adding to this is an innovative new 'beach spa' experience which combines warm sand with the energy-giving properties of light to replicate the refreshing feel of a beach with the sound of waves crashing and the warm smell of summer. Further treatments in the health spa range from a clay bath to a Turkish hammam or Viking bath, where both warm and cold rain are part of the experience. The Aqua spa features an indoor hydrotherapy pool set at a soothing 32 degrees, plus a new Jacuzzi, herbal sauna and steam bath. Whilst outside there's a park sauna, and for some real 'forest bathing' a series of new hot tubs which are set at piping hot 38 degrees.
For further information see www.visitdenmark.com