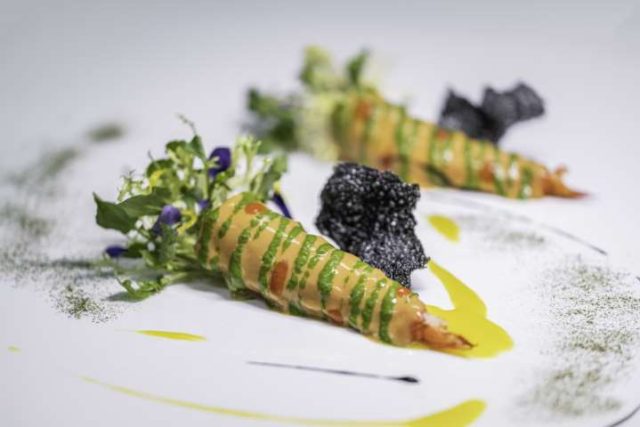 Putting sustainability to the forefront, The Apurva Kempinski Bali is thrilled to announce the launch of its new sustainable menu, "Locaflair", featuring an array of fresh ingredients sourced directly from its very own hydroponic garden. This ground-breaking culinary initiative reaffirms the resort's dedication to sustainability and showcases its unwavering commitment to providing guests with unique dining experiences that are not only flavorful but also environmentally responsible.
Key highlights of Koral Restaurant's Locaflair menu include:
Garden-to-Table Delights: each course celebrates the flavors of the season by incorporating hand-picked ingredients from its own hydroponic garden.
Culinary Creativity: Koral's talented chefs harness the bounty of locally-sourced products and freshly-picked ingredients to craft innovative and delectable dishes. The menu is carefully curated to showcase the natural flavors and textures of the garden-fresh ingredients, ensuring a dining experience that is both exquisite and environmentally conscious.
Locally Sourced Ingredients: The resort has forged strong partnerships with local farmers, fishermen and artisans to procure the highest quality ingredients for this newly-launched sustainable menu. By sourcing ingredients from local suppliers, the resort directly supports local economies, reduces transport emissions and ensures the freshest and most flavorful products for its guests.
Sustainable Seafood Selection: The resort has meticulously curated a selection of sustainable seafood dishes. By partnering with certified suppliers who are committed to sustainable fishing practices, The Apurva Kempinski Bali ensures that guests can enjoy seafood delicacies without compromising environmental integrity.
Food Waste Management: A range of waste reduction strategies, including precise portion control, and applying creative techniques to repurpose and utilize all parts of the ingredients are in place. In addition, this award-winning resort has implemented a comprehensive composting and recycling program. Through effective separation and composting processes, the resort's team divert organic waste, allowing it to be transformed into nutrient-rich compost for its hydroponic garden use.
To celebrate this significant milestone, The Apurva Kempinski Bali hosted an intimate event that combined the unveiling of the menu with an inspiring sustainability talk show, fostering dialogue and awareness about the importance of sustainable practices in the hospitality industry. The exclusive event brought together esteemed guests, renowned sustainability experts and culinary enthusiasts passionate about creating a positive impact on the planet. The evening commenced with an eco-green décor beautifully crafted by Designmill.Co followed by a reception, allowing attendees to experience a selection from the sustainable menu curated by Koral Restaurant's culinary team. Following the reception, the resort organized a thought-provoking sustainability talk show, featuring prominent sustainability advocates and experts, These included the resort's partners for its 2024 campaign of Powerful Indonesia, such as Bank Central Asia, Nissan Indonesia, Samsara Living Museum, Balian Water, Hatten Wines, Taga Woods, Dr. Lawrence Blair, Ari Bayuaji, and Alistair Speirs. The engaging discussion explored topics such as sustainability in the tourism industry that covered culture preservation, local entrepreneurs' encouragement, inclusiveness and wellness adoption – inspiring attendees to take proactive steps towards a more sustainable future. Traditional music performance resonated throughout the evening, taking guests on a journey across Indonesia through Gondang Batak from North Sumatra, Angklung from West Java, Rindik and Genjek from Bali, and Kolintang from North Sulawesi.
"It is an exciting moment for us being able to collaborate with powerful partners and share these evolving initiatives with our team members. We recognize that our sustainability objectives can only be accomplished through continuous adaptation and the collective efforts of our dedicated team. As we strive to inspire others within the hospitality industry, we aspire to be committed to sustainable practices that generate positive impacts on both the environment and society. Only together we can reach a new height of fulfillment, to foster a sustainable future," said Vincent Guironnet, the General Manager of The Apurva Kempinski Bali. 
The Apurva Kempinski Bali's commitment to sustainability extends beyond its culinary offerings, encompassing all aspects of its operations. Last year, this resort launched its innovative Sustainable Wedding Package together with other Indonesia's sustainable corporations. In partnership with key-minded partners, this year this majestic resort runs a Sustainable Agriculture program, incorporating electric vehicles as part of its unique guest experience.