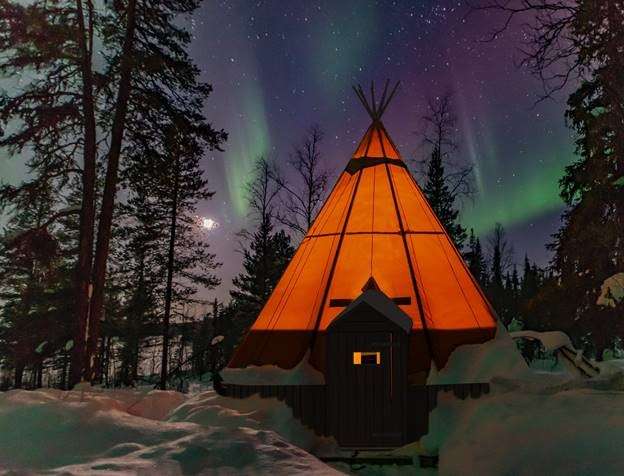 The new Sápmi Experience is an Arctic adventure that offers an immersion into the lifestyles of northern Sweden's indigenous Sami people with glamping in a Sami lavvu (teepee), newly built and upgraded with the comfort of a luxury cabin. The three-night experience takes place in the Sápmi Nature Camp on the Sjavnja nature reserve in Laponia, a living culture and nature World Heritage Site. The new program, exclusively offered by Off the Map Travel, launches January 2022 and is available through May 2022. Based on timing, guests will have the opportunity to experience either the area's Northern Lights or the Midnight Sun.
Participants will join with the Sami to learn hands-on cooking, reindeer herding, fishing and foraging for berries and herbs. They can also join a wildlife safari to spot moose and don traditional wooden skis for a Sami-guided ski tour with a special Swedish fika experience around a bonfire on the ice of a frozen river.
The upgraded lavvus attend to the needs of today's traveler with a solid internal structure, allowing for increased coziness and warmth while maintaining the design, sustainability and culture characteristic of the region and the Sami. Each lavvu sleeps two people and has a double bed, stove, cozy furnishings and en suite bathroom.
"This new travel experience offers a chance to get away from it all to experience another world and another culture while not compromising comfort or sustainability," said Jonny Cooper, Off the Map Travel, designer of the experience. "It's also perfect for socially distanced travel," he added.
The new accommodation has been created by the founders of the Sápmi Nature Camp in Swedish Lapland whose mission is to create sustainable, personal Sami experiences that celebrate the native Lapland culture, nature and wellness.  
For more information visit https://www.offthemap.travel/the-sapmi-experience/
Detailed itinerary:
Day 1 – Arrival in Kiruna, Sweden and on to Gallivare, Laponia
Arrive at Kiruna, Sweden to begin your journey by train and road to Gallivare in the beautiful area of Laponia, the home of Sápmi Nature Camp. There you will be shown to your private lavvu (teepee) equipped with cozy bed, heater and en suite bathroom before taking a pre-dinner sauna.
Note: If time permits, you may arrange an exploration of the world-famous ICEHOTEL before departing for Laponia.
Day 2 – The Sami Way
Join your Sami host on a guided ski tour of the area. Sápmi Nature Camp is located in the heart of the beautiful Sjavnja Nature Reserve. The reserve is ancestral grazing land for the reindeer of the Unna Tjerusj Sami community and you will learn all about the Sami's indigenous life as you use traditional wooden skis to explore.
In the afternoon you'll get even closer to the Sami people by meeting a reindeer herdsman and his family where you'll learn more about the Sami culture, way of life and the challenges they face in the modern world.
Day 3 – Explore Nature
Your Sami guide invites you to join them in a traditional Sami activity, a wildlife safari, where the goal is to spot moose in this beautiful landscape.
You'll be rewarded with a special, exclusive activity available only through Off the Map Travel: a fika experience "with a view." You'll head to the frozen river in the Laponia World Heritage Site, an area that's totally secluded and within walking distance from the Sápmi Nature Camp. There your Sámi host will prepare a bonfire on the ice and a private fika coffee-and-treat for you with local bread, jam and other delicacies.
Day 4 – What's next?
After checkout, you will travel by road and train through the beautiful Swedish Lapland scenery back to Kiruna for your onward flight or other travel.