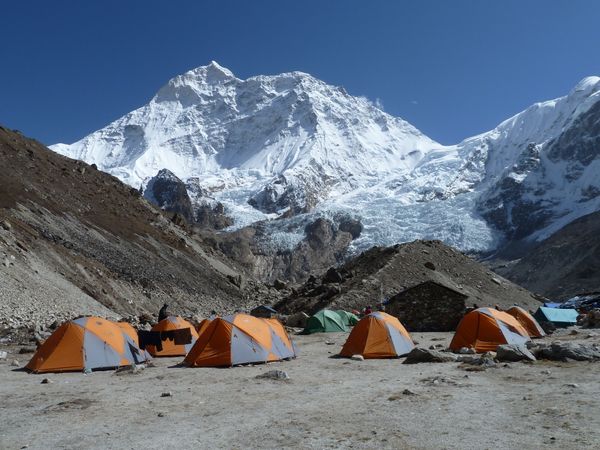 For more experienced walkers, going on a camping trek means you can get away from the busier trails in the Everest and Annapurna regions of Nepal. When camping, you can access remote areas where you are unlikely to see many (if any) other groups. Many people do not realise that it is still possible to find rarely trekked trails in Nepal. You will meet locals from the villages that do not see many foreigners and are curious to talk to you. These days you need to travel further afield to have this kind of experience and to find real adventure.
During the Covid pandemic, we have been poring over maps and dreaming up new adventures. We have designed two brand-new treks to add to our portfolio.
The first one is Nanga Parbat Circuit in Pakistan. This is an exceptional trip around one of the fourteen 8,000m peaks. This trek is not currently organised by any other international trekking operator. As Pakistan opens up to tourism the K2 Base Camp trek will get busier with other trekkers. Furthermore, the Pakistan Army is building a road to the snout of the Baltoro glacier by Summer 2023. There is no doubt that K2 Base Camp will continue to be a good trek but sadly it will be degraded to some extent. It is for this reason that we are expanding our portfolios in Pakistan to places like Nanga Parbat.
The second new trek we are launching is following The Great Himalaya Trail (GHT) in Far West Nepal. This trip is called Far West Nepal & Limi Valley GHT. Many of our repeat clients have trekked other sections of GHT with us over the years. During Covid lockdowns, some of our trekkers asked us to research and design this rarely trekked trail as they planned to complete the entire GHT one section at a time.
We work with mountain leaders with deep knowledge and experience. Unlike many other operators, we use International Leaders for our more remote and technical trips like these ones. We also send a Thuraya satellite phone with these groups. It is critical for group safety, risk management and contingency planning in an emergency situation, to know the location of and to have reliable communications. This means our treks are in compliance with British Standard 8848.
The Mountain Company's Managing Director, Roland Hunter, commented:"It has been fun during our Covid downtime to add new treks to our portfolio. We have developed new itineraries to explore the most remote places in the Himalayas and Karakoram. By venturing off the beaten path it is still possible to find wilderness treks in Nepal, Bhutan, India and Pakistan. With sustainable tourism in mind, it is better from a climate change perspective to travel for longer periods of time. Walking holidays have a lower carbon footprint due to using less internal transport. Exploring a remote region of the Himalayas is a perfect post-Covid holiday!"
1. Nanga Parbat Circuit in Pakistan
Nanga Parbat Circuit trek in Pakistan is a remote trail around the ninth highest mountain in the world. We cross three passes and the highest of these is the Mazeno La at 5,400m. We visit three Base Camps used for climbing on the three faces of Nanga Parbat. These are Herligkoffer Base Camp for Rupal Face, Diamir Base Camp, and Raikhot Base Camp near Fairy Meadows.
Duration: 26 days from Islamabad
Group departures: 18th June 2023 to 13th July 2023
Website: https://www.themountaincompany.co.uk/trips/nanga-parbat-circuit
2. Far West Nepal & Limi Valley GHT in Nepal
Far West Nepal GHT trek starts from Rara lake and travels to Simikot and then into Limi valley. This is the final section of The Great Himalaya Trail (GHT) through the western region of Nepal to the border with Tibet. Rara Lake is Nepal's largest body of water. It's a beautiful place surrounded by rugged hills with snowy peaks. Nearby there is a forest with blue pine, spruce and cedar. The remote Limi Valley is a Buddhist area with small villages and monasteries.
Duration: 29 days from Kathmandu
Group departures: 6th November to 4th December 2022
Website: https://www.themountaincompany.co.uk/trips/far-west-nepal-ght
In our recent Blog What Is The Best Trek In The Himalayas? we scored our Himalayan walking holidays based on five factors. These are Remoteness, Diversity of Landscape, Physical Challenge, Cultural and Flora and Fauna. We shortlisted the best three trekking itineraries from our portfolio of thirty-eight hikes. We called these the "Big Three" and they are all camping treks exploring very remote places. They are as follows:
1. Lunana Snowman in Bhutan
Lunana Snowman is a long trek through remote a region in the Bhutan Himalaya. Often called The Snowman trek this is a spectacular Himalayan journey taking 29 days. The trail crosses eight high mountain passes over 4,000m and three over 5,000m.
Duration: 34 days from Paro
Group departures: 25th April to 28th May 2022 and 26th September to 29th October 2022
Website: https://www.themountaincompany.co.uk/trips/lunana-snowman
2. Upper Dolpo to Jomsom GHT in Nepal
Upper Dolpo to Jomsom trek visits a remote region of the Himalayas in mid-West Nepal close to the Tibet border. After landing at Juphal airstrip near Dunai we walk to Phoksundo Lake and then cross the Kang La pass over to Shey. We walk through Shey Phoksundo National Park inhabited by the Dolpo-pa people. The Upper Dolpo region is one of the last enclaves of pure Tibetan culture. There are Bönpo (shamanistic pre-Buddhist) monasteries including the important Shey Gompa.
Duration: 42 days from Kathmandu
Group departures: 7th May to 5th June 2022 and 24th September to 23rd October 2022
Website: https://www.themountaincompany.co.uk/trips/upper-dolpo-to-jomsom-ght
3. Kanchenjunga BC to Makalu BC in Nepal
Kanchenjunga Base Camp to Makalu Base Camp is a 36-day trek following a section of The Great Himalaya Trail ("GHT") in Nepal crossing the Lumba Sumba pass at 5,160m. We also cross Nango La at 4,820m and Shipton La at 4,125m. We trek through a remote region on the border with Tibet from Kanchenjunga Base Camp to Makalu Base Camp.
Duration: 42 days from Kathmandu
Group departures: 25th September to 5th November 2022
Website: https://www.themountaincompany.co.uk/trips/kanchenjunga-bc-and-makalu-bc-ght