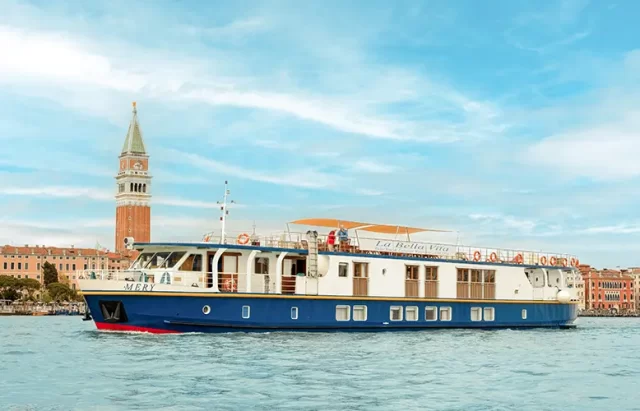 While large cruise ships are banned from entering the famous Venice Lagoon to protect its fragile infrastructure, the Giudecca Canal – one of Europe's most celebrated canals – and the Venice waterfront remain accessible to smaller vessels that include European Waterways' 20-passenger luxury hotel barge, La Bella Vita. This year, responding to customers' requests, European Waterways announced the addition of the Venetian Lagoon island-hopping itinerary, an optional new route – exclusive to European Waterways – that explores many of the smaller islands in the lagoon. These islands are often overlooked by tourists because they are difficult to visit without some form of private transportation, but they can now be experienced hassle-free in the more relaxed, luxurious settings of La Bella Vita.
"The islands within the lagoon are truly the 'hidden gems' of Venice," noted Derek Banks, Managing Director of European Waterways. "They are often less crowded, yet are equally steeped in the history, culture, art, and traditions of this sophisticated city. On our Venetian Lagoon cruise, guests don't have to worry about making their own arrangements to visit each of them. Instead, they can just soak up the atmosphere as they cruise in comfort, sharing with fellow passengers the gastronomic meals prepared by an onboard master chef, paired with some of the finest regional wine."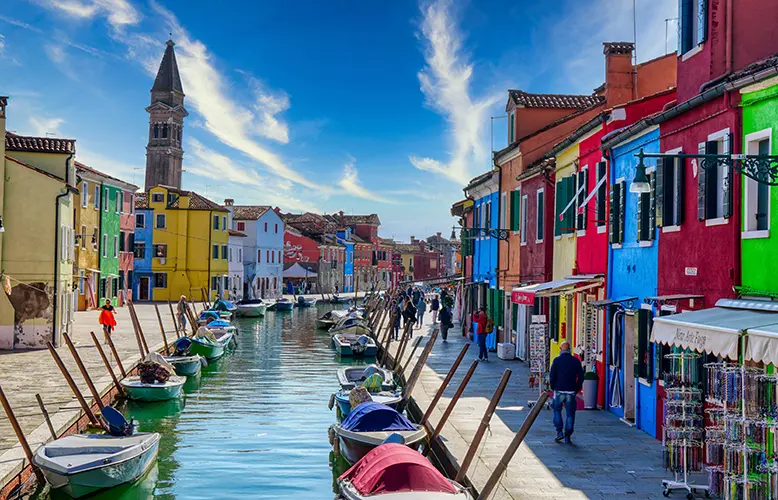 An Island-Hopping Adventure
The 20-passenger La Bella Vita hotel barge – the largest in European Waterways' extensive fleet – typically cruises between Venice and the Renaissance city of Mantua along the River Po and Canal Bianco. For guests who wish to explore the extraordinary attractions of the islands in the lagoon, the vessel's optional Venetian Lagoon itinerary will introduce them to such islands as Burano, the "Island of Lace"; Murano, renowned for its iconic glassware; and glamorous Lido – home to the Venice Film Festival. They'll also call at the town of Chioggia, famed for the 18th century Church of San Domenico which is set on its very own island, as well as its picturesque canals, which will be explored on a traditional locally-built boat.
La Bella Vita – The Good Life!
And it all starts with a Prosecco welcome aboard the stylish La Bella Vita hotel barge, greeted by the captain and crew, who are ready to provide outstanding service throughout. This is followed by the first cruise through the Giudecca Canal at sunset. Other highlights of the week-long voyage include the island of Sant Erasmo, called the "market garden of Venice" for its vegetable gardens and fields of artichokes; the island of Pellestrina, where guests can bike along the famous six-mile sea wall; and San Lazzaro degli Armeni, which is still occupied by the Armenian monks today. The last stop will be in historic Venice itself, mooring just outside the Naval Museum, where guests will visit St. Mark's Square, the Cathedral of San Pietro, and Doge's Palace –once the seat of the Venice government.