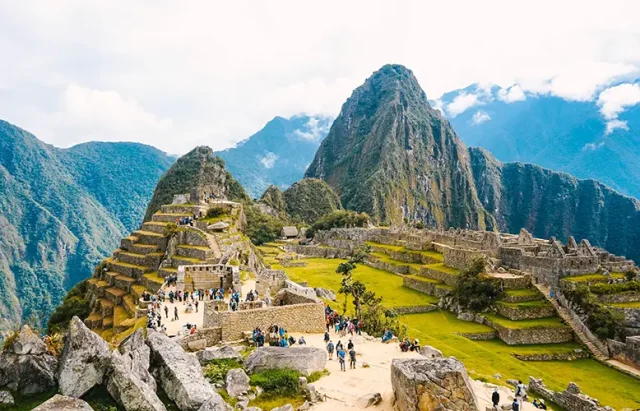 In 2024, Intrepid will become the first-ever tour operator to bring travelers along Spain's off-the-beaten Camino Del Norte trail. Also known as the Northern Way of the famous Camino de Santiago, this UNESCO-listed pilgrimage dates back to the Middle Ages. The challenging trek covers up to 28km per day along the coasts of Northern Spain, with nonstop views and fewer visitors than other parts of the ancient trail region. Highlights along the way include visits to historic monasteries, charming village-stays, delicious almond cake tasting and lush landscape scenery. The trek includes hotel and pension stays with a team of guides and drivers to carry luggage every step of the way.
7-Day Southern Greece – Hike, Bike and Kayak
Intrepid is launching a new multi-active trip through Southern Greece. From hiking parts of the Menalon trail, known as one of the most beautiful spots in Europe, to cycling along the coast of Kefalonia island, and sea-kayaking to white-sand beaches, the tour is ideal for experiencing the best of island life in Greece.
Trekking in Morocco: Happy Valley in High Atlas
This new 8-day walking and hiking trip through the Happy Valley – or Ait Bougmez in the Central High Atlas Mountains. Running along the M'goun Massif, this is home to Morocco's third-highest mountain peak – Jebel M'goun. Traversing through rural villages, ancient ruins, lush vegetation, cascading waterfalls and fields of grain, trekkers learn about the rich culture of the Amazigh people, the history of dinosaurs who once lived here and why sometimes, exploring on foot is the only way to witness the authenticity of a place bursting with stories. These trips also directly support education of girls from remote villages of the region.
Over the last few years, the 26-kilometer Quarry Trail in the Andes Mountain region of Peru has gained recognition as an off-the-beaten-path alternative to the Inca Trail, ending at Machu Picchu, the world-famous icon of the ancient Incan Empire. Through a collaboration with a local Peruvian community, Intrepid Travel has developed a new section of the Quarry Trail, previously unseen by travelers.  Featured on a range of Intrepid Peru itineraries for 2024, the four-day Quarry Trail experience will now begin with a 15-minute climb to Qory Sonq´o hill, where travelers can simultaneously take in views of three valleys: Soqma Perolniyoc, Pachar and Huarocondo, and discover skeletal remains and original tomb structures dating back hundreds of years. 
What's new from Widlland Trekking
Boulder Mail Trail backpacking trip
This historic Mail Trail connects Escalante and Boulder through some of Utah's most incredible landscapes. Over five days, hikers make their way through the valleys of the Grand Staircase — Escalante National Monument, following rivers, walking through high-altitude forests, and camping under rock faces and by natural springs.
Hiking the Best of the Grand Canyon
Hikers experience the best of the Grand Canyon by day and retire to a comfortable hotel on the canyon's rim by night. Travellers take on three exceptional hikes across just three days and get to know this landscape and its fascinating history under the guidance of a local leader. They visit local museums and visitor attractions and dine at one of the area's most iconic restaurants with sweeping views of the canyon below. The trip ends with a hike along the hand-cobbled Grandview Trail and a visit to the Desert View Watch Tower.
This five-day adventure covers the best bits of Acadia National Park, with hikes and kayaking trips taking travelers to the wonderfully named and beautifully picturesque Bubbles, Cadillac Mountain, Beehive and Porcupine Islands. Hikers crest multiple mountain peaks, tackle trails that'll test their stamina (and reward it) and paddle along miles of pristine coastline. With some of the most scenic lunches travelers have ever had and dinners at local restaurants included, this is both an epic adventure and a chance to pause, take a few deep breaths of fresh air and enjoy some respite from the usual routines.