For the Desert Dwellers: Bathe your soul in the silence and majesty of Canyon Country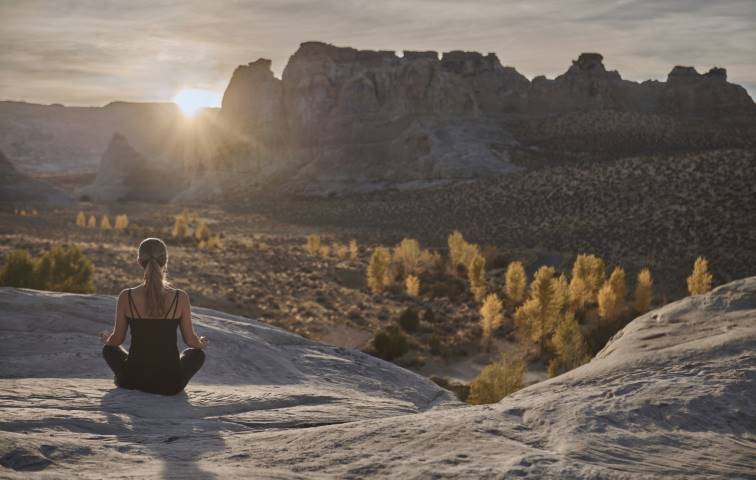 With the highest concentration of national parks in America, the Colorado Plateau offers endless opportunities to explore the likes of Grand Canyon, Bryce Canyon and Zion National Park by air, by car and on foot. For those looking to restore and rebalance, it is the perfect place to delve into the ancient healing traditions of the Navajo, drawing on the elements of earth, wind, fire, and water.
Highlights
A range of one-of-a-kind experiences that bring you closer to the culture and history of the Navajo people.
Navajo-guided tours of the slot canyons and Monument Valley Tribal Park to powerful storytelling sessions and ritual dances by the fire.
Hiking & Climbing: Graded by difficulty, guided hikes offer guests the opportunity to discover the geological wonders of the landscape.
Private Boat tours: Navigate the vast reservoir of Lake Powell by kayak, take a stand-up paddleboard across the glassy waters, or explore from the comfort of a luxury private boat.
Horseback Riding: Explore the sweeping Utah desert with seasoned wranglers. Riding trails available both in the area and beyond. More challenging rides include ridge-top hacks high above the maze of ridges and canyons.
Private Air Tours: Flying over this incredible landscape – by plane, helicopter, or on a sunrise balloon trip – is an inspiring way to discover the breadth of the backcountry. Working closely with the area's best pilots, you'll experience the awe-inspiring scale of Canyon Country from on high.
Native Wellness: Hózhó healing, relaxing massages, restorative therapies, Yoga practice and Grounding rituals.
Stay: Amangiri
Amangiri blends into untouched red-rock country, claiming 600 acres of the vast and majestic Colorado Plateau, the original Wild West. In this desert landscape of canyons, mesas, ridges and gorges, the modernist Suites of Amangiri, and the tented Pavilions of Camp Sarika offer an inspiring welcome to one of the world's most dramatic secluded settings.
Spacious and with clean lines and natural materials, the Suites reflect the luminous qualities of the surrounding Utah desert. Accommodation design features include white stone floors, concrete walls, natural timbers, and fittings in blackened steel. Each Suite has an outdoor lounge and fireplace with expansive desert views, while some feature a private pool or roof terrace. For more space and privacy, the Mesa Homes offer consummate privacy just minutes from the resort, secluded by a rock escarpment and surrounded by 600 acres.
A five-minute drive across the desert from Amangiri, Camp Sarika's elegant, spacious pavilions bring peerless comfort and privacy to the wilderness experience – with indoor living and dining areas, as well as terraces with fire pits and plunge pools.
COVID-related information & guidelines
Utah has no travel restrictions or quarantine requirements if you are healthy and visiting from another state. Utah is open for dining, shopping, and recreation, but social distancing and other precautions are required in public. For international travelers, it is required for all air passengers arriving to the United States from a foreign country to get tested no more than three days before their flight departure. 
A Luxury Eco-Haven: A hidden retreat with palm-fringed sands, swimmable shores and an energetic environment crafted for reconnection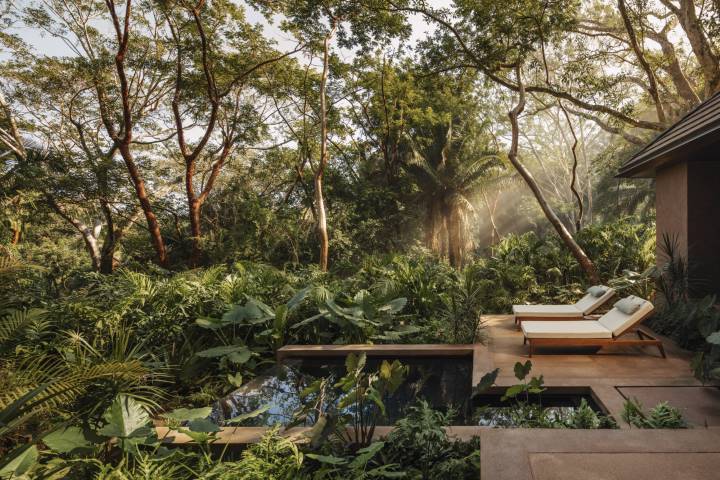 One destination encompasses soaring mountain peaks, an idyllic tropical landscape, sandy shores and rolling, green flatlands. Designed to coalesce with the diverse and stunning landscape, Mandarina will be a place for residents and guests to gather and celebrate a rare sense of freedom, a shared love of the outdoors and a destination of remarkable natural wonder.
Highlights
Our team of chefs, experience guides and wellness gurus are on hand to help you carve your perfect stay in paradise – from a guided meditation on your terrace to an early morning hike through the jungle.
Ocean Adventures: Unlock the magic of the Pacific Ocean by swimming with majestic whale sharks, stand-up paddle-boarding through a wild rainforest estuary or fishing with expert local fishermen.
Nature Trails: Unleash a sense of intrepid adventure, exploring miles of hiking and biking trails. From La Abuela – grandmother tree – to ancient petroglyphs.
Culinary Encounters: Make an authentic Mexican taco from scratch, discover astrological dining delights, or connect with cacao consciousness in one of our many foodie experiences.
Polo and Equestrian Club: Immerse in the Polo & Equestrian Club – a world-class hive of activity for riders and spectators alike. Enjoy horseback lessons, polo lessons, and trail riding
Wellness inspired by nature: Breathe in the fresh sea air, tune into the sound of birdsong and feel completely castaway with mindfulness and yoga classes as well as treatments at the One&Only Spa, inspired by both progressive and ancient healing practices.
Stay: One & Only Mandarina
Set in a lush tropical rainforest where 200-year-old trees have been carefully preserved, One & Only Mandarina's villas and treehouses are built to nature's blueprint, leaving the surroundings completely undisturbed.A daring fusion of native materials, Mexican craftmanship and cutting-edge design that coexist peacefully with ancient trees and volcanic rocks. Choose from cutting edge treehouses perched amidst the canopy with private terraces and plunge pools, Cliff Villas set gracefully on the rockface, drifting effortlessly between relaxed indoor and outdoor spaces, Grand Villas, for a sense of complete liberation perfect for bigger groups and families, where vast indoor spaces melt into an expansive terrace and private pool, ideal for long sun-soaked days.
*Antigen test is complimentary for a maximum of two guests per room staying 3 nights or more. Test result is available within 4-6 hours. Both Antigen and PCR tests will be available in the privacy of your villa and may be scheduled via the Guest Experiences team and must be taken 72 hours prior to departure.
COVID-related information & guidelines
Mexico remains open to U.S. travelers. Negative COVID-19 test result is not required to enter Mexico. Riviera Nayarit has received WTTC Safe Travels certification. Travelers to Mexico should anticipate enhanced health and safety protocols from the time they step off of the plane, including health questionnaires, face mask requirements, social distancing markers, temperature screenings and hand sanitizing stations. These elevated measures will be omnipresent throughout the trip, with hotels and resorts screening guests for COVID-19 symptoms such as fever and sanitizing their luggage on arrival.
French Island Chic: A Caribbean Island with European Sophistication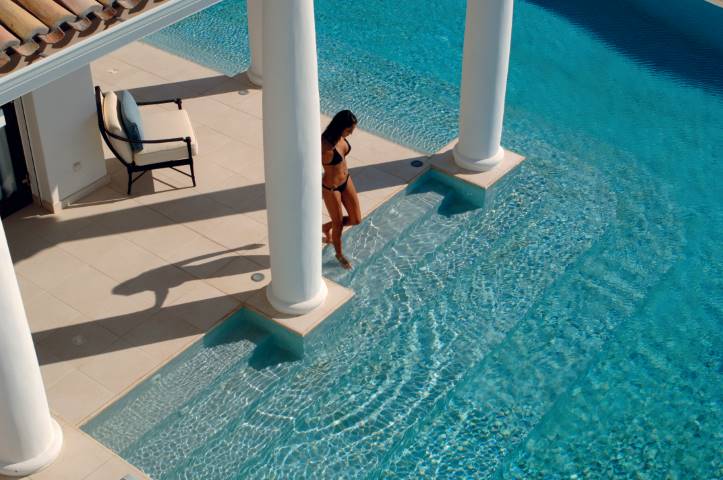 The stunning natural beauty of the French Caribbean is wonderfully diverse, with cascading waterfalls, extraordinary rainforests, and aquamarine lagoons. The small island of St Martin offers all you'd expect from a Caribbean island in terms of glorious white sand beaches, as well as a thriving culture and heritage. Its varied history leads it to combine cultural influences from the Arawaks and several European nations, most notably the French and Dutch, between whom the island was settled with the Partition Treaty of 1648. Nowhere is this rich and varied history more apparent than in the island's cuisine, which can be sampled in anything from gourmet restaurants to casual outdoor eateries.
Highlights
There are endless things to do in St. Martin. Take to the waves with our instructors for an aquatic adventure or enjoy an energizing yoga class to start your day. There is a host of sporting, cultural and culinary Caribbean activities to enrich your time on the island.Enjoy an alfresco massage, or lie in a hammock, lulled by the waves. Take a day cruise around the island or savor a sumptuous private dinner by the shore.
Island Hopping Boat Day
Non-Motorised Water Sports
Creole Rock Snorkel Adventure
Hiking with the Arawaks
Day trip to Tantamarre Island
Stay: Belmond La Samanna
Belmond's La Samanna is a garden paradise, a place where dazzling white buildings pop against an azure sky, and a platinum stretch of private beach is dotted with cabanas. Rooms and suites are airy and cool, with crisp white sheets and touches of nautical flair. Pad out onto your sun-splashed terrace to soak in a private plunge pool, or onto your balcony for a nightcap beneath the stars. Want to get even closer to the ocean? A stylish three-bedroom cottage puts you right on the seafront.
*Guests traveling back to the U.S. following the trip can receive their needed PCR test on-property in the privacy and comfort of their own room.
COVID-related information & guidelines
All travelers to the island must complete a mandatory Electronic Health Authorization System (EHAS) whether arriving by air, boat or in transit. The original result of the PCR test must be uploaded upon receipt in order for the health authorization application to be processed. The processing time can take up to 12 hours. Children ages 10 and under are exempt from the mandatory rt-PCR tests. Travelers to the island are required to have health insurance coverage for their stay (additional insurance covering Covid-19 related expenses is strongly recommended) and are subject to temperature checks at the Airport Health Checkpoint. Travelers to the island will not need to quarantine at their accommodations during their stay. 
Naya Traveler's journeys to off-the-beaten-path locales are designed with natural immersion, social distancing, and deep connection in mind. To book visit nayatraveler.com.