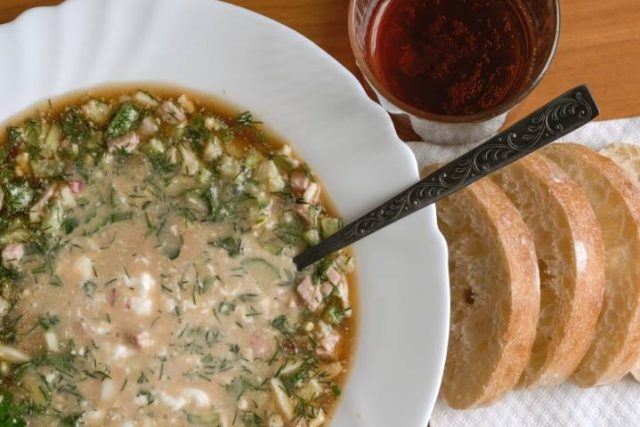 All countries have their signature dishes: Peking Duck in China, Doner Kebab in Turkey, Salo in Ukraine, and so on. And Russia is no exception, as borscht is a stuff of legends. But apart from this delicious soup, the traditional cuisine of the country is not widely known. Very authentic and not at all what you expect (like the stunning country itself), Russian food definitely deserves your attention and worldwide recognition. So, to help to bring it into the spotlight, we've prepared the list of top foods you should try on your vacation.
Okroshka
Of course, nothing can match the magnificence of borscht, but okroshka, another authentic Russian soup, is a very interesting dish that deserves your attention just as much. And the first thing you need to know is that there is no right recipe for it. When ordering a plate of borscht, you always know what to expect. But with okroshka, things are not as predictable. The base can be either kefir or kvass. Some recipes include meat or fish, and some are vegetarian. Even meat for okroshka is a subject to change, as it can be fried or boiled! The main principle is that all ingredients should be finely chopped, then left to rest in cold for half an hour, and be mixed with liquid ingredients and sour cream afterward. So, as you can see, okroshka is always a surprise, a fascinating experience, and, regardless of the recipe, a very delicious meal!
Syrniki
While bliny are often described as Russian pancakes, syrniky also work beautifully for the part. Pillow-soft and slightly sweet, syrniki are some sorts of traditional American pancakes made of cottage cheese. Yes, sounds weird but only until you try this fried heaven. The recipe is very simple: all you need to do is mixing the farmer's cheese with eggs, sugar, a bit of flour, and, optionally, vanilla extract in the right proportions and frying the pancakes till the appetizing golden crust. For something that simple, the result is really good. And if you eat syrniki with jam, maple syrup, or fresh berries – it becomes amazing. But for a truly authentic Russian experience, add a bit of sour cream on top. And don't be shy to ask for a recipe, so you can continue treating yourself with this goodness at home.
Grechka
Known just as kasha in the western world, grechka is available pretty much everywhere but is especially popular in Russia. There is an old Russian saying: "Buckwheat porridge is our mother, and rye bread is our father." It's hard to believe that there is something special about the buckwheat porridge, and yet it's one of the most beloved dishes in the country. So, can you feel how significant grechka for the Russian diet?
Boasting a very unique flavor with a slightly bitter aftertaste, this porridge is a universal dish that works for nutritional breakfast, healthy lunch, or hearty dinner. There is even a traditional Russian soup made out of buckwheat! Although some people prefer to eat it plain with loads of butter, it's possible to serve this porridge with meat, such as cutlet, goulash, or beef stroganoff.
Beef Stroganoff
Although the name doesn't exactly suggest that beef Stroganoff is an authentic Russian dish, it very much is. It was named after a very successful family of Russian merchants, Stroganoff, and is attributed to one of the French chefs working for them. Beef Stroganoff is a beautiful fusion of the best French and Russian culinary traditions, taking the best of both worlds. Just imagine the stripes of beef sauteed till very tender state and served with a special hot sour cream sauce. No spices but black paper and sault are allowed not to draw attention from the rich creamy taste. Some modern recipes include Madeira, mushrooms, and different vegetables, but the original dish was cooked with nothing but good-quality beef.
Shashlik
Another interesting meat dish from Eastern Europe is shashlik. Just as Americans love barbeques, Russians love to gather together somewhere in the countryside or the middle of a forest and make shashlik. Similar to kebabs, this dish is cooked out of cubes of skewered meat, grilled above the hot charcoal. The meat for shashlik has to soften first by marinating, and there are countless marinade options, each providing a unique taste. Some of the most popular marinades are based on mineral water, mayonnaise, tomato sauce, onion, or even beer. What is more, usually, the meat is skewered together with onion rings or other vegetables to enhance the flavor.
As you can see, Russian cuisine is just as multifaceted and intriguing as Russia itself! Any Russian vacation is an unforgettable experience, filled with multiple possibilities of what to see, taste, and do. Plus, let's not forget that Russia is home to multiple cultures, each offering something unique! So, as you can easily see, exploring Russia is a job of a lifetime. And if you are thinking about starting your journey, you can use Triptile – a free online trip planner. The platform is easy to use and has hundreds of templates of amazing tour programs. To top it all, Triptile allows you to build the trip of your dreams from scratch in a matter of a few minutes! Just pick the cities you want to visit, choose what you want from hundreds of activities, and the system will do the rest!