Having only opened its doors for a few weeks, QT Perth's Santini Bar & Grill is already a favorite among locals and travelers alike. With its Mediterranean flare and Robert Marchetti and Chef Nic Wood and at the helm, the hotel's signature restaurant is cunning in its simplicity, letting the locally foraged produce take center stage. Having just announced Gran Tivoli in New York, Creative Food Director, Robert Marchetti partners with Nic to offer guests a truly authentic experience wisely guided by the seasons and the teachings of the boot-shaped land.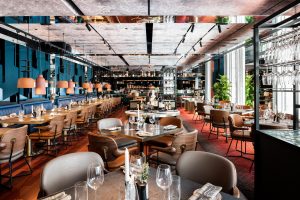 Showcasing the finest produce of the region and leaving it unadorned, signatures include Bistecca Fiorentina, a sea salt crusted, dry aged pasture fed Cape Grim beef t-bone cooked over wood and lava rock and designed to share. Cacio e Pepe Clam pizza accompanied by 24 months aged pecorino, mozzarella, burrata and spiced pancetta and Wood Grilled Fennel Crusted Tuna Belly served with fine cut garlic-rosemary vegetables, Jerusalem artichokes and Tuscan "Dwarf" pickled peaches hero on the table. The bustling open kitchen offers foodies a glimpse into a world of smoky wood fire rocks and hanging handmade pasta, Fremantle Octopus and line-caught calamari.
A strong Italian influence continues to feed into the dessert menu with Blood Orange and Campari Granita and an old-school 1988 recipe for classic, iconic Tiramisu – heavy on coffee with handmade sponge and fresh house-made mascarpone.
Early risers won't be forgotten at Santini Grill with Buckwheat Strawberry Pancakes topped with lemon ricotta, hazelnuts and cinnamon sugar and Abruzzo Cacciatore Breakfast complete with fried eggs, grilled cacciatore pork sausage and roman rosemary potatoes to appease all morning appetites.
And for those looking for a night cap, Santini Bar acts as the hotel's social hub; a downtown hideout – moody, intimate and splashed with intrigue – where cocktail hour is every hour.
Having recently been awarded 'New Restaurant of the Year' at the 2018 WA Good Food Guide Awards, this highly regarded achievement cements Santini's position as a new favorite among locals. Open 7 days a week for breakfast and dinner, and lunch Wednesday to Friday, the restaurant's evening menu focuses heavily on dishes designed to share, true to Mediterranean heritage.
For more information please visit:
qthotelsandresorts.com/perth/ or qthotelsandresorts.com/perth/eat-drink/santini-grill/