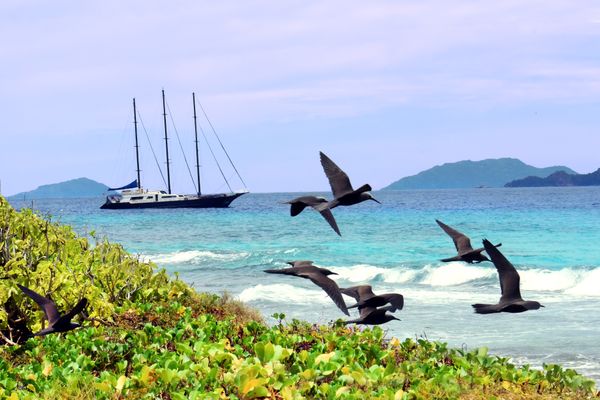 The idyllic archipelago fits the 2019 travel trends like a glove
Being a dreamy destination with perfect landscapes is not enough. The traveller of 2019 will seek to fulfill aspirations and consciousness of wellbeing for the self and the planet. Here is where the Seychelles comes in.
From FOMO to JOMO: The Joy of Missing Out
The accustomed ease and accessibility of travelling means that in 2019 many will be seeking to get off grid rather than visit the popular destinations. Many travellers and holiday-makers now see their holidays as a way to relax, get away from it all and even as a digital detox – the joy of being in the moment.
Although Seychelles has 115 islands, most of them are uninhabited. Besides the 3 main ones where the Seychellois live, the others are resorts or deserted islands you can visit on a day trip, making them perfect off-grid escapes! Places such as Curieuse Island and Bird Island, for example, both have protected bio-reserves. This comes with an abundance of untouched natural beauty, which you can explore often without bumping into another tourist.
Even the main islands, Mahé, La Digue and Praslin offer off the beaten track experiences. You can lose yourself spotting rare wildlife in Port Launay Mangrove Forest in Mahé or head to the most secluded beaches such as Anse Cocos in La Digue.
The Year of Sustainable Consciousness
With the growing focus on sustainability, travellers are increasingly becoming more and more conscious of their impact on the environment. Destinations are starting to realise now the importance of protecting their resources and natural habitat over increasing the number of tourists, but the Seychelles is way ahead of everyone else.
The country has agreed to preserve 210,000 sq km of ocean, almost the size of Great Britain, to clear some of its national debt. This agreement is the first of its kind in the world! Actor Leonardo DiCaprio's foundation donated $1m towards funding the debt swap. Tourism and fishing activities are being restricted to prevent damage to aquatic life.
The island nation has come in leaps and bounds tackling plastic pollution. An important ban, imposing restrictions on the importation, manufacturing, distribution, and the sale of plastic bags as well as on plastic utensils and polystyrene boxes, came into effect on 1 July 2017. In two months, a further milestone will be reached: the Seychelles newest ban on the importation of single-use plastic straws will come into effect.
2019: The Year of Travel Made Easy
Whilst we like the idea of living on the edge and seeking out the adrenaline-inducing travel experiences, most people just want to get from A to B hassle-free. Despite its distance and geographic layout, Seychelles offers just this.
British Airways launched new direct flights from London this year and other airlines also increased the frequency of their services. And you don't need to worry once you get there as travelling between islands has also become a lot easier too.
Seychelles is a visa-free country and you don't need to get vaccinations either. Getting around is stress-free as locals speak English, one of their official languages, and will be very happy to help. And best of all, you can visit the 'land of perpetual summer' all year round due to its ideal climate.
Visit seychelles.travel for more information.