Karisma Hotels & Resorts, an award-winning luxury hotel collection which owns and manages properties in Mexico, Latin America, the Caribbean and Europe, announces the completion of a two-year, $7.7 million renovation at Azul Beach Resort Riviera Cancun by Karisma. Located beachfront in Mexico's picturesque Riviera Maya, Azul Beach Resort Riviera Cancun's renovation focused on reimagining the complete guest experience to deliver a worry-free, elevated Gourmet Inclusive® vacation for families of all ages, food-lovers and travelers seeking a contemporary taste of Mexico.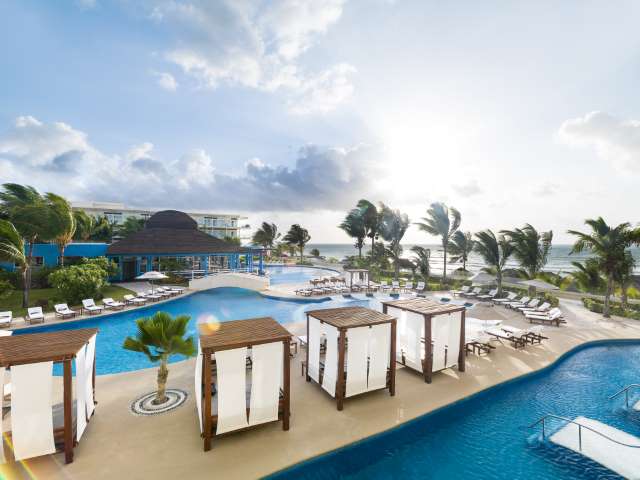 Azul Beach Resort Riviera Cancun's renovation began with upgrades to 200 guestrooms and suites, including all honeymoon suites. Upgraded accommodations present a refreshed modern look and feel, new smart TVs, and new terrace and balcony furniture, inviting guests to further enjoy the warm tropical weather and stunning ocean views. For those with young children, spacious family suites provide room for everyone and swim-up suites let adults enjoy a refreshing dip while little ones are napping. Families with teens can opt for luxury connecting suites that keep everyone within reach while offering privacy.
To ensure a worry-free stay, Azul Beach Resort Riviera Cancun introduced a highly personalized concierge and pool/beach butler service so guests can play more and plan less. With the sun kissed Caribbean beach and six sparkling pools always only a few steps away, guests' stays are filled with tropical relaxation and memorable experiences, and everything else is the concierge's concern. New Baby and Toddler Inclusive Amenities make travel easier by providing baby gear essentials including organic baby food, freshly made by the resort's talented chefs. There's big fun for families of all ages including an unforgettable, newly branded kid's program Azulitos, specifically designed for ages 4-12 years old in nine dedicated themed neighborhoods hosting a variety of activities from cooking classes and water balloon parties, to kid's yoga and private movie theater experiences. The big kids will also have fun with outdoor excursions and activities at the Teens Club.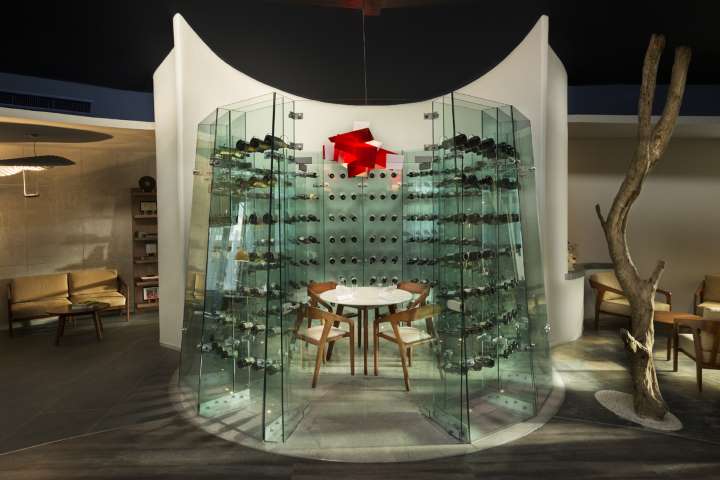 Enhancements were also made to nearly all of the Gourmet Inclusive property's restaurants, including Le Chique – voted one of Latin America's 50 Best Restaurants in 2018 by The World's 50 Best, recognized globally as the most credible indicator of the best places to eat on Earth, sponsored by S.Pellegrino and Acqua Panna. At number 34, the renowned multisensory restaurant led by acclaimed Chef Jonatán Gómez Luna represents the only hotel restaurant honored, the highest-ranking new entry from Mexico ever, and the first restaurant from the South of Mexico to be awarded. Karisma further elevated Le Chique's aesthetic with a $500,000 investment to ensure it was reflective of the award-winning, world-class culinary journey experienced there.
New décor and innovative signature dishes and drinks have also been introduced at Azul Beach Resort Riviera Cancun's Tapaz, Zavaz, Zocalo, and Siena where guests don't need reservations and are always guaranteed seating. Building upon its reputation as home to one of Mexico's best culinary offerings, Azul Beach Resort Riviera Cancun debuted authentic and, in the moment, culinary experiences throughout the property, including an Aperol Spritz truck located at the terrace of Siena's restaurant where guests can enjoy refreshing cocktails.
Azul Beach Resort Riviera Cancun delivers the ultimate Gourmet Inclusive vacation. An unrivaled culinary journey is combined with exciting activities that will surprise and delight, and relaxing experiences to refresh and reset. New offerings include:
Moët Pool Parties – An experience like no other, world-renowned champagne house Moët & Chandon is hosting weekly parties by the pool featuring bubbles and bites.
Casino Nights & More – Exciting new entertainment, day and night, makes for endless fun from a family-friendly S'mores and Bonfire Beach Party to Casino Nights, Magic Shows and Jersey Boys performances.
Bali Beds – The property's new Bali bed invites guests to indulge in a massage al fresco with tranquil views of the turquoise waters. During a Bali bed experience, a personalized, luxurious bed awaits guests on the beach or poolside, along with a butler and three different menu and alcohol pairing options.
Wellness at Vassa Spa – Contemporary new spa packages are now available at the 8,000-square-foot Vassa Spa, such as the Water Journey that allows guests to feel a profound sense of wellness. During the journey, the body flows through different water experiences alternating between warming and cooling phases, creating the most revitalizing sensations. Further, guests are now able to purchase Vassa Spa's renowned organic soaps and bath salts to take a sense of calm home with them.
For more information visit www.azulbeachresorts.com/riviera-cancun.