Spectacular marine life, lively reefs, tropical waters and once in-a-lifetime encounters make Kuramathi an ideal diving destination. In addition to this, the resident Rasdhoo Divers team is the first and only dive centre in Maldives offering Blackwater Dives. These exclusive night dives offer divers a chance to experience the exceptional, fascinating marine night life of the Indian Ocean; as seen through the amazing, otherworldly photography of Kuramathi Diving Instructor and award-winning photographer Marco Steiner.
Rasdhoo's expert dive team is complemented by Kuramathi's resident marine biologist who can accompany guests on dives to identify unique and captivating ocean fauna. Back on land night divers can learn all about the spectacular marine life that they might see on their Blackwater Dive, as well as provide education on how we can preserve this fragile and unique eco system.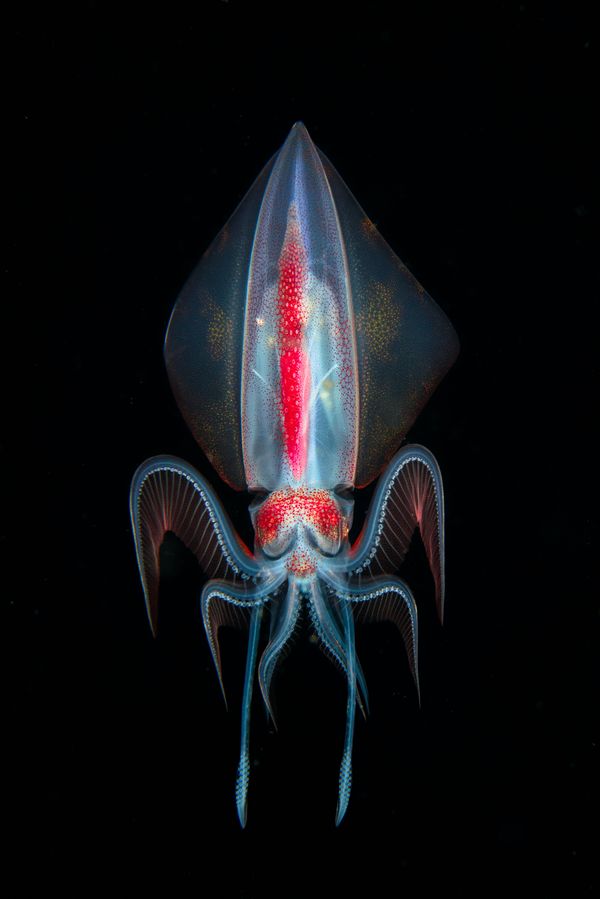 Blackwater diving is a different kind of night dive to the dives guests may be used to, it is conducted far out in the open ocean taking place between 500m – 3km off shore, and reach depths between 5-25m, covering over at least 200m of water to ensure an amazing diversity of sea creatures and plankton. Using a weighted down line, affixed to a floating buoy on the surface, lights attached at various depths along the line attract plankton and different kinds of marine life; as well as providing a safety reference for the dive group.
Blackwater, or open water night diving is a different experience for everyone; some divers may want to face their fear of the utterly black water, however most wish to experience new creatures and to witness the largest vertical migration of marine life in the world, which takes place each night. Juvenile fish, plankton and depth dwelling species that spend their days hundreds of metres beneath the ocean's surface ascend at night to feed in shallower water, such as Sailfish, Gurnards and Diamond Squid. The free-floating buoy will drift along with the ocean current, providing an ever-changing kaleidoscope of animals for divers to discover.
Add this to the spectacular natural beauty of the island, tropically chic accommodation and an astounding range of restaurants and you have the perfect location for a flawless diving holiday.
Kuramathi's Rasdhoo Divers is home to a fully equipped dive school with multi-lingual instructors who can guide divers of all skill levels through a range of PADI and SSI courses, as well as get access to dive sites where they can freely mingle with grey reef sharks, turtles, manta-rays, eagle rays and a myriad of other marine life.
So whether you are a young diver, a family, a complete beginner, a single diver, a couple or a group of experienced divers, Kuramathi Maldives offers a veritable dive paradise to all, and a chance to discover a whole new world below the waves.