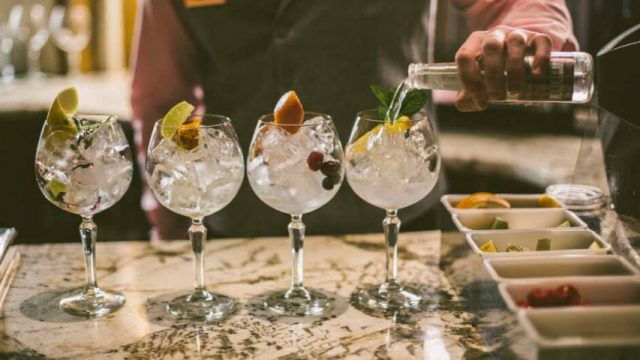 Gin lovers will be in for a tonic if they take a spin towards a new visitor centre set in the beautiful surrounds of Rademon Estate Distillery in County Down.
The much-lauded distillery, just 30 minutes from Belfast, is now ready to take guests on a fascinating tour explaining how its hand bottled, multi award-winning Shortcross gin came to be.

Shortcross, Northern Ireland's first craft gin and the most awarded gin in the island of Ireland, has been distilled by husband and wife team David and Fiona Boyd-Armstrong at the Rademon Estate Distillery since 2014.

The country estate is one of the oldest in Ireland and its verdant 500 acres yield many of the ingredients for the artisan spirit, renowned for its aromatic and exceptionally smooth taste.

Now the small-batch distillery is offering exclusive pre-booked tour and tasting experiences, unlocking some of the secrets and skills that go into creating Shortcross. 

Head distiller, David Boyd-Armstrong, will take you on a journey explaining how the gin (plus the estate's single malt Irish whiskey) is created. Learn how the botanicals are harvested, how the distillery's well is used, how the bespoke copper pot still works and how the bottling and labelling of the finished product is handled on site.

Then enjoy a tutored tasting, engaging all your senses before mastering the art of creating the perfect Shortcross gin and tonic.

Lasting around 90 minutes, the pre-booked tours are held from Tuesday to Friday. Afterwards, discover the visitors centre and Shortcross Gin Bar, or browse in the distillery shop.

Each tour guest receives a Shortcross branded glass and a voucher towards an onsite bottle purchase. A full bar service is also in operation, where you can enjoy Shortcross cocktails and shorttails.

The artisan spirit is also available widely throughout Northern Ireland's thriving food and drink scene.

Gin geeks can learn more about their favourite drink via the Belfast Gin Jaunt, also featuring Shortcross.

Starting at a Victorian gin palace, the famous Crown Bar, you can try seven different gins, including three local ones, and learn all about gin, gin styles, garnishes, cocktails and more.