Fez is Morocco's second largest city but looking at the airport's route network over the last 20 years or so, visitors wouldn't know it. With the arrival of budget airlines and a refreshed larger airport, Fez was now more open as a city break destination. But before this growth, a couple from London, had already built and developed the city's leading hotel, Palais Amani which opened its doors in 2010.
Jemima Mann-Baha first visited Fez as a 15-year-old on a family holiday back in 1979 when the words 'budget' and 'airline' were never used in the same sentence. At this time, Morocco was far from a leading tourist destination and the country remained a tourism mystery for many. Jemima returned again in 1987 and later with her husband Abdelali who was born in Fez.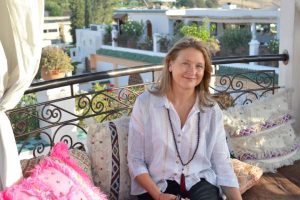 In 2006 Jemima and Abdelali bought the former home of one of Fez's most prominent families, which had laid abandoned and deteriorating in the heart of the medina for over a quarter of a century. Four years of extensive renovation restored the property to its old splendour and revealed many stories about family, heritage and legacy. The renovation included the maintenance of art déco features dating back to the 1930s.
Palais Amani arrived and lifted the lid on authentic Moroccan life in the country's second city. Today there are 18 individually designed bedrooms, Eden Restaurant and rooftop bar, a Hammam offering traditional rituals and the Fez Cooking School. Authenticity has remained at the core of the hotel's growth and Jemima created packages and experiences that highlight and celebrate Moroccan life to the visitor. These experiences include courses in calligraphy, book binding classes, Moroccan wine tastings and foodie tours of the medina with one of the hotel's chefs.
Palais Amani remains family-run and now employs 50 staff. The hotel has won several industry awards and welcomed guests from around the world and it showcases Moroccan craft and design throughout.
They buy very local…the medina is vast and filled with produce but Morocco itself produces everything the hotel needs. Palais Amani source local or national products wherever possible, to reduce the carbon footprint to a minimum for our supplies. In the last ten years Palais Amani have contributed over 1 million Euros to the local community in buying local.
Located in the UNESCO Medina – Old Fez, the world's largest car-free urban area – where the city's heritage is most obvious. You can easily get lost in the twisting, labyrinthine streets, both literally and figuratively, but this is undoubtedly the best way to discover the true heritage of Fez.
Jemima comments: "We believe that travel is more than discovering new places, it's unearthing the stories that inspire us to live a little more compassionately, healthily and to listen to our inner spirit. We help you do that by opening the door to a world that will restore, enrich and amaze you".