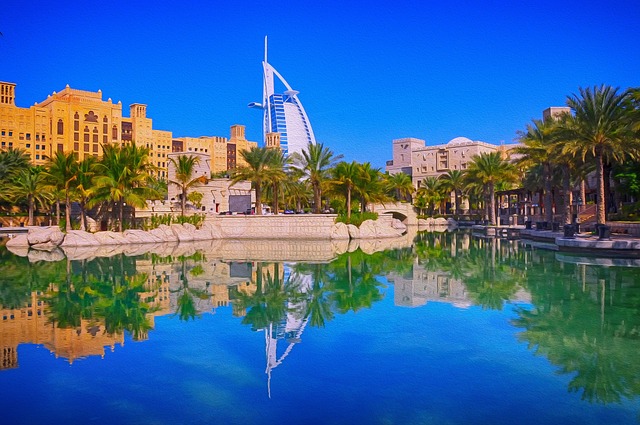 Home to the world's tallest buildings, mighty skyscrapers, and mega malls, Dubai certainly needs no introduction. The Middle Eastern emirate houses miles and miles of fine-sand, snowy white beaches that attract beach enthusiasts all year round like bees to honey.
Some of the most famous beaches are JBR open beach, La Mer, Umm Suqeim Beach, Kite Beach, and Al Mamzar Beach Park. But we can't really talk about Dubai beaches and not mention The Palm Jumeirah now, can we?
This amazing palm-frond-shaped man-made marvel sprawls out into the Persian Gulf. It lives up to its name as it resembles a splendid palm tree shape within a circle. Luxury villas and five-star hotels line the 3-mile-long trunk along with a fan of fronds. The island opens the doors to plenty of fun tourist attractions, from lavish resorts, luxurious hotels, water parks, and water activities to remarkable party hubs. To all the party lovers, your search for perfect party places ends at The Palm Jumeirah. Look nowhere else for you'll find everything here, live celebrity performances, DJ nights, and exclusive parties!
When to visit?
The best time to visit the beach heaven in Dubai is during the winter season when the weather conditions are extremely pleasant. If you can't make it in November or December then the weather in early March to mid-April is perfect for traveling to various parts of Palm Jumeirah.
Before you book your tickets to Dubai, here are a few things to add to your bucket list:
A Picnic at Al Ittihad Park
Situated right in the middle of the Golden Mile buildings 2 and 3, is a green oasis called the Al Ittihad Park. It's a perfect place to spend some quality time with your loved ones, you can walk along the flower garden or have a cozy picnic, the choice is yours!
A tour of the Lost Chambers Aquarium
Treat your inner child and don't forget to explore the Lost Chambers Aquarium in Palm Jumeirah. It's gonna take more than a day to actually acquaint yourself with all the varieties of sea animals present there!
Get your pulse racing with the Splash rides
Get ready for a thrilling ride with Splash tours. The 90-minute speedboat ride starts off from Dubai Marina, cruises around the Palm Jumeirah, and also pauses for a photo in front of the Atlantis. Jet straight onto the Burj Al Arab before cruising past some of Dubai's most lush royal palaces!
Freefall Over the Palm Jumeirah
This one is for all the adrenaline junkies who just can't get enough! You get to jump out of a plane as it cruises over the Palm Jumeirah and enjoy a bird's P.O.V. of the magnificent island, the endless blue-green sea, and Dubai's unmissable skyline. Whether you're a professional or a beginner, it's time to tick off Skydiving from your bucket list!
Spend a day at the Aquaventure Waterpark
A perfect blend of adrenaline and fun, Aquaventure Waterpark is a much-loved tourist hot spot in Dubai. It boasts some of the world's most iconic water slides, namely- Blackout, Trident, and Shockwave. Experience the thrill of watersports and get the most out of your trip to this man-made archipelago!
The View At The Palm
The last one but the best one, you can't say you've been to Dubai without experiencing the beauty of the Palm Jumeirah's remarkable palm-shaped archipelago through The View At The Palm. Behold your eyes and experience the true beauty of the entirety of the Palm Jumeirah, Dubai Marina, and of course the metropolis' glitzy coastline!
Don't worry, the list doesn't end here. The Palm Jumeirah is quite literally a haven for vacationers, there's a lot more to Dubai than meets the eye.
Lastly, let's not forget to shed some light on getting around in Palm Jumeirah! Taxis are available in large numbers and you also have the option of a monorail at your disposal. However, if you're traveling on a budget, hailing taxis isn't advisable as the fares will end up burning a hole in your pocket. A much more feasible mobility solution will be renting a car for the duration of your stay, you'll get the freedom to explore without breaking the bank.
With ekar's Carsharing solution, you get access to an on-demand network of thousands of cars spread throughout the city. This is also the most affordable mobility solution if you're traveling in a group. After all, no one wants to buy a ticket or book a taxi every time they want to go someplace.
Now that you have your bucket list ready and your mobility needs solved, get ready to have the time of your life in Dubai!