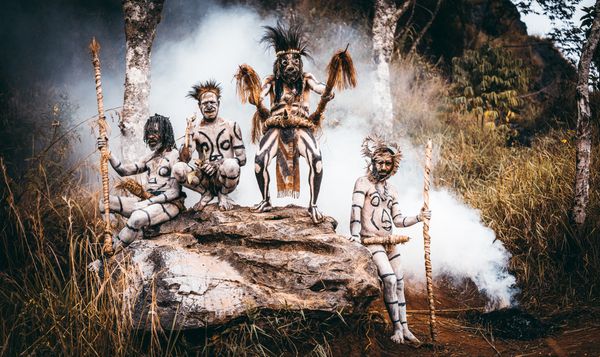 When Belgian photographer and photo tour leader David Van Driessche sought new locations for his photo trips, he decided to explore Papua New Guinea and its many cultures.  Little did he know that his travel to this country would evolve into a truly memorable adventure as he developed close friendships with tribal members. He found new friends and colorful models for his photography tours, but more importantly, Van Driessche successfully encouraged the tribes to build living quarters in their remote villages where tourists and photographers could reside for a few days.
Today, several tribes are building small cottages and rooms to accommodate tourists and photographers. Construction is primarily with wood collected from the surrounding forests. The units are artfully designed and include the amenities of home, such as a comfortable bed, shower, toilet, dresser, and clothing rack. Air conditioning is unnecessary because of the mild mountain climate.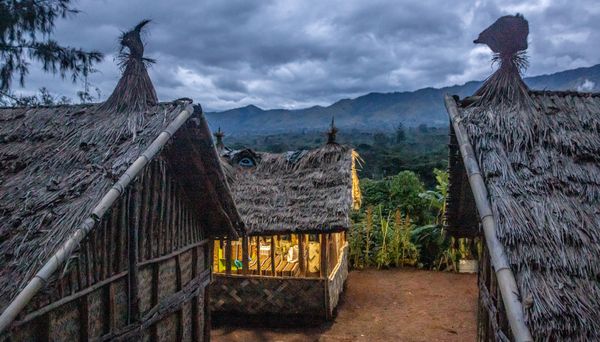 "Travel agencies currently book tourists in hotels located in faraway cities like Goroka or Mount Hagen, requiring long hours of travel to the tribal villages. This allows only a few hours with the tribes before returning the same day to the hotels in those cities," says Van Driessche. "With these new cottages, I can take groups of tourists and photographers from one tribe to the next without having to leave the area and go back to the city. It means the clients get a 'full immersion experience' with the tribes and their way of life."
About two years ago Van Driessche had the good fortune of meeting Randy Hanna, also a professional photographer and photo tour leader who is based in the United States. Together they collaborated on ways to help generate income for ethnic groups in Papua New Guinea. With the cooperation and financial support from Hanna, Van Driessche started building eco-lodges with two of the most famous, colorful, and exciting cultural groups in Papua New Guinea – the Asaro Mudmen and the Mindima Skeleton tribes.
According to Van Driessche, the best part of Papua New Guinea is the road between Goroka and Mount Hagen. Located here is The Asaro Mudmen Tribal Eco Lodge with ten rooms and more under construction. From this location, photographers can experience six different cultural events ranging from the Moko Moko Victory dance of the Asaro Warriors to the Burning Heads of Gimmesave.

Just a two-hour drive from the Asaro Mudmen lodge is the Omo Bruglgamo Skeleton Tribe Eco Lodge. This lodge has five budget rooms and three deluxe rooms, with more under construction. Found next to the Skeleton tribe are the Insect Hunters and Dusk Shaker cultures, as well as the famous Chimbu Bila with their long-feathered headdresses.
Who are the Mudmen and Skeleton Tribes?
Van Driessche, who now lives in Thailand, spent months exploring the tribes of Papua New Guinea. He worked most closely with the Mudmen and Skeleton tribes and was thrilled when they agreed to build lodging for his photography tours. As they have worked together, Van Driessche has learned many of the legends and history that make each tribe distinctly different. Each tribe has unique ceremonies and festivals which require masks or body paint to create special, colorful appearances.
The Mudmen from Asaro pay tribute to their ancestors by covering their bodies with mud and wearing heavy masks also made of mud. Centuries ago, the Asaro were known as shy jungle-dwellers. Legend has it that one day they were attacked by a powerful tribe and fled to the nearby Asaro River. When their assailants reached the river, they came upon figures coated in white and gray river mud. Believing they had met the ghost spirits of the Asaro they had just killed, the aggressors panicked and quickly fled from the ghosts. They never returned.
Members of the Skeleton Tribe from Mindima use white paint on their bodies to appear as skeletons. As the story is told now, a few villagers went hunting in the mountains but never returned. A search party found a small cave containing numerous human bones. They believed a big monster (probably a bear or wolf) had killed the hunters. To get rid of the monster they painted themselves as skeletons and laid next to the bones. When the monster returned and had his back to the living skeletons, they killed it. To this day the Skeleton Tribe continues to paint their bodies like skeletons to ward off evil and honor their ancestors.
Two More Projects in the Making
Van Diessche has two more eco lodge projects underway, one in the Jiwaka Province with the Sekaka Tribe. Known for their elaborate headresses made of colorful bird feathers as well as the Forest Skull Kids of Koskala, this ethnic group is building the Koskala Gerupeng Lodge near the town of Banz. The village is only a one-hour drive from Mount Hagen Airport and an hour's drive from The Skeleton Tribe Eco Lodge.
The other project is in Enga Province with the Black Faced Tribe of Suli Muli. This small group of people, known for using distinctive black face paint, is one of the most isolated in Papua New Guinea. They live in small, scattered communities throughout the mountains, and their way of life has remained largely unchanged for centuries. The Suli Muli people have recently started building their first eco lodge units. "Because this area has had no tourism, the experience is truly amazing," says Van Driessche. "To be with a tribe that has experienced very few visitors has always been my dream. It's like going back in time and learning to appreciate how our ancestors lived – but it's real life now."
Birds of Paradise
Near Mount Hagen is another phenomenon that lures photographers to Papua New Guinea: the birds of paradise. Legend informs us that these birds were forever in flight, never touching the ground nor resting in trees. Whether true or not, the birds of paradise are among the most beautiful and colorful flying creatures on earth.
Of the 42 species of paradise birds, all but two are found in Papua New Guinea. Although most male birds of paradise have spectacular plumage, there are a few species where the male and female have almost identical, generally modest-looking plumage. Coloring and type of plumage vary drastically among species.
Finding these magnificent birds amidst dense foliage can be extremely challenging. However, with the help of local tribesmen, who know the habits of the birds and the environments in which they live, these gorgeous birds can be readily located.
Come to Papua New Guinea
Long ago, Papua New Guinea was known for cannibalism, but today it is a very safe country for travelers to experience colorful culture and unique tribal traditions. "The headhunters of the past have become tourist hunters of today. They are anxious to share their unique customs and cultures with others," says Van Driessche.
If you are a photographer, birder or simply an adventurer, join us in Papua New Guinea for the experience of a lifetime.