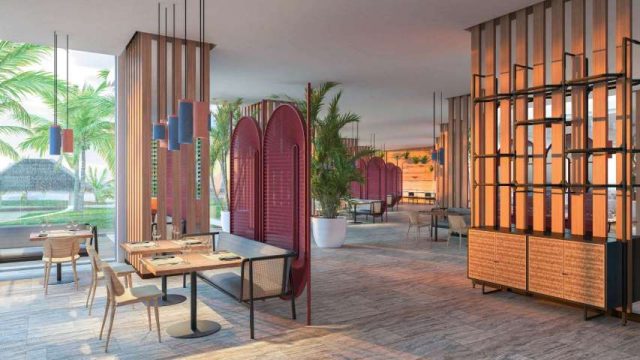 Paradisus by Meliá, Meliá Hotels International's luxurious all-inclusive brand with properties in Cancun, Los Cabos, Playa del Carmen, and Punta Cana, has unveiled plans for its newest food concept – Malva Food Bazar, to debut at Paradisus Cancun later this year. Malva will replace the current restaurants Naos and Fuego with a $1.2 million renovation to the design and décor of the space. This will be the first Malva within the Paradisus portfolio and will open its doors at Paradisus Cancun, with plans to debut within other Paradisus resorts in 2020.
The new and innovative concept will offer guests a casual and relaxing gastronomic experience, utilizing local culture, products, and culinary trends. Malva Food Bazar will elevate the traditional buffet experience and create more conviviality, making it the heart of Paradisus properties.
Open for breakfast, lunch and dinner, Malva Food Bazar will offer guests countless elevated dining options, including a bakery with fresh bread baked daily and a specialty smoothie and juice bar. During lunch and dinner, guests will be able to pick from world-cuisine stations including, salads, meat, fish, and plenty of vegetarian and vegan options.
Creating a casual, interactive dining environment, the design of Malva Food Bazar will feature shared communal tables throughout the space. Malva will be organized so that guests follow a path and can experience various food stations within the market. At the centerpiece of the space will be live cooking by chefs while kiosks selling local products will be adjacent, giving guests the opportunity to take the local culture back home. Despite being divided into different zones, the 19,353 square foot space will be visually connected by textiles and vertical elements, which will unify the space and create homogeneity. Guests can choose to dine privately for a special event or enjoy a meal in a communal table setting.
The restaurant will embody eco-chic design, representing different habitats found in nature. Bright colors used to represent flowers in full bloom and warm tones to embody wood and forests, and special low lighting will help create the various areas of nature, offering offer guests unique experiences.
When complete, Malva will make the eighth restaurant at the resort, featuring 657 suite-style accommodations, four lavish pools, 9-hole par 3 golf course, and the signature YHI Spa. Accommodation options include Royal Service, the adults-only option featuring private butlers, private check-in and private restaurants; and Family Concierge, designed for families with luxury amenities for kids and parents alike. The resort has been awarded Four Diamond honors since 2006 by AAA.