One Ocean Expeditions (OOE) begins its 2018-2019 Antarctic season with every photographer's dream voyage to the white continent. Appealing to nature lovers, adventurers and amateur and pro photographers alike, One Ocean Expeditions' Photography Symposiums take guests on a visual adventure of a lifetime.
A world leader in polar expedition cruising, OOE is known for unique, interest-led, small group programming. Featuring hands on tutorials tailored to each guests' individual needs, OOE's signature Photography Symposiums are led by world-renowned and award-winning photographers such as Daisy Gilardini, Photographer-in-Residence for OOE and The Royal Canadian Geographical Society.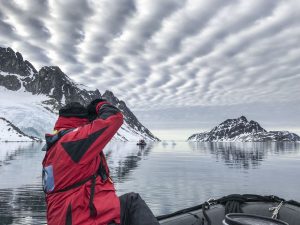 Operating in the most remote and pristine environments on the planet, the symposiums create ambassadors for these fragile regions through photography and expert-led excursions. The voyages are rich in active adventures and educational experiences with exceptional encounters with wildlife and the surrounding landscapes.
The first OOE Photography Symposium of the season took place in the sub-Antarctic island of South Georgia with the 'South Georgia In-Depth Photography Symposium' led by Daisy Gilardini, and a team of talented professional photographers; Boomer Jerritt, Ron Clifford and Guts Swanepoel, as well as Artist-in-Residence David McEown. Daisy's next symposium will be held on the 'Spitsbergen Encounter' voyage in the Norwegian High Arctic departing 19 June 2019.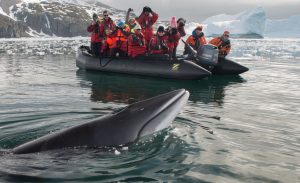 New for 2019, OOE's specialised photography programming has expanded to include the 10-night 'Antarctic Peninsula Adventure – including Antarctic Circle Crossing and Photography Symposium' voyage, departing on 11 March 2019, just as the polar summer comes to an end. This is also when whale season is in full swing and juvenile penguins are learning to swim. Shorter daylight hours offer spectacular sunrises and sunsets, perfect for photography. Staggering numbers of king penguins can be seen and macaroni penguins are in their greatest numbers.
Leading the group will be two award-winning photographers Dave Brosha and Paul Zizka. Guests are offered daily pre-excursion meetings; dedicated photography Zodiacs; specialty landings and excursions based on light conditions; interactive workshops and group or personal reviews. The workshops are led in an encouraging and fun environment with technical and creative support.
Joining Brosha and Zizka are world-class photographers Curtis Jones, Kahli April and Colleen Gara, each offering insight into their personal specialties such as landscapes, portraits, wildlife, night and nature.These talented professionals have been selected for their exceptional ability to prioritise excursions in order to maximise the light for photography, whilst also managing weather conditions and itinerary commitments.  With a broad spectrum of opportunities for budding photographers, these expert guides will contribute fantastic insight as they take guests beyond obvious images into the realm of unique and compelling story telling.