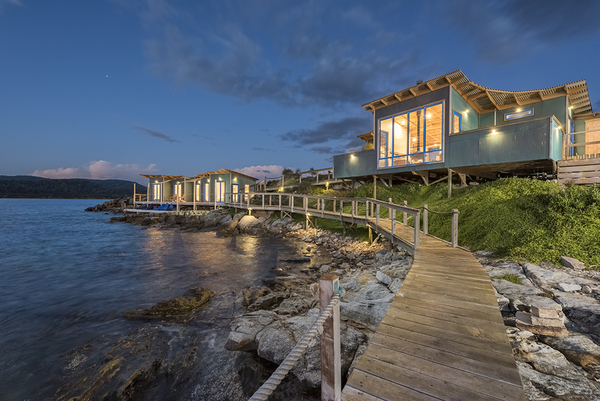 The Ultimate Freycinet Adventure Picnic Island, Tasmania, is teaming up with award winning kayak tour operator, Freycinet Adventures, to deliver this exciting new product for the 2017/2018 season.
Over 4 days experience a true escape on the ultimate Freycinet Adventure. A unique adventure so much more than just a walking tour. This hosted experience includes wildlife, kayaking, walking, boat tours and plenty of relaxing. Our base camp is on a private island (Picnic Island). It is completely unique and has a truly a spectacular outlook of Freycinet National Park.  This tour starts with the stunning drive from Hobart to Coles Bay on the Freycinet Peninsula. From you'll board our Aqua Taxi and head out to our exclusive island accommodation.  Once you've settled in our guides will take you through your exciting itinerary for the next few days.  We include kayaking, walking, boat trips and wildlife encounters. Your accommodation will be in a luxurious cabin overlooking the water on the island. Your meals are prepared lovingly in the 'birdhouse' on the island by our passionate guides and include local produce and Tasmanian wines.
Highlights:
Private evening penguin colony tour
Aqua Taxi tour on the Freycinet Peninsula taking in pristine deserted beaches
A picnic at Wineglass Bay
Sunset Kayak Tour
Oyster Tasting
Walks within Freycinet National Park including Mt. Graham & Mt. Amos
Accommodation:
Your unique accommodation will be a highlight of this experience. Situated 800m offshore from Coles Bay & Freycinet National Park is Picnic Island. This architecturally and environmentally sensitively designed lodge makes this experience a true escape. Each cabin is decked out with a comfortable queen been with stunning water views. The common area (The Birdhouse) boasts a wood-fire, dining and lounge area. Sundowner will have a new meaning for you. We also share the island with a colony of little penguins and some other spectacular visiting wildlife.
Itinerary:
Day 1:  Your transfer from Hobart is included. We will collect you from your hotel and take you on the picturesque drive up the East Coast.  On arrival, the Aqua Taxi will shuttle you out to the island for a late lunch. Optional afternoon short walks in Freycinet National Park.
Day 2: We take the Aqua Taxi down to Hazards Beach to enjoy some coastal walks within Freycinet National Park. Our guides take you on a hike from Hazards Beach to Wineglass Bay for a picnic lunch. After dinner, we also offer the option of a penguin viewing on the island.
Day 3: The morning consists of a walk-up Mt. Freycinet (5.5 kms) which has picturesque views of the whole Peninsula. We will undertake the award winning Freycinet Paddle -3 hour guided sea kayaking tour at twilight.
Day 4:– We include an oyster tasting at the local Marine Farm followed by a transfer back to Hobart.
There is also plenty of 'island time 'to enjoy a spot of fishing off the jetty, birdwatching, or relaxing around the island. All walks/activities are optional.