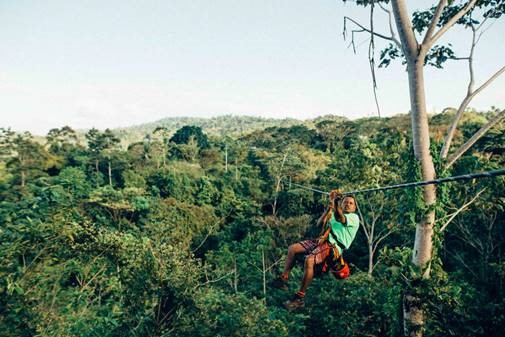 Want to travel in the new year but not sure where to venture off to? Don't fret; Sunwing Vacations is here to inspire you to vacation better by finding the perfect trip for you based on your zodiac sign!
Choosing a destination to visit can be tough, especially when there are so many exciting places to explore which offer great food, atmosphere, culture, beaches, attractions and so much more. So why not let your zodiac sign be your travel guide this year?
Pairing the perfect destination with your astrological sign may seem unconventional, but, who knows, maybe your perfect paradise is written in the stars.
Aries (March 21–April 19)
Aries are born to travel. They're active, courageous and ready for any kind of challenge life throws their way. Because this sign is so full of energy, going somewhere adventurous like Costa Rica is an ideal choice. There they can try out a range of exciting excursions, including volcanic adventures, ziplining, canopy tours and so much more. Costa Rica is sure to leave this thrill-seeking explorer sign satisfied!
Taurus (April 20–May 20)
This Earth sign loves being immersed in nature and enjoying life's greatest pleasures using all five senses. Saint Lucia would be a perfect destination for Taurus to explore. This island is full of lush vegetation and unique natural landscapes for this sign to explore. This celebrity-favourite destination is sure to leave the luxury-seeking and nature-loving bull happy.
Gemini (May 21–June 20)
A curious sign who loves to explore, Geminis love an authentic travel experience. Cultural tours and soaking in the history of a destination are at the top of a Gemini's wish list. This sign would love to vacation in a destination rich in culture, making Grenada an ideal choice. This enchanting island is a place where untouched beauty meets warm people content with a simple way of life. Grenada's charming culture is an interesting fusion of old traditions and new generations. Other cultural interests that take place during the year include drumming, folk dance and singing festivals.
Cancer (June 21–July 22)
Cancers are the lovers and givers of the signs. Being able to share experiences with loved ones is very important to a Cancer. Sensitive and emotional beings, an ideal getaway for a Cancer would include significant others in a romantic destination such as Antigua – home to many small boutique resorts making the perfect intimate seating for this sign and their friends and family.
Leo (July 23–August 22)
Fun and sophisticated, a Leo enjoys visiting big cities with plenty of culture. They're fascinated by the fine arts, will never turn down a fun party and are willing to splurge for a good time. Miami is the perfect destination for this sign with its artistic flair, beautiful beaches, and exciting nightlife. A good time for Leos to visit is during the legendary Art Basel festival.
Virgo (August 23–September 22)
Virgos are always on the go and tend to get caught up in the hustle and bustle of everyday life. This is why a Virgo could benefit from a relaxing beach getaway where they'll be able to unwind and enjoy some peace of mind. A vacation in Isla Holbox, an island north of Mexico's Yucatán Peninsula, is the ideal destination for a Virgo to forget about daily worries. This car-free island provides ultimate tranquility and perfect landscapes for a Virgo to truly unplug and unwind.
Libra (October 23–November 21
This air sign enjoys balance, harmony and beauty in all forms. Libras like to have the best of both worlds – they want to embark on a daily excursion but also value quiet and relaxing time. Los Cabos, which encompasses the best of the desert and the sea, offers ample unparalleled natural beauty, biodiversity and a range of amenities that will keep a Libra content.
Scorpio (October 23—November 21)
Scorpios are both intense and exciting. They love exploring and learning new things, but as water signs, they also enjoy remote beach locations where they can slip off the grid. Havana, Cuba would be an ideal vacation spot for a Scorpio to get lost in. Here they can explore the history and vibrant city, but also enjoy the pristine, white-sand Cuban beaches the country is known for.
Sagittarius (November 22–December 21)
A Sagittarius is the adventure-seekers of the zodiac. This sign is up for anything and enjoys the freedom of the outdoors. A Sagittarius needs to travel to a destination with endless opportunities for fun and exploration. An ideal destination for a Sagittarius is Jamaica, offering exciting outdoor activities such as climbing the famous Dunn's River Falls or taking a bobsled ride down Mystic Mountain.
Capricorn (December 22–January 19)
Capricorns prefer the finer things in life. They enjoy travelling in style to luxurious and exclusive destinations where they can be spoiled. A Capricorn would appreciate a vacation in St Maarten, a destination frequently visited by celebrities. It's also a big yachting destination – so you can enjoy luxury while sun bathing on the deck of a beautiful yacht in the middle of the ocean. Luckily for you Capricorn, Sunwing's seasonal flights to this awe-inspiring destination resume in February!
Aquarius (January 20–February 18)
An Aquarius enjoys independence and the freedom of doing anything they want in life. They thrive in a changing atmosphere, as a life of routine is mundane and boring to them. Being original is at the top of their wish list, so being one of the first to visit to Sunwing's newest destination, Tobago, would be an ideal choice.
Pisces (February 19–March 20)
Pisces is a water sign that loves to be near water and lulled to sleep by the sound of the ocean. This free-spirited sign enjoys going with the flow and not being tied down to a set schedule. A trip to Bonaire, one of the world's most famous scuba diving destinations, is exactly what this uninhibited-water sign ordered. Here they can explore the deep blue sea; discovering some of the most unparalleled dive sites in the entire Caribbean.