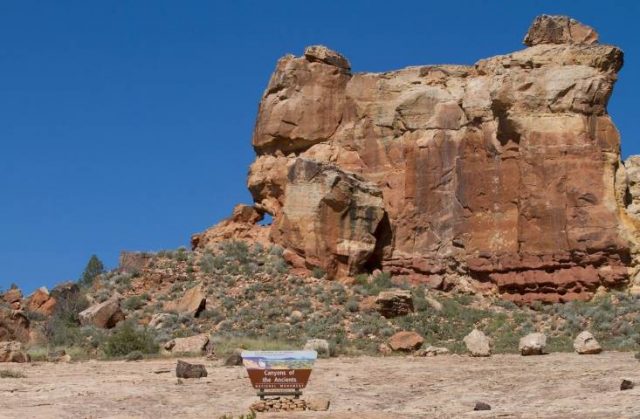 Located in beautiful, rural Southwest Colorado, which is known for its wide-open spaces, stunning scenery and freedom to roam, Mesa Verde Country is within easy driving distance of several gateway cities, including: Denver (8 hours), Albuquerque (5.5 hours), Salt Lake City (7 hours), Phoenix (8.5 hours) and Las Vegas (7.5 hours). This makes Mesa Verde Country the perfect location for a great American road trip, where it's as much about the journey as the destination.  
Plan Your Trip
In addition to a helpful website and a Colorado Welcome Center in Cortez, Mesa Verde Country has two podcasts to help travelers get inspired for their trip. Ancient Voices and Mese Verde Voices offer a digital audio tour of Southwestern Colorado's antiquities. Download to hear about exploring visitor services, as well as historic and prehistoric treasures of this uniquely Southwestern area. 
Take the Scenic Route
Mesa Verde Country is home to the award-winning Trail of the Ancients National Scenic Byway, the only byway dedicated solely to archaeology. Trail of the Ancients transverses the spectacular landscapes of southwest Colorado. You will want to build in some time to get out of your car to enjoy all the incredible archaeology the byway has to offer. Known as "America's Most Beautiful Drive," the San Juan Scenic Byway also winds through portions of Mesa Verde Country.  
Experience History & Culture
Mesa Verde Country is part of The Grand Circle, America's largest concentration of National Parks. Named the "Number One Historic Monument in the World" by Conde Nast Traveler and one of the "50 Places of a Lifetime-The World's Greatest Destinations" by National Geographic, Mesa Verde National Park is one of the nation's first World Heritage sites and the largest archaeological preserve in the country. In addition to the park, Mesa Verde Country is loaded with other archaeological attractions: Hovenweep National Monument, Canyons of the Ancients National Monument and Visitor Center & Museum, Ute Mountain Tribal Park, Crow Canyon Archaeological Center, and the Cortez Cultural Center, which hosts Native American Dances throughout the summer. 
Stretch Your Legs in the Great Outdoors
You must build in time to stretch your legs during a road trip, and Mesa Verde Country offers endless outdoor adventures for doing just that. Hiking, mountain biking, fishing, birding, boating, rafting, golfing, and horseback riding are just some of the out-of-the-car excursions you can enjoy. Whether on foot or horseback, on two wheels or four, on land or water, the exceptional landscapes of Mesa Verde Country beckon you to create your own outdoor adventure.  
Fuel Up
With so many local foods and regional flavors from Mesa Verde Country's local restaurants, you'll be planning your next meal before you've finished your first. Don't miss our farmer's markets and farm-to-table restaurants to get a truly unique taste of the region. And don't forget to satisfy your thirst, too, by sampling Mesa Verde Country's locally crafted wines, beers, and spirits.  
Rest Easy
Visitors have as many interesting options where to stay as they have for intriguing things to do in Mesa Verde Country. The historic Canyon of the Ancients Guest Ranch features a private home and five luxurious rental cabins, complete with kitchens and cooking supplies. The Dolores Mountain Inn is a clean and comfortable inn in the beautiful mountain town of Dolores. Retro Inn – conveniently located and pet friendly – is a recently renovated motor-style motel that features rooms themed for the year of the room number (i.e. Room 1956 for Elvis Presley). White Eagle Inn & Vacation Rental is an old-fashioned, family-owned lodging facility that has been in continuous operation for 60+ years. Willowtail Springs, in Mancos, has three cabins tucked into on a 60-acre ecological retreat. RVers and tent campers have a plethora of options, as well.  
When visiting Mesa Verde Country, travelers should remember to wear a mask, physical distance, cover coughs and maintain good hand hygiene. Go to www.mesaverdecountry.com to begin planning your trip.