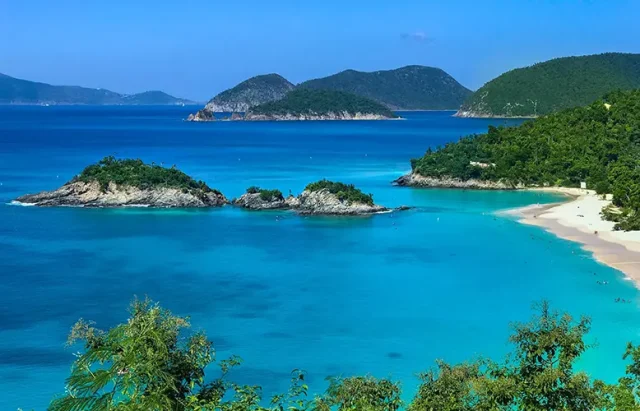 If cooler climates and harvest festivals are not your thing, plan your ultimate tropical retreat in the US Virgin Islands this fall. The USVI are one of the most accessible destinations for US travelers because Americans arriving from another state or territory can enter without a passport. Visitors traveling between September-November can expect to book hotels at a great rate. 
From one of the world's most underrated national parks to unique museums, beautiful beaches and thrilling water sports, the USVI boasts a fall calendar packed with exciting events.
Get ready to dance at the largest Soca Festival at sea with UberSoca Cruise, a five-night all-inclusive cruise with a non-stop Soca fete and over 80 Soca artists and DJs. The event, taking place on November 11-16 and November 16-21, combines the energy of a classic Caribbean Carnival with the luxury of a cruise, allowing guests to immPerse themselves in the culture and the islands.  
The annual Paradise Jam men's and women's basketball tournaments return to St. Thomas and the University of Virgin Islands Elridge Blake Sports and Fitness Center this November. The 23rd annual men's tournament will be on November 17-20, and the 24th edition of the women's tournament will be played Nov. 23-25. 
Dance with Moko Jumbies, indulge in local delicacies, and experience all facets of the USVI's diverse culture at largest of the three USVI Carnivals, the St. Croix Crucian Christmas Festival from Dec. 26 to Jan. 6, 2024. 
Seafood lovers cannot miss St. John's Love City Seafood Fest on January 14. Soak up Cruz Bay breezes, and savor tasty seafood sold by local vendors. 
On November 24, join the Jump Up celebrations in Christiansted, one of St. Croix's favorite social events among locals and visitors alike. Music and dancing, delicious food and drinks, as well as cultural dancers, steel pans and the iconic Moko Jumbies come together for a night to remember.