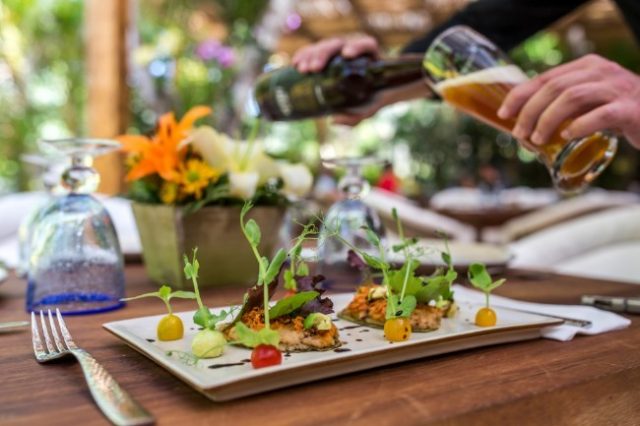 Puerto Vallarta will continue celebrating its Centennial with another event of international importance when it hosts the 10th annual edition of the Vallarta-Nayarit Gastronomica scheduled to take place from October 14 -18. With over 48 of the most important international chefs, including 8 Michelin-awarded chefs, Puerto Vallarta is ready to reaffirm its position as Mexico's Culinary Beach Destination.
Under the slogan: Mexico, thanks for so much! Vallarta Nayarit Gastronomica will be a combination of activities and events taking place all around food. Cooking demonstrations, classes and a trade exhibition will take place at the Hard Rock Hotel Vallarta and private gala dinners including one celebrating the career of Mexican chef Susana Palazuelos. Puerto Vallarta's iconic Malecon will set the stage for the event's first event on the 14 with its Centennial Reception.
In addition to participating international chefs, Puerto Vallarta will be well represented by Chef Raúl Altamirano and Chef Santiago Pérez, Hotel Sheraton; Chef Memo Wulff, Rest. Barrio Bistro, Chef Alex Gómez, Jardín Nebulosa and Chef Joel Ornelas, Rest. Tintoque, all of whom will be taking part in special classes or hosting events for participants.
Javier Aranda Pedrero, General Director of the Puerto Vallarta Tourism Board, said he was pleased to receive this type of international event, which reflects the great culinary amalgam, excellent service, attention and hospitality of the people of Vallarta, who continue to position the port city as the best option for gastronomic events.
Vallarta Nayarit Gastronómica will have invited guests from Chihuahua and Guanajuato, who will participate with renowned chefs. In addition, thanks to the significant growth of Guadalajara in the gastronomic sphere due to the diversity of its cuisine and the traditional dishes it has, it has been chosen as the guest city of this edition.
Participating chefs include eight from Michelin -awarded restaurants in Spain: Chef Ángel León (3 MICHELIN Stars and 3 Repsol Suns)  Aponiente Restaurant, Cádiz; Chef Andoni Luis Aduriz (2 MICHELIN Stars and 3 Repsol Suns), Mugaritz Restaurant, Gipuzkoa;  Chef Kiko Moya (2 MICHELIN Stars and 3 Repsol Suns) L´Escaleta Restaurant; Chef Diego Guerrero (2 MICHELIN Stars and 3 Repsol Suns) Dstage Restaurant; Chef Kisco García (1 MICHELIN Star and 2 Repsol Suns) Choco Restaurant; Chef Diego Gallegos (1 MICHELIN Star and 1 Repsol Sun) Sollo Restaurant; Chef Roberto Ruiz (1 MICHELIN Star and 2 Repsol Suns) Punto Mx Restaurant and Chef Paco Méndez (1 MICHELIN Star and 1 Repsol Sun)  Hoja Santa and Niño Viejo Restaurant.
From the United States, the conference will host Chef Carlos Gaytán, the first Mexican chef to achieve a MICHELIN Star for his work at Mexique Restaurant in Chicago and Chef Marc Pauvert, Hotel Four Seasons, Baltimore – USA. In addition, the Puerto Vallarta Tourism Board will be hosting MasterChef US Season 6 Winner and Master Chef Latino Judge Chef Claudia.
For more information on Vallarta-Nayarit Gastronomica, please visit: www.vallartanayaritgastronomica.com