Starting July 3, 2020, unlock fresh inspiration at Four Seasons Resort Langkawi, bordered by the sparkling Andaman Sea on one side and lush rainforest on the other. Featuring dynamic venues, curated experiences and utmost privacy, this island retreat is uniquely suitable for teams to reconnect after months of working remotely.
As the world transitions to a new normal, it is time for companies to revitalize and plan for what comes next. Rumah Ikan Ikan Fish House, an exclusive event space situated on the mile-long private beach, offers the ideal setting to gather with colleagues, brainstorm new ideas and map a path for the future.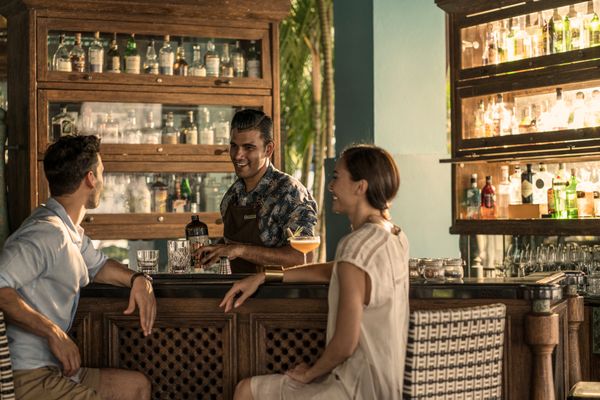 Restart the year with non-traditional meetings and events at this scenic venue, suspended over tranquil waves. Rumah Ikan Fish House is crafted with sustainable materials and cooled by pure sea breezes, creating a refreshing ambience for co-workers to interact. Leave behind boardrooms and rigid protocols; here, the focus is entirely on engaging, ideating and innovating.
Four Seasons experts help to design and execute an array of small-group experiences for up to 20 to 50 participants.
Conduct brainstorming sessions and creative workshops, fuelled by spectacular natural surroundings.
Strengthen collaboration with team-building activities, such as a treasure hunt or fishing followed by an interactive class at Lesang Batu Cooking School.
Network over sunset cocktails crafted by Head Bartender Surinder, then on to a gala dinner for the entire team.
Enjoy some much-needed fun and games with co-workers, including beloved Malay pastimes such as congkak and batik painting.
A breakout area is available just next door, along with the option of tiffin-style picnic lunches between meetings. With its traditional Malaysian feel and "green" design, Rumah Ikan Fish House is equally suited for local businesses as well as incentive groups from abroad.
Four Seasons Resort Langkawi features 91 guest pavilions and villas, their warm interiors brought to life by bright hues of Moroccan blue and vivid art. A range of exciting dining experiences awaits groups – from an authentic Malay feast in Ikan-Ikan's private dining room, to Mediterranean delicacies on Serai's breezy terrace, to an ocean-fresh barbeque by the waves. Highly attentive and caring Four Seasons service elevates every moment.
Between on-site activities, groups can explore the natural wonders of Kilim Karst Geopark, a UNESCO-protected site located adjacent to the Resort. Senior Naturalist Aidi Abdullah leads guests through a land of mysterious mangroves, lush rainforests and dramatic limestone cliffs, revealing their many secrets.
Lead With Care
As always, health and safety remain the first priority at Four Seasons. To ensure a safe environment for guests and employees, Four Seasons properties across the globe have implemented Lead With Care, a full-scale health and safety enhancement. More information about Lead With Care can be found here.
As Four Seasons Resort Langkawi welcomes guests back, the entire team is committed to ensuring the highest standards of care and hygiene, without compromising the quality of the guest experience.