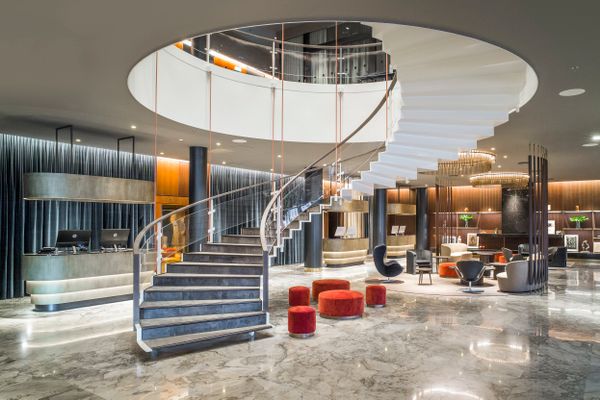 Set to be complete in spring 2018, famed Danish architect Arne Jacobsen's only hotel, the Radisson Collection Hotel, Royal Copenhagen, is in the final stages of its extensive renewal and modernization.
The world-famous landmark is undergoing a major redesign and already now, the entire meeting space, the new Café Royal Restaurant, the entire lobby and most of the guest rooms are renovated. Award-winning Danish design company SPACE Copenhagen is responsible for the design and in spring 2018, the entire hotel will be completely renewed.
In 1960, the legendary Danish architect Arne Jacobsen designed the entire 'Royal Hotel', from the façade through to the famed EGG chair and even the cutlery.
"By combining functionality and sophisticated design, our aim is to revive the iconic heritage of Arne Jacobsen. We carefully protect the legacy whilst at the same time modernize and add in new design elements to meet the expectations of a new generation of travelers", explains Brian Gleeson, General Manager of the Radisson Blu Royal Hotel, Copenhagen.
Some of Arne Jacobsen's lesser known design classics have been revived, such as his Giraffen dining table in the restaurant and the rare Pot chair which is now to be found in the lobby. In addition, the Arne Jacobsen 'Mayor' sofa, drawing upon Danish tradition for fine wood, is both in the suites and in the new restaurant.
All the new meeting rooms are named after Arne Jacobsen's design classics, such as the 'EGG' chair, designed especially for this very same hotel back in 1960. The walled artwork in the modernized meeting spaces were brought from the hotels archives and have been reframed to let the guests relive the rich legacy of the hotel.
Room 606 – one of the world's most famous hotel rooms and a key stop on design-aficionado's Copenhagen pilgrimages – will remain untouched and kept exactly as it was originally designed by Arne Jacobson.
Brian Gleeson commented: "Room 606 is a living proof of our heritage and is open for anyone who would like to experience Arne Jacobsen's design and immerse themselves in Danish modernism. By interpreting our iconic heritage, we aim to recreate this legendary building and escalate it to new heights for the future".