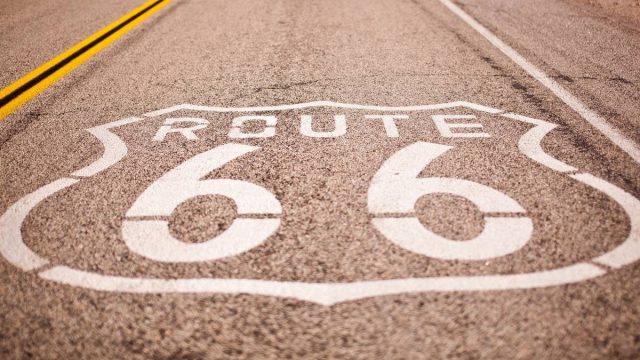 While Americans may occasionally take it for granted, the United States spans a wide range of road trip routes and scenic views. With no passport required, you and your family or friends can embark on a memorable adventure that departs from your front yard at any time.
Before setting out on your trip, be sure to follow some standard road trip advice to improve travel and ensure that everyone has a great time. Rest up before setting out to reduce road fatigue, pack plenty of water and healthy snacks, and don't forget the chewing gum to keep you alert.
If you're ready to reroute Route 66, check out these seven American road trips to add to your bucket list.
Historic Route 66
Originally spanning nearly 2,500 miles from Chicago to Los Angeles, Route 66 inspired the imagination of generations of American travelers. Though much of the road unfortunately no longer exists, exploring Route 66 is still a one-of-a-kind experience. From visiting the Petrified Forest National Park in Arizona to setting your sights on Ed Galloway's Totem Pole in Chelsea, OK, this classic route offers you and your travel pals a getaway like none other.
Grand Canyon National Park
Millions of years in the making, the Grand Canyon National Park is the 15th named national park site in the United States. The 26th President of the United States, Teddy Roosevelt, even referred to the park after its opening as "the one great sight that every American should see."
Skyline Drive
Those who drive the 105 miles of Skyline Drive in Virginia at the lip of the Blue Ridge Mountains can stick their heads out the window to catch must-see views of the beautiful Appalachian Mountain Range. The park is a haven for hikers, bird-watchers, and photographers worldwide. 
Black River Scenic Byway
Michigan's Upper Peninsula is home to the Black River National Forest Scenic Byway. Visitors flock to this 11-mile scenic route each year to view the area's impressive waterfalls display. Late each summer, guests are treated to a fantastic color display courtesy of the region's many mature maple trees.
Great River Road
Great River Road is a scenic path that stretches along the Mississippi River through 10 states for over 3,000 miles. The road runs from northern Minnesota to southern Louisiana and was recently designated an All-American Road by the Federal Highway Administration. 
Going to the Sun Road, Jackson Glacier Overlook
Traversing this precipitous landscape is not for the faint of heart. Boasting crystal clear water amid sharp, rugged mountain peaks, the surroundings of Going to the Sun Road near the Jackson Glacier Overlook have a long-running history with the human species. Native tribes have inhabited this remote area of northwest Montana for more than 10,000 years.
Martha's Vineyard
Jutting out into the North Atlantic Ocean just south of Cape Cod off the coast of Massachusetts lies Martha's Vineyard. While the island's scenic beauty is enough to warrant a visit, the area also has a rich history. Those who travel to Martha's Vineyard might even be lucky enough to sneak a peek at native camp evidence dating back thousands of years. 
Wrap up
The United States is home to some truly spectacular landscapes, and summer is the ideal time to get out and take a closer look. Once you've looked over this list of the best American road trips to add to your bucket list, all that's left for you to do is hit the road.