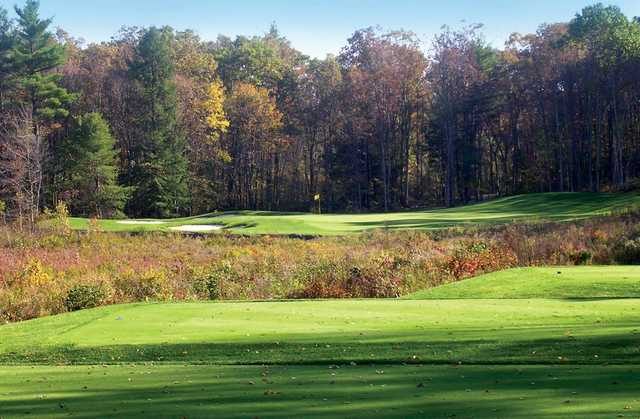 The Blue Ridge Mountains attract over 15 million visitors annually, according to the National Park Service. The majority of visitors to the Blue Ridge Mountains come for the pristine trails, the wide-open spaces and all the unparalleled natural beauty that the area has to offer.
On the other hand, many visitors are looking to enjoy the natural wonders, while also getting in a round of golf or two.
If you're in this group then you've come to the right place. Here are the top 5 golf spots of the Blue Ridge Mountains:
Lake Rabun Hotel and Restaurant
Lake Rabun Hotel is located near Clayton, Georgia in the lower ranges of the Blue Ridge Mountains. The area is known for its natural beauty, and unlike in many parts of the mountains, there are a number of lakes and rivers near the area that is perfect for recreating.
Lake Rabun offers a scenic 18-hole course for very affordable rates.
M-F $85
Saturday and Sunday $95
The real value at Lake Rabun, however, is the quality lodging, amazing farm-to-table restaurant, and superior weather. Lake Rabun has first-class lodging and food coupled with the outdoor lover's dream including boating, fishing, swimming, hiking, horseback riding, ATV rental and much, much more.
That means you won't have to convince your family to make the trip. They'll be begging you!
Lake Rabun Hotel and Restaurant has been in operation since 1922 and is one of the premier destinations of the Blue Ridge Mountains for the golfer who also enjoys nature.
Blue Ridge Trail Golf Club
Blue Ridge Trail is a 27 hole championship golf course designed by Ault, Clark, and Associates. It's located in Mountain Top, PA. If walking all those holes sounds a little daunting, don't worry Blue Ridge boasts over 8.3 miles of paved cart paths with 105 new electric golf carts.
Blue Ridge also has some of the most affordable rates in all of the Blue Ridge Mountains. On weekdays it's only $39 for 18 holes with a golf cart included. On the weekend it's just $10 more.
Blue Ridge is also a great golf spot for tourists and beginning golfers. The course offers a golf simulator and professional golf instruction at very affordable rates.
Blue Ridge Shadows
Blue Ridge Shadows is a public golf public course designed by Tom Clark and located in Fort Royal, Virginia. The 18-hole, par 72 course has been rated by the USGA and has won a number of awards for its scenic golfing experience.
In order to play at Blue Ridge, you don't even have to be a member, instead, you can book a tee time online and skip the annual fees if you're looking for one-time use. The course offers a number of membership options and zero initiation fees as well, making it relatively affordable.
If you are a serious golfer looking to play in the Blue Ridge Mountains this may be just the place for you.  The course's terrain and driving yardage make it one of the more difficult on this list.
Wintergreen Golf Resort
Wintergreen resort offers, accommodations, activities, tennis, a spa and a restaurant along with their 45 holes of golf spread over two courses.
The impressive resort spans over 11,000 acres and is just 90 minutes from Virginia's state Capital, Richmond. The resort's most famous golf course is called Devil's Knob and it's known as the highest course in Virginia at 3,850 feet. The views are incredible.
Perhaps one of the best traits of Wintergreen is their progressive attitude toward environmentalism. Wintergreen partners with The Wintergreen Nature Foundation (TWNF), to help support and promote wildlife habitat preservation and environmental education in the region.
Packsaddle Ridge Golf Club
Packsaddle golf club is a public 18-hole golf course located in Keezletown, VA. Packsaddle is rated 4.5 stars by Golf Digest and has a great reputation in the area.
The golf club offers a bar and restaurant, three 3 levels of grass tee boxes on the driving range, a practice sand trap, and a putting-chipping green. Packsaddle is often used as a wedding venue because of its natural beauty.
The course has amazing views of the Appalachian, Blue Ridge, and Massanutten mountain ranges. You can even see all the way to West Virginia from their 13th green.
So, if you're headed to the Blue Ridge Mountains on vacation, no matter where you go on the over 450 miles of terrain, there is a golf course somewhere nearby. Don't leave your passions at home, take them with you, enjoy your vacation—they aren't just for the kids.