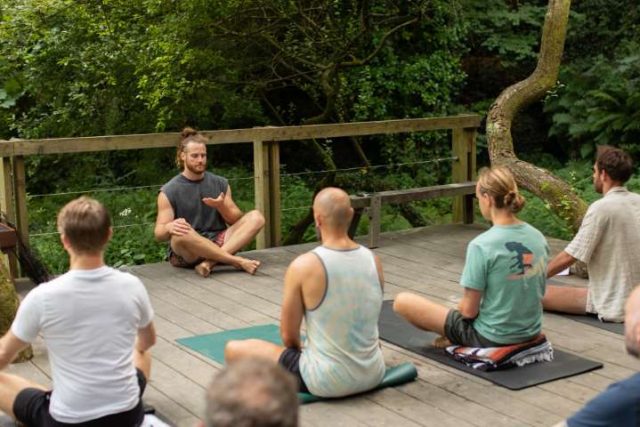 Kicking off with two Resilience Breath Workshops in 2022, Anthony Mullally, the ex-rugby player and plant-based fitness fanatic, has partnered with sustainability minded Cornish hotel group Red Hotels. In 2022 Anthony will offer one mixed gender workshop at both the Scarlet and Bedruthan hotels, with 2023 plans including an exclusive series of Men's Mental Health Retreats.
The first workshop will take place on the 25th November 2022 at Bedruthan Hotel & Spa from 10am to 3pm. During the workshop, participants will be guided on how to build resilience, adapt to adversity and enable better management of everyday stress in a practical and effective way. Using Bedruthan's sensory spa garden, Anthony will employ cold and heat exposure, putting the body into a stressful state to encourage adaptability and calm as a response to anxiety. The breathwork element of the day will be conducted at Bedruthan's clifftop yoga studio, followed by a period of reflection with herbal tea and the sound of lapping waves at the hotel's beach front fire pit.
The second workshop will take place on the 1st December 2022 at Scarlet Hotel & Spa from 10am to 3pm. The ideal location for invigorating the senses, testing the body's limits and re connecting to nature, Scarlet sits atop the rugged Cornish clifftops and features captivating views of the coastline. Similar to Bedruthan, the class will involve temperature exposure and a guided breathwork session. Participants at Scarlet will enjoy use of the hotel's natural reed pool and clifftop saunas as part of their training. Benefits of improving breathwork include the ability to 'down regulate' and activate the body's relaxation response, bringing the nervous system back to a state of balance.
About Anthony Mullally
Anthony Mullally is a recently retired professional rugby player whose playing career consisted of 200+ super league games, two world cups and a grand final trophy. Towards the end of his career, Anthony began training in breathwork to improve performance and became enthused by its effect, eventually training to become an advanced breathwork coach with Oxygen Advantage. Based in Newquay and with a specific interest in Men's Mental Health, Anthony plans to share his knowledge through a series of retreats at Scarlet and Bedruthan in 2023, focusing on meditation, addressing toxic masculinity and the power of vulnerability.
About Red Hotels
Bedruthan Hotel has been a beloved institution in Mawgan Porth since 1959 whilst sister hotel Scarlet opened in 2009 with eco-friendly design, contemporary architecture, and luxury at its core. Both hotels exhibit coastal chic interiors with sustainability and community at the heart of their mission. Bedruthan is a colourful destination with breath taking spa facilities that include a roman style caldarium and a creative workshop studio. Home to The Herring restaurant, guests of Anthony Mullally's Resilience Workshop can expect a fresh and seasonal menu, thoughtfully curated by Head Chef George Richardson.  Scarlet meanwhile is adult only and built to the highest eco-standards. Home to one of the most renowned Ayurvedic eco spas in the UK and featuring a bromine filtered indoor pool, outdoor natural reed pool and clifftop wooden sauna, it is a destination for zen like calm and good health. Expect locally sourced cuisine at the sea view restaurant and artfully presented dishes from Head Chef Jack Clayton. 
HOW: Tickets for the mixed gender Resilience Workshop at Bedruthan (see here for tickets) and at Scarlet (see here for tickets). Participants must be 18 years or older. Dates for 2023 Men's Mental Health retreats to be announced in January 2023.