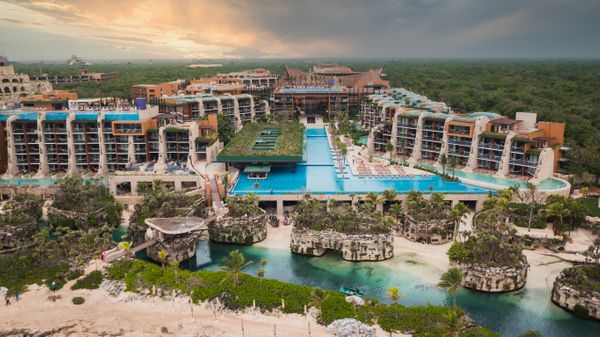 Hotel Xcaret Arte, the second property from Grupo Xcaret, has officially opened its doors. The adults-only hotel (welcoming guests 16 years and older) features 900 suites designed as an homage to the arts of Mexico. This moment in the history of Grupo Xcaret, the leader in Mexican sustainable tourism and recreation experiences, is one of the most anticipated hotel openings of the year, with an impressive investment of $427 million supporting the tourism industry in Riviera Maya and highlighting Mexican traditions through art.
Hotel Xcaret Arte integrates the brand's "All-Fun Inclusive®" concept that revolutionized the tourism industry worldwide, offering hotel guests unlimited access to Grupo Xcaret's Parks and the most attractive experiences in Cancún and Riviera Maya including roundtrip transportation to the parks, hotels and airport. Within its all-inclusive concept, Grupo Xcaret hotels offer exceptional culinary experiences with restaurants led by some of Mexico's most renowned and world-class chefs.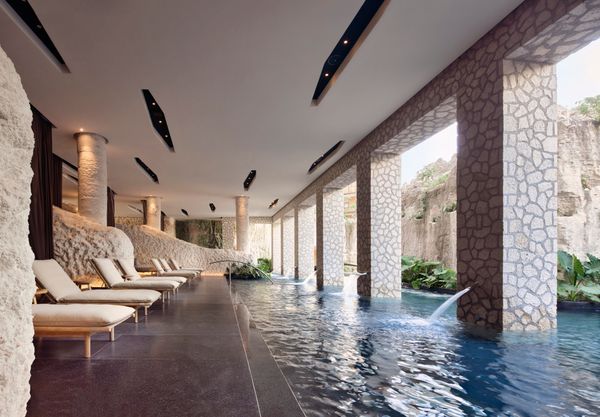 Hotel Xcaret Arte is home to the most exclusive Culinary Collective in the country, representing eight internationally renowned chefs combining different culinary traditions that originate from different cultures. The list of chefs includes three Michelin-starred Chef Paco Méndez who will oversee Encanta, presenting his signature cuisine that praises Mexico from Barcelona to the Caribbean. Jonatan Gómez Lúna joins this movement with Chino Poblano, a fun and sophisticated culinary experience blending the cuisines of Puebla and China. Chef Alejandro Ruiz, a master in Oaxacan cuisine, will manage Cantina VI-AY-PI. Roberto Solís, creator of the newly inspired Yucatecan cuisine, brings a succulent proposal through Kibi-Kibi, a fusion of Yucatecan flavors and Lebanese gastronomy. The perfect duo of Chef Roberto and Chef Alejandro Ruiz will bring the indigenous foods from the Mayan and Zapotec ancestors to the kitchen of Xaak.
Renowned Italian Mexican celebrity chef Franco Maddalozzo brings his globe-trotting flavors to Cayuco by fusing the flavors from both the Mediterranean and Mexican coasts. Chef Luis Arzapalo showcases the best of oriental culinary arts at Tah-Xido. Chef Orlando Trejo celebrates comfort foods with regional flavors in Arenal. All restaurants will offer sensational vegan cuisine options from Chef Miguel Bautista. Mercado de San Juan will celebrate the different flavors of Mexican cuisine.
The hotel's eco-integrated design and architecture pays homage to Mexican art in its various iterations, highlighting the most important symbols and artistic expressions of Mexico's culture through the creation of six distinct Casas. Casa de los Artistas will inspire guests to paint, Casa del Diseño, a textile workshop offers weaving lessons, Casa de la Música holds dance lessons, Casa de la Pirámide explores Mexico's rich and diverse pottery traditions, Casa de la Paz offers cooking workshops, and Casa del Patrón will serve as the resort's main event and convention space.
Hotel Xcaret Arte will also be the center stage for big events, celebrations, and concerts with two Convention Centers and an entertainment stage, located in Casa del Patrón, that can host between 1,140 and 2,065 people, respectively. For groups large and small, the hotel offers cozy spaces that can accommodate intimate working sessions. Additionally, the resort is home to an Ecumenical Chapel with breathtaking views of the Mexican Caribbean offering different types of ceremonies for up to 120 guests.