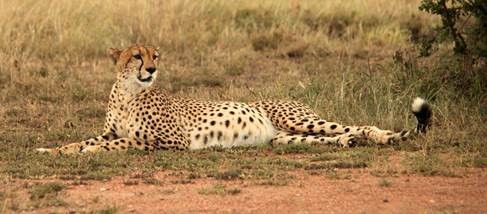 From watching playful cubs with their mother to the heart-racing drama of a kill, few safari experiences are more memorable than observing the big cats. Those hoping to witness the drama for themselves need look no further than Mahali Mzuri, Virgin Limited Edition's luxury safari camp in the heart of the Kenyan bush.
Mahali Mzuri's location in the Olare Motorogi Conservancy means that guests are amongst one of the biggest lion populations in the whole of the Maasai Mara, and sighting these beautiful animals is almost a daily occurrence. With a number of pride territories in the conservancy, watch out for some dramatic encounters as the groups battle for dominance!
The leopards of the Mara can be notoriously difficult to find, but at Mahali Mzuri they are practically part of the family! Tito, the ruling leopardess in the area, has recently given birth to her second set of cubs in the valley just beyond the camp. Looking over the swimming pool deck on a sunny morning, you might just be lucky enough to see the young brother and sister playing amongst the rocks.
In between the twice-daily game drives, enjoy some rest and relaxation in your own individual tented suite. Each of the 12 tents comes complete with a private deck overlooking the stunning plains, so you'll have a front row seat to the wildlife from the moment you wake up until falling asleep at night.
For bookings please call T: 0800 716 919 (UK toll free). Alternatively e-mail enquiries@virginlimitededition.com.